Two Women Shot In Front Of Oceana Hall (Corrected)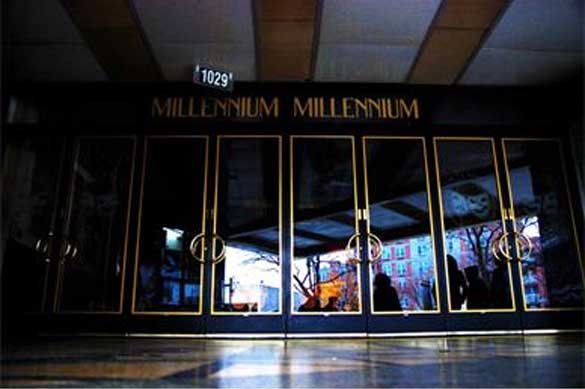 Two women were left wounded after a gunman opened fire in front of Millenium Theatre, the same building that houses Oceana Hall, at 1029 Brighton Beach Avenue.
The shootings happened early Sunday morning and the victims were taken to Lutheran Medical Center. They were in stable condition, according to News 12.
Coincidentally, we received an anonymous e-mail Sunday afternoon from a nearby resident, complaining that Millenium Theatre Oceana Hall has started bringing rowdy crowds in for their events – and that Saturday night's event was particularly troublesome.
We're not sure if the shooting had anything to do with the theater or their events, or if the people involved were attending a show there. In fact, the venue's calendar has no events listed for this past Saturday. Millenium was not hosting an event, but Oceana Hall had a party called Presidents Weekend Shut Down with Hot 97 Live. (CORRECTED – see below)
But we've got to ask those who live around it: is Millenium Theatre – one of Southern Brooklyn's only cultural venues – Oceana Hall becoming a problem for the community?
Here's the e-mail we received:
i am a resident of the Brighton beach area and have noticed that oceana hall has been hosting "hip hop" parties on Saturdays. now, i was all fine by it while the party-goers where quite and civil, but now they have gone crazy. tonight, they came out the venue and started YELLING, SCREAMING, RUNNING, CURSING, HITTING WINDOWS, CARS, DISPLAYS. just completely and utterly going nuts. the surrounding neighborhoods are nice, i.e. manhatten beach, oceana, sheepshead bay, and various other buildings along the shore line. it's just becoming a burden on Saturdays, it's coming to the point where people are afraid to leave their house because these people come out the venue in "groups" and start going wild on everything in their path. i really dont know what they are going to do next, vandalize? rob? kill? beat up?.. do they have weapons on them since they are so violent upon coming out the venue. i just dont know. the reason i am reaching out to sheepsheadbites is because if you can do an article about this, maybe the surrounding neighbors would be more open to complaining about the situation or reaching out to the property owner and asking him WTHeck he is doing ?? its just become a burden, i'm actually nervous about going to that area of Brighton on Saturdays because of this.
CORRECTION (2/21/2012 @ 11:34 a.m.): This post has been changed after we mistakenly conflated Millenium Theatre with Oceana Hall. A more in-depth correction and explanation can be found here. We apologize for any confusion.