Two Sheepshead Bay Businessmen Dead In Florida Murder-Suicide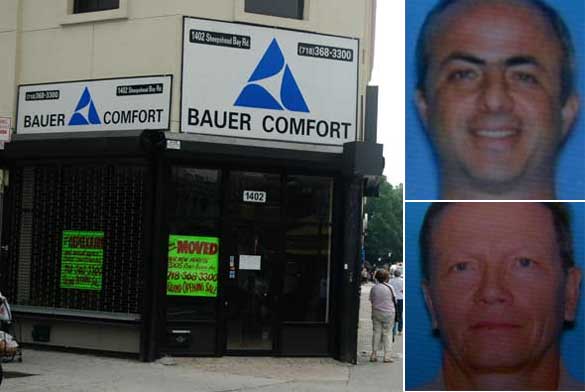 Former partners of a Sheepshead Bay-based business are dead after one of the partners killed the other on Saturday, then turned the gun on himself. Their business relationship, which soured two years ago, is believed to be the primary motive.
Aleksandr Gorbach's wife and children watched Gorbach, 43, bleed to death Saturday evening by a shotgun blast to the chest delivered by former business partner Mikhail Sergatiouk.
According to WPTV, a local news station serving Port Saint Lucie, where Gorbach lived:
When Port St. Lucie police arrived at Gorbach's house and spoke with his wife and children, they learned Gorbach was cleaning fish in the kitchen sink when they heard a "bang" and glass breaking.
"They next saw Aleksandr fall back to the ground with extensive trauma to his chest," the warrant application states.
His wound appeared consistent with a shotgun blast. A screen enclosure had been cut, and Gorbach's wife told police it had not been cut prior to the incident.
According to other reports, Sergatiouk rode a moped to Gorbach's home from Coral Springs – a distance of about 80 miles. After shooting Gorbach, he rode the moped back, confessed to his family, then took off. His body was later found two miles away with what appeared to be a self-inflicted shotgun wound to the head.
Sergatiouk's body was not found until Monday morning.
The local CBS affiliate has additional details:
Port St. Lucie Police say Mikhail Sergatiouk rode his moped all the way from Broward County to the residence of Aleksandr Gorbach on Saturday, cut a hole in a screened enclosure and hid out, waiting for the right moment with a sawed-off shotgun in hand.
Gorbach, the victim was in the kitchen cooking dinner when the family heard a loud blast. His wife and three young children saw him fall to the ground, police report.
Gorbach died from a single gunshot wound to the chest. Sergatiouk fled on his moped back to Broward County, where police say he confessed to his wife and child that he had just killed his business partner, Aleksandr Gorbach.
The suspect's family called police and Sergatiouk was found with a self-inflicted gunshot wound to the head yesterday next to Sample Road in Coral Springs. Police say he used the same sawed-off shotgun.
After interviewing family members, investigators now believe a messy dissolution of a Sheepshead Bay-based business is at the root of the grisly murder-suicide.
Gorbach and Sergatiouk were business partners in Bauer Comfort, a luxury bedding store formerly located at 1402 Avenue Z.
The location closed in May 2010, moving to Midwood on Coney Island Avenue. According to family members, it was around that time that Gorbach and Segatiouk split ways, in a separation that appears to have left Sergatiouk feeling betrayed – and broke.
WPTV reports:
[Sergatiouk's daughter] knew her father didn't like Gorbach due to a "bad business separation," during which Sergatiouk lost a large amount of money.
Gorbach's wife told Port St. Lucie police she and her husband "were in financial despair and the house was currently in foreclosure," records state.
"Aleksandr's main source of income is his company identified as Bauer Comfort which is based out of his listed residence," the warrant application states.
… Sergatiouk's wife and daughter didn't know Sergatiouk to carry a gun, and thought "this occurred because Mikhail was still angry over the failed business venture," the application states.
… Gorbach's wife told police Gorbach had a "business falling out" with Sergatiouk, saying she "believes the business was not dissolved by mutual agreement," records show.
She thought that happened about two years ago. She said her husband tried to call Sergatiouk within the past six months, but they apparently never spoke.