Two Renovations And A Facelift In Nostrand Area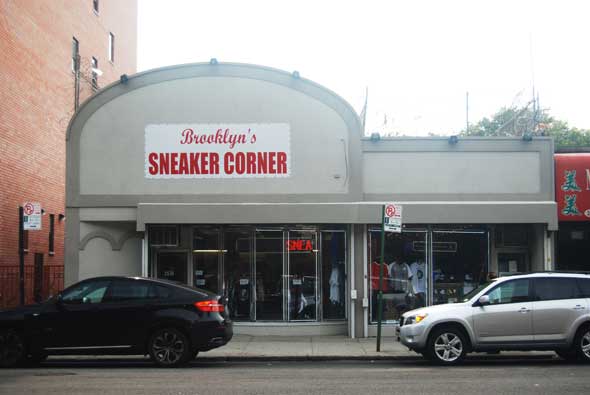 Three businesses on and around Nostrand Avenue are fixin' up the joint, including Brooklyn's Sneaker Corner, which redid its storefront. The decades old business at 3570 Nostrand Avenue has a new look with a real sign on the way. It's old sign has been a Sheepshead Bay fixture with a lot of character, so I look forward to see if the new sign will be an improvement to this rather dreary stretch of Nostrand Avenue businesses.
Currently closed for renovations are two Avenue U businesses a few blocks shy of Nostrand Avenue. Pizzeria Del Corso (3003 Avenue U) has been closed since at least last week with a sign in the window informing readers of the work going on inside. No word on when it'll reopen. Also, Jay & Lloyd's Kosher Deli at 2718 Avenue U is shuttered for repairs. We'll let you know when the area's only kosher-style deli is reopened. I hear good things about this place, but never had the chance to try it. I'll remedy that when doors are open again.