Turner Honors Local Firefighters For Helping Raise Money For Caballero Family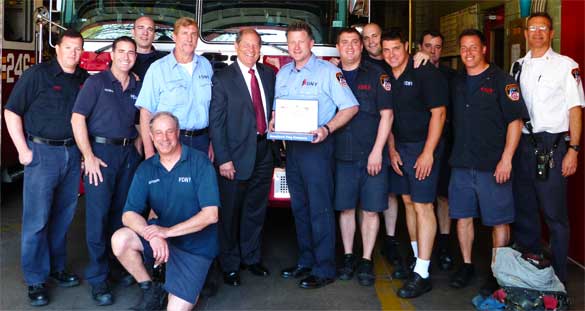 The following is an unedited press release from the offices of Congressman Bob Turner (links added by Sheepshead Bites):
Congressman Bob Turner (NY-09) stopped by the New York Fire Department Engine Company 246, Ladder 169 at 2732 East 11th Street in Sheepshead Bay, Brooklyn on Monday, April 16th, to present the members of the ladder company a flag flown above the capital building in Washington. The flag was flown at the Congressman's request to honor the group of New York's Bravest for going above and beyond the call of duty when they helped the family of Brooklyn hero Jhordan Caballero's family honor their son after a the tragic fire in February by helping raise money to cover funeral costs.
Caballero was at his family's home babysitting his younger brother when a fire broke out on the first floor of the family's home. He bravely took action rushing his brother out of the house before heading back in to call 911 and to save his elderly neighbor. Caballero was rushed to Coney Island Hospital where he succumbed to smoke-related injuries.
"Unfortunately, we lost one of New York's Bravest in the line of duty recently in Lt. Richard Nappi. His untimely passing serves as a vigilant reminder of the danger members of the FDNY navigate to protect us. Despite the constant dangers, these heroes continuously answer the call of duty and often exceed it. Lt. Nappi, the men of Engine Company 246, Ladder 169, and Jhordan Caballero were all willing to lay down their lives to save others. All of them are shining examples of city servants and citizens answering the civic call of duty. And, in an act of true compassion towards the community they serve, the men of Engine Company 246, Ladder 169, exceeded that call by joining with the Brighton Neighborhood Association and members of the local community to raise money in order to give Jhordan Caballero a proper burial. It was my honor to present these exemplary city servants with this flag as a token of appreciation for their service."
Turner presented the ladder company with the flag and a certificate authenticating that it was flown over the United States Capitol on February 28, 2012 at his request to "honor the service of the local firefighters of Engine 246, Ladder 169 and to recognize their willingness to go above and beyond the call of duty."
"I would also like to express my deepest condolences to the family of Lieutenant Nappi and the family of Jhordan Caballero for their losses. They will be remembered as heroes."