Trust This Woman To Bury You: Funeral Director And Author Doris V. Amen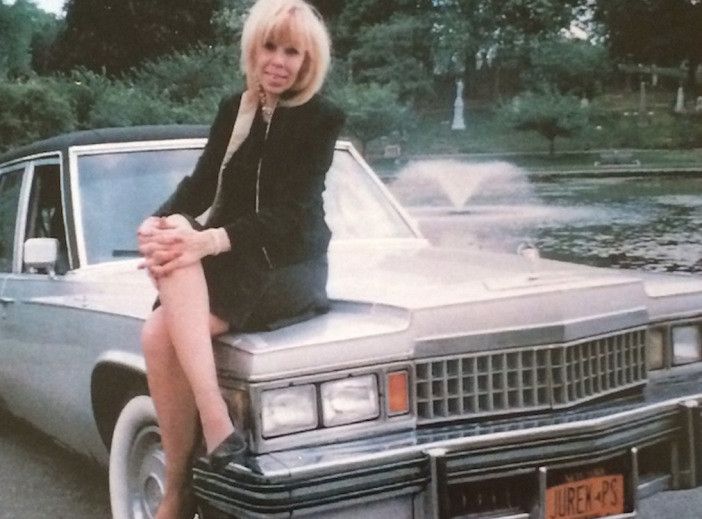 "I bet you don't know what's on the B-side of that 45."
Doris V. Amen, funeral director of Jurek – Park Slope Funeral Home (728 4th Avenue at 23rd Street) was giving me a quiz.
Amen was providing me with a tour of the funeral home's downstairs, and she had paused to show me her Beatles memorabilia, which includes an original 45 of "P.S. I Love You." I had just told her I was a big Beatles fan, and was a bit embarrassed that I didn't know the answer.
"Love Me Do!," she said, taking pleasure in teasing me. Amen's life may revolve around her funeral home, but her interests and passions range far and wide.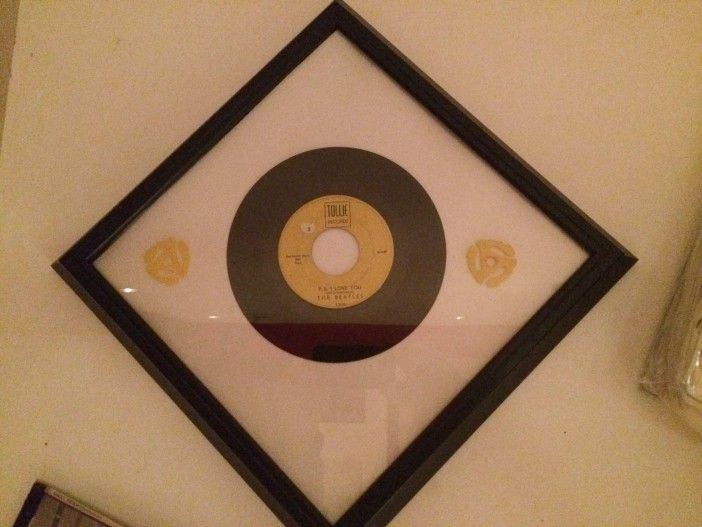 After graduating from Brooklyn College and subsequently American Academy McAllister Institute of Funeral Services in 1979, she embarked on a journey that landed her as owner and funeral director of Jurek – Park Slope Funeral Home in 1989. Originally purchased with her now ex-husband, she bought out his half, starting what is now a quarter-century as the director.
While Amen is Italian — "You'd never know it by the name," she says — she was embraced by John Jurek, who previously owned the business. In addition, the primarily Polish clientele at the time also embraced her. "Look, the Italians and the Polish are pretty much the same," explains Amen. "We do the pasta and they do the pierogies." In 2004, Amen was named "Citizen of the Year" by the magazine Polish American World.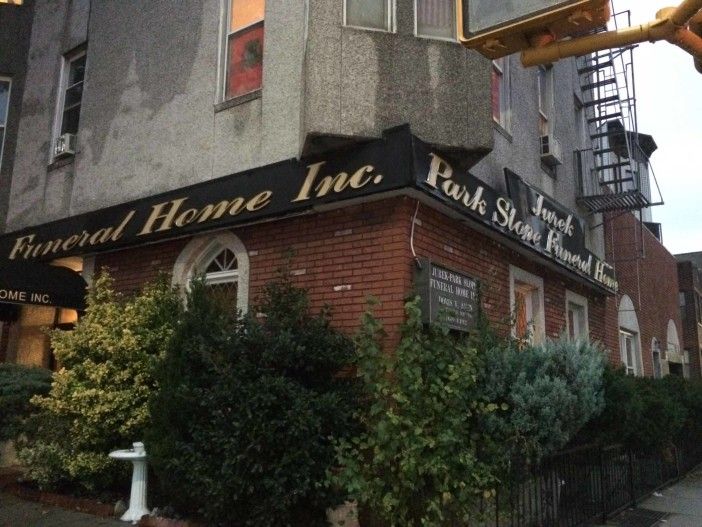 Amen embraces the lore of the building, and knows it well. "It became a funeral home in 1950. Before that, it was an old restaurant called Blue Point Bar & Grill," she says. "There weren't a lot of funeral homes before then — as far as Catholics go. Wakes took place in the home. So the funeral director schlepped everything in there. Try to get all that up to the sixth floor of a walk-up!"
And the funeral home really feels like a home: the front room is decorated as if it were a living room, and it has the comforting smell of visiting your older relatives during the holidays.
As irreverent as Amen may sound, she has very high standards when it comes to her work. And the families that come through Jurek both respect and adore her. While she gave a tour, she stopped to embrace almost all the family members in the room — her warmth clearly providing a great comfort for those present.
Amen turns serious when asked about funeral practices nowadays. "It's absolute insanity how the American public is being swept away by these new directors," she laments. She believes there is a lack of focus on the tradition of the funeral process.
"My mom laughs, because when I do her hair, I tell her to lay down," she says, explaining that the cosmetic appearance of the deceased are very important to her. "The only way I can tie a tie is when the man's body is laying down. I used to practice tying a tie in school by wrapping it around my thigh."
Of course Amen has stories — tales of her personal life as well as both the touching and hysterical events that have taken place during her time as a funeral director. And she has put them together in a new book. "Writing a book was on my bucket list, so I had to get around to it," Amen tells us.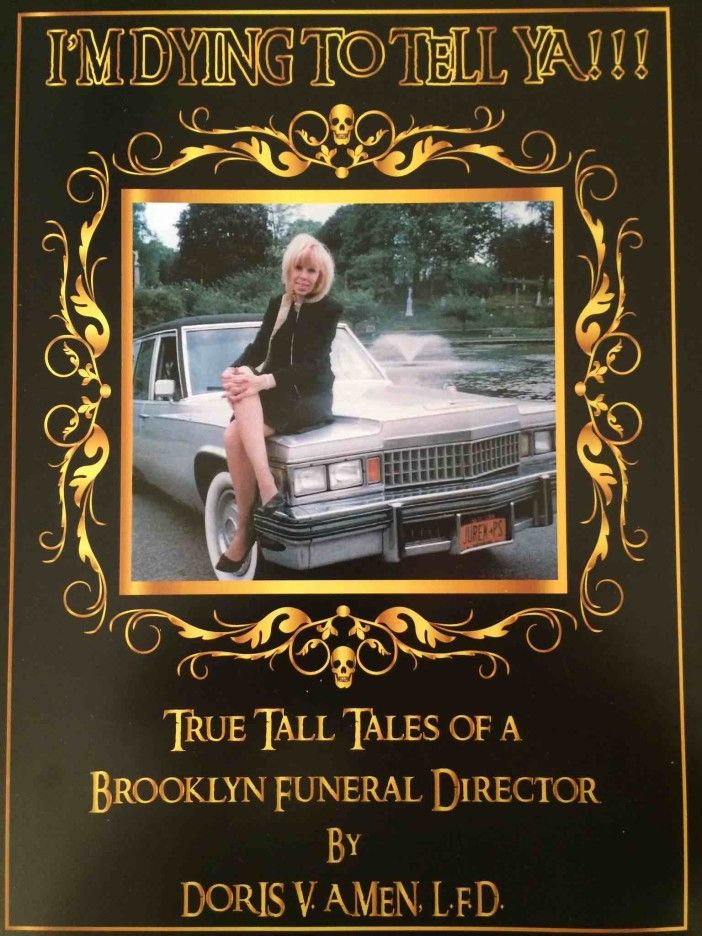 The book is titled I'm Dying To Tell Ya!!! — True Tall Tales Of A Brooklyn Funeral Director (the "tall" refers to her height). The book is divided up into eight parts and 70 chapters — however those chapters are often about a page long.
Amen writes how she talks, so the storytelling is both wry and upbeat. But the foundation of the stories is based on her respect for the people she buries and the families she consoles.
In one chapter, she talks about a bereaved family being caught in the infamous snowstorm of Christmas 2010. The family was stuck at the funeral home, but Amen certainly made them feel welcome. She writes:
The doorbell rang about two hours later — the widow Donna, and two of her three adult children were back, having abandoned their car on some God-forsaken street, like thousands in the tri-state area had done that night. After making some hot chocolate, passing out the pillows, blankets, PJ's, and slippers, provided by the top floor residents, my unexpected guests each took a couch and retired for what was to be a two-day stay.
Amen points out several times that her job is "5% taking care of the deceased, and 95% taking care of the grieving families."
She is extremely hands on. When asked how much of the job she does, Amen refers to herself as a "one-woman band. Well … I don't do the embalming. That's for the young girls."
In another section of the book, she writes about the importance of properly dressing the deceased. She avoids short cuts at all costs. "The day I pass over to the other side, there could be literally thousands of angry souls, who had been entrusted to my care, hanging around bare-assed for all eternity!"
Amen isn't just admired by the families. She has a very close relationship with nearby Green-Wood Cemetery. So much so that Green-Wood's president Richard Moylan chose Amen to bury his mother. In the October 2015 issue of American Funeral Director, Moylan speaks highly of the way in which Amen treats people. "She is fair with families. She treats them well and does the right thing. We have confidence in her … I trust her," Moylan says.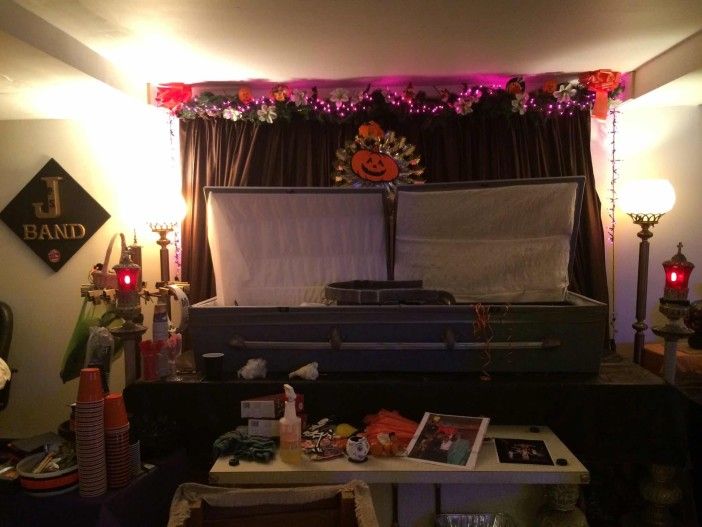 Toward the end of the meeting, Amen graciously offered me a drink at her very well-stocked bar downstairs. Decorations were still up from her annual Halloween bash. "That coffin over there is where we had the buffet table." At one of her bashes a few years back, she dressed as Lady Gaga.
So what's next for Amen? She's currently busy producing films for Amen To That Productions, her film company that makes local films about Brooklyn. She still loves driving "Old Betsy," her 1978 S&S Superior Classic Cadillac Hearse. And she commutes from from her seaside condo on the Brighton Beach Boardwalk with Minerva, her Maserati.
But she hasn't forgotten her family roots — lives in the same building as her parents. She still has her family home in Bay Ridge, where her dad was a dentist — none other than Henry Amen, #5 on the list of 25 Things You May Not Have Known About The Verrazano-Narrows Bridge:
5. About 7,000 people were displaced in Bay Ridge to make room for the bridge, including dentist Henry Amen, whose office was leveled, but who found a new one nearby — he is still practicing there today at age 88 [now age 89].
Amen is about to turn 60, and she has no interest in retiring anytime soon — in both her personal and professional life. The night before we met, she had been out on a date with a 43-year-old man. She's not sure if there will be another date with him.
"He wasn't gonna get lucky that night," she says.
I'm Dying To Tell Ya!!! — True Tall Tales Of A Brooklyn Funeral Director by Doris V. Amen is available to purchase for $20 at Jurek – Park Slope Funeral Home (728 4th Avenue at 23rd Street) during regular business hours. Call their office at 718-768-4192 to confirm it's open before you stop by.