Numerous Elected Officials Support Treyger's Bid For District Leader Seat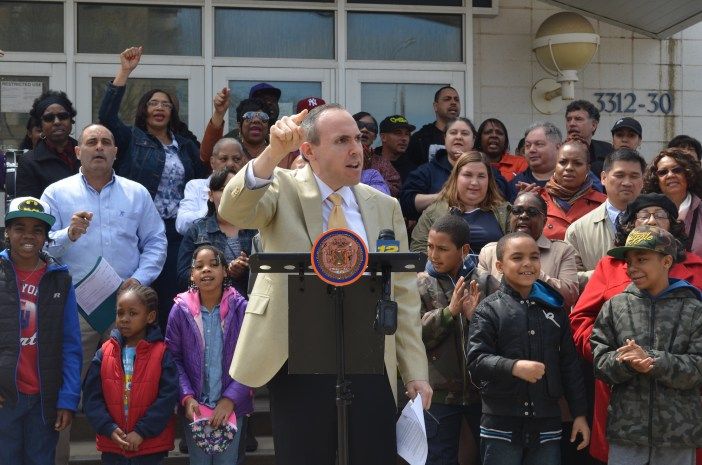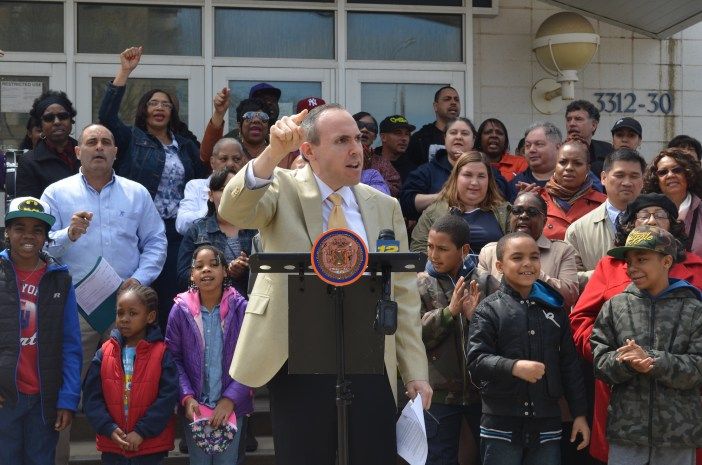 Today, a group of 21 elected officials from all levels of government threw their support behind Councilman Mark Treyger in his campaign for the open Democratic district leader position in Assembly District 46.
Treyger's endorsements include Public Advocate Tish James, Comptroller Scott Stringer, Brooklyn Borough President Eric Adams and Congressmen Jerrold Nadler and Hakeem Jeffries are former Comptroller John Liu, State Senator Diane Savino, Assembly Members Pamela Harris, Peter Abbate and Bill Colton, Felix Ortiz, Council Members David Greenfield and Chaim Deutsch, Kings County Democratic Party Chair Frank Seddio, and State Committee Members Dilia Schack, Charlie Ragusa, Nancy Tong, Joe Bova, Kevin Peter Carroll, Ari Kagan and Margarita Kagan.
Below are several statements in support of the councilman made today:
"Nobody fights harder for South Brooklyn families than Councilman MarkTreyger. Mark is a tireless advocate for his constituents, advocating for new boilers in public housing and air conditioners for our schools. Mark Treyger is the kind of Democrat we need as our district leader," said Public Advocate Letitia James.
"Mark Treyger has been a tremendous leader on the City Council, delivering on the issues that matter to Brooklyn families, like fighting for funding to help rebuild after Sandy. I know he will bring that same passion to the Democratic State Committee," said Comptroller Scott Stringer.
"Mark Treyger is the clear choice for State Committee. I'm endorsing Mark because he's been doing the hard work for years – registering new voters in immigrant communities and helping elect the first African-American Assemblywoman in South Brooklyn – his record speaks for itself. I know he'll continue to work hard each and every day as District Leader to elect good Democrats to office across Brooklyn," said Congressman Jerrold Nadler.
"Mark Treyger has spent years giving back to his community, from his time as a teacher at New Utrecht High School to his time on the New York City Council. Mark Treyger has been a leader on education issues and a strong advocate for our schools," said Brooklyn Borough President Eric Adams.
"I'm supporting Mark Treyger for District Leader because he's dedicated his career to helping the hard-working families of Southern Brooklyn-from rebuilding after Sandy, to improving our schools, to dealing with quality of life concerns, Councilman Treyger has been a vocal advocate for everyone from Bay Ridge to Brighton Beach," said Congressman Hakeem Jeffries.
Treyger called the breadth of support from elected officials humbling.
"Today's endorsements highlight the diversity, which is the true strength, of our communities and this district. We need Democratic Party leaders who understand how to build and strengthen our party by reaching out to everyone in every corner of southern Brooklyn," said Treyger.
These endorsements come on the heels of last week's support for Treyger from 33 community leaders and activists across the 46th District.
The 46th Assembly District covers Bay Ridge, Coney Island, Dyker Heights, Fort Hamilton, Gravesend, Seagate and West Brighton in Southern Brooklyn. Treyger is being challenged by Bay Ridge Democrats cofounder Chris McCreight, who was recently endorsed by Councilman Vincent Gentile.
A state committeeperson, also known as a district leader, is an unpaid position with a two-year term. Each of Brooklyn's 21 assembly districts has a male and female district leader. They are responsible for responsible for helping select candidates, staff polling sites and advocating for the community they represent. The Democratic primary will be held on September 13.