Trees Are Falling Around Ditmas Park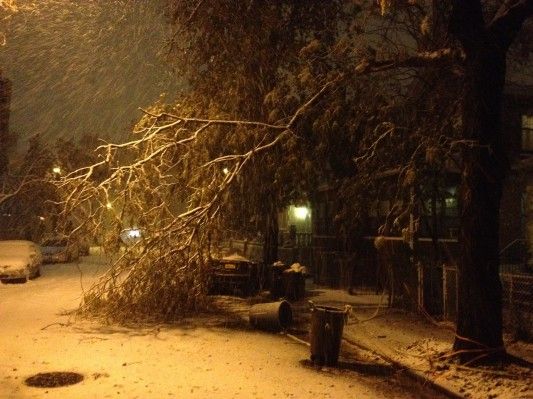 It didn't take Nate Silver to predict this one.
Trees that were damaged in Hurricane Sandy are now falling in Ditmas Park. Many trees in the neighborhood were declared hazardous this past week but the city is unable to collect them until after the nor'easter passed. We warned people to stay inside as the snow began to accumulate.
Standing outside, it can sound as if you're in a creaky, haunted wooden house. The trees are whining loudly as they bend lower and lower toward the ground.
At about 6 p.m., another neighbor reported a tree down and many more wailing in the wind on 18th Avenue. The falling tree pictured above is on East 12th Street and Avenue H. There is no doubt that more will fall before the high wind warning is out at 4 a.m. this morning. If the wind doesn't bring down trees, heavy wet snow will.
The Manhattan-bound Q train ran express between Kings Highway and Prospect Park from 7 to 8:30 p.m. because a tree fell onto the tracks at the Beverley Road station. Q trains bypassed the station until about 9:10 p.m. when the tree was removed.
At about 8:30 p.m., another tree fell on Park Place. Franklin Avenue shuttle service was suspended for a short time before the tree was removed.
We mapped many of the dangerous trees on our our Sandy damage map. In fact, the tree pictured above was one of the first trees added to the map. But do keep in mind that the map is incomplete. Even if the damage wasn't immediately perceivable to a DPC reader, that doesn't make the tree necessarily safe during this storm.
If you have any dangerous trees to add to the map, you can continue to send us info and photos at ditmasparkcorner@gmail.com or you can enter the information directly on the map, located here.
No one should need to be reminded or convinced anymore to stay inside if at all possible. Driving is treacherous and the trees are whining if they're not already falling. It's nasty out there. Go out tomorrow, stay in tonight. As a last resort, use the newly restored mass transit (if your train is still stopping at your station).