Tree Down On Shore Pkwy, Off Sheepshead Bay Road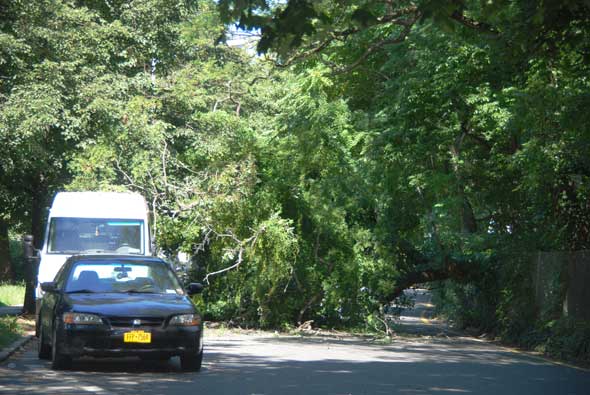 A tree came tumbling down at around 9:15 a.m. on the eastbound of Shore Parkway, between East 16th Street and Sheepshead Bay Road. Luckily no one was injured, and no cars seemed to be damaged, but some drivers did get a bit of a scare.
Our tipster, Gene, had this to say:
I was standing in the long line on shore, waiting for cars to move, as soon as the light changed at the intersection of shore and sheepshead bay rd we started moving, I moved 2 feet or so and this tree came down blocking entire street.
At approximately 35 feet, the tree came down from the Belt Parkway embankment, destroying a section of the fencing and just missing two parked cars. One of the car owners was on the scene clearing off his vehicle, elated that it survived without a scratch.
Yellow caution tape has gone up on East 16th Street, detouring people around a small greenspace. But drivers beware: Shore Parkway, with its many blind curves, still invites speeding. We watched several accidents nearly happen, as speeders slammed on the brakes as they came around the curve and found the caution tape. Drive carefully!