Transportation-Related Updates and More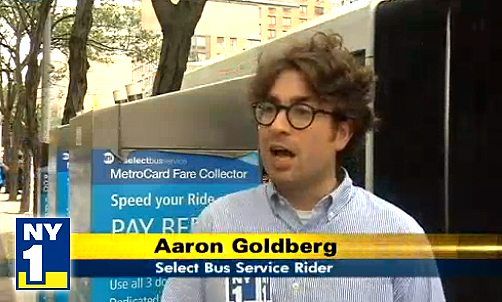 THE COMMUTE: There have been new developments this week in previous transportation stories covered by Sheepshead Bites. Here they are:
Unfair Summonses
Last week we reported on the plight of Aaron Goldberg, who received a summons for riding the M15 Select Bus Service without a receipt because both machines that would have dispensed one when he inserted his unlimited MetroCard were out of order. Goldberg appeared this week at the Transit Adjudication Bureau and was found "Not Guilty," which he accredits to having a TV News station behind him. Others who appeared were not as lucky. New York 1 describes a process that is both time consuming and cumbersome, involving waits of four hours for a five-minute hearing or having to appear multiple times. The relationship between the legal implications and the administrative code in making a ruling can be quite complex as BusMgr shows in this BusChat post.
Clearly, changes are in order.
Port Authority Toll and Path Hikes
As you've probably heard by now, the Port Authority decided to spread out its steep proposed increases over four years. That sets a dangerous precedent for the MTA to do the same, i.e. have one set of hearings for fare and toll increases to be implemented over several years. No one can predict what the economy will do four years into the future. If there is an upturn in the economy and the MTA has pre-approval to raise the fare, would the MTA spend the money on restoring service cuts and making further improvements or use the funds to give its managers higher raises? Public hearings should be required for every fare increase; the MTA should not be allowed to lump them together as the Port Authority has done. Perhaps there needs to be some legislative changes made.
Transit Lockbox Act
Governor Cuomo signed a smoking ban on railroad stations but has left the Transit Lockbox Act unsigned. This is the governor's first real test on how much he values good mass transit.
Restoring Service Cutbacks
While some communities in Bay Ridge, Manhattan, the Bronx, and Staten Island have already been successful in getting some of last year's service cuts restored, others have organized and are continuing to press the MTA for service restorations. Residents in Eastern Queens have charged this week that the MTA has not done their homework when rejecting their proposals for restoring service by only considering operating costs and not revenue generated.
The MTA tries to think of itself as a business, but what business expects to break even on Day One? A clientele has to be built and nurtured. Most businesses expect losses in the first three years. The MTA always expects losses so it is not willing to make any investments in service. They rejected the Eastern Queens proposals because of an increased annual operating cost of $400,000. That assumes all the buses would always be running empty, which would not be the case under any circumstances. Yet they are able to get away with such distortions.
The MTA is constantly playing with numbers. Instead of comparing daily passengers to daily costs, they always make the comparison to annual costs. However, when eliminating a route, they will never tell you how many annual passengers would be inconvenienced. Instead, they divide the numbers of daily passengers in half and call them customers to make the numbers sound even less. When they themselves make a proposal, they do predict additional ridership, but do so without providing backup.
To do a fair comparison, the MTA should show how many passengers per bus trip it would take to generate the $400,000 needed to offset the additional operating costs. Assume four buses an hour in each direction for 16 hours a day and an average of five passengers per bus trip paying an average fare of $1.50 for 365 days a year and you generate $350,400. Doesn't sound like much when you look at it that way, and remember that those five passengers do not even have to be on the bus at the same time. None of that really matters though, because the MTA would have rejected the proposal if the annual operating cost were only $100,000.
They rejected one of my proposals for the sole reason of an increased annual operating cost of between $50,000 to $75,000, which they overestimated by inaccurately measuring distances. The true cost assuming no new passengers would be generated was closer to $25,000. The MTA's instance on cost neutrality assures that no improvements to the bus routing structure will ever be made no matter how small without needlessly cutting service and hurting passengers.
Why is no one asking for restoration or at least partial restoration of the B4, which now lays over at Coney Island Hospital for 20 minutes during the day and on weekends? That is enough time for it to operate to Sheepshead Bay Station, restoring transfers to the B68 and B49 routes. The MTA should be made to prove how such an extension would cost them extra, not merely assert such. Why is Sheepshead Bay so apathetic? They will not listen to me alone.
Bike Lane
A judge this week dismissed a lawsuit to remove the controversial bike lane along Prospect Park West in Park Slope under the grounds that it wasn't filed within the statute of limitations.
The lawsuit claimed that DOT "cherry picked" the data to distort accident data and traffic speeds, which the judge did not address. This is not the end of the controversy as the proponents against the bike lane have vowed to continue to fight. If the courts ever address the issue of data manipulation, and it is determined that these allegations have merit, future planned bicycle lanes could be in jeopardy. Southern Brooklyn as well as Borough President Marty Markowitz and Councilman Lew Fidler have been no fans of the bike lanes.
And a New Story
When we talk about commuting, we don't often mention walking as a means of commuting, but many do walk to work. One real estate executive, who walks to work in Midtown, Robert Selsam, is fed up with slow walkers and people blocking sidewalks by walking four abreast, for example. To highlight this problem and make people more aware, he jokingly proposed a set of fines for various offenses. Judging from the comments this piece received, many agree that people who "stop to smell the roses" along the sidewalks pose a nuisance to those who are in a hurry. Just hope Mayor Bloomberg does not read it, because he may take the idea of more fines seriously. As a footnote, Selsam was my boss 35 years ago at the Department of City Planning while I was planning the southern Brooklyn bus route modifications that resulted in the B1 and B4, which were modified again last year.
The Commute is a weekly feature highlighting news and information about the city's mass transit system and transportation infrastructure. It is written by Allan Rosen, a Manhattan Beach resident and former Director of MTA/NYC Transit Bus Planning (1981).