Tough Glamor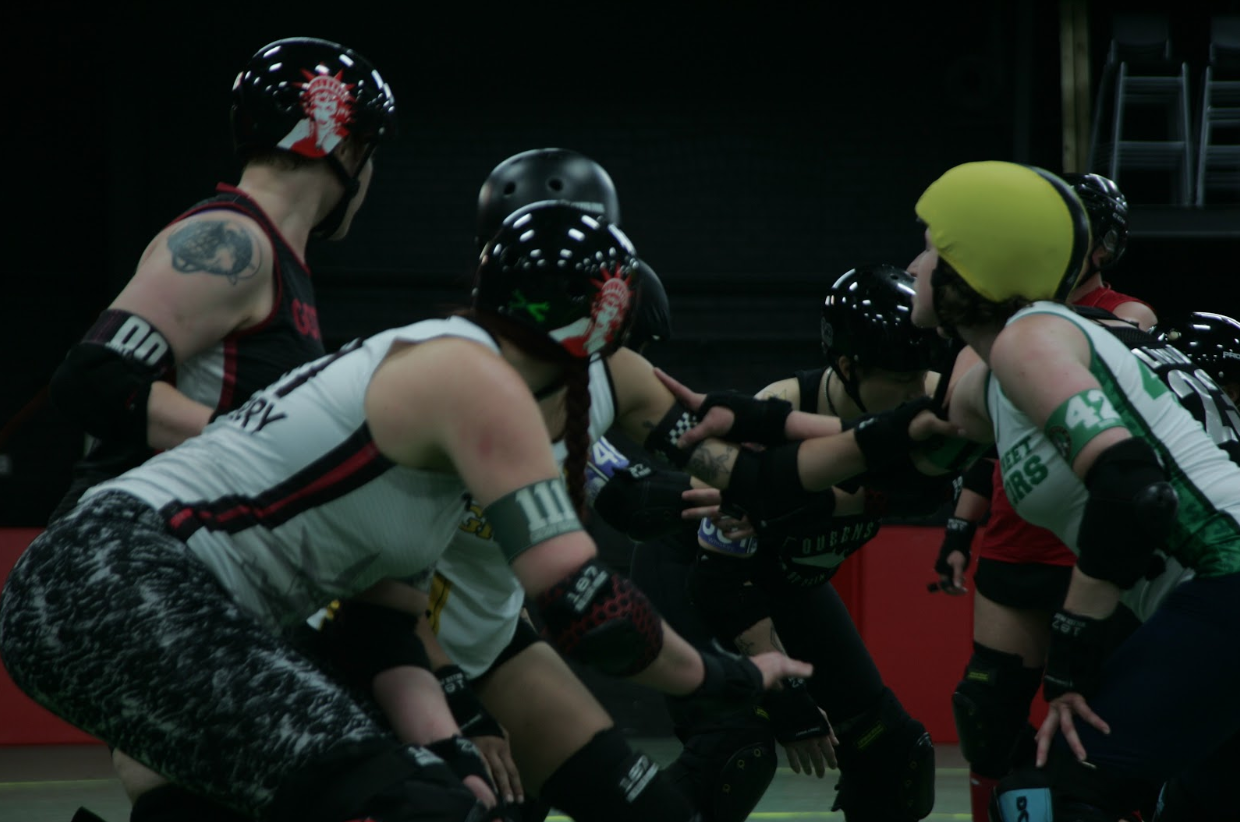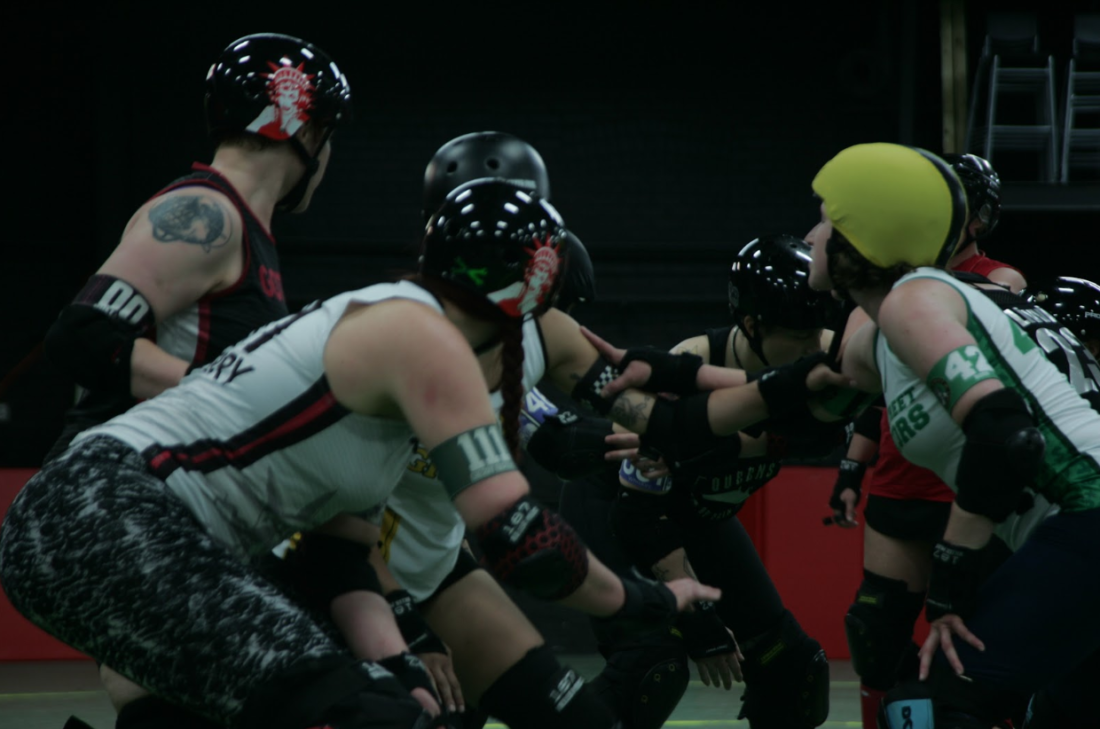 Fast. Empowering. Fun. This is how skaters describe roller derby. At the Gotham Girls Crashpad, the four home teams scrimmage in preparation for the big event of the season, the doubleheader in Coney Island on July 14th.
The building is a brick warehouse in Bushwick. The Gotham Girls logo assumes the guise of graffiti on the front door, the Statue Of Liberty with red lipstick and both fists up. The door opens to a blue flat loop track lined in red. Scrimmaging skaters fidget on benches in the center of the track. The rest of the skaters are in the narrow sidelines next to the weight lifting equipment and kettlebells lining the black walls.
Music pumps over the din of referee whistles, the clack of quad skates and the urgent unintelligible shouts of skaters. Gotham Girls Roller Derby, five time World Flat Track Derby Association Champions, was founded in 2003 as a nonprofit, operated completely on volunteer power.
The simple version of the derby rules starts with five players from each team on the track. A whistle blows to begin each two-minute jam. Only the girl with the star on her helmet can score, the jammer. The other four players are blockers. They prevent the jammer from passing them. The jammer gets a point for each set of opponent's hips she passes as she circles the track. The blockers use full body contact to prevent scoring. There is a penalty box for rule breakers who throw an elbow or kick up a skate. Despite the helmets and armored knees and elbows, injuries are inevitable; bruises and bumps are as commonplace as sweat.
Skaters on the home teams are required to practice a minimum of twelve hours a month, but most well exceed this. Miss Tea Maven, skater for Brooklyn Bombshells and a tea obsessed Anglophile, forces herself to take Fridays and Saturdays off and defiantly skates with a foot injury. For most Gotham Girls, this is their family, their life and anchor.
The women range in age from eighteen to fifty. Many are mothers. Some are transgender. If you have a serious passion for roller derby, the Gotham Girls take you in like family. Annie Mergency, a recent college graduate and skater for Bronx Gridlock, says she doesn't even know the real names of most women she skates with. Women come here for the thrill of flying on skates, and stay because they can be themselves with other women.
Whiskey Lullaby, a skater on the Queens of Pain, started roller derby during a tough time in her life at 41. She felt something was missing. Recently sober, roller derby helped her survive. She quit smoking two months after joining. Turning 50, she is in the best shape of her life, and the oldest player in the league. She says that the only thing the Queens of Pain like to do more than roller derby is eat. She lives with two players, and sees many almost every day. This is her family.
Most skaters come to roller derby never having skated before. With training and passion, many new skaters are drafted into a home team within a year. Evilicious, a new mom and returning skater, says that the accessibility of roller derby attracts women. They pay to play in the league. Every participant is a volunteer. Women juggle many roles at once to keep Gotham Girls strong. Off skates, Whiskey Lullaby is in charge of Gotham Girls' finances.
Besides the four home teams, there is an all-star international travel team, training league, recreational league and junior league with girls ages six to seventeen. There are skating and non-skating officials who keep score and enforce rules. There are coaching staff, team managers, captains, a team of five photographers and a staff of eleven announcers with ringleader charisma. The icing is the Jeerleaders, expressionism of team spirit with glittery poms poms and chuckies. Not one looks like another.
The outlets for women to knock each other over are rare. Annie Mergency says roller derby makes her more self confident. Jax, kickboxing instructor and skater for Diamond District, says it's her meditation. The din of roller derby is a sound that skaters find solace and balance. Whiskey Lullaby calls it life death changing and empowering. She says she skates to keep from drowning in Whiskey and dying. Gotham Girls at a recent sold out bout tells a tale of roller derby and women who know they can do anything.