Totonno's Pizzeria Is Open And Tasty
Sorry Local Broker. Sorry BrooklynQ. Sorry Arthur. I cheated on all of you.
Without a peep to any of you, I slunk off to Totonno's Pizzeria Napolitano (1524 Neptune Avenue) Friday afternoon – Totonno's first day open since their fire last March. I went with my brother. Neither of us had been there before.
It. Was. Delish.
And now I can tell my grandchildren that after the "great fire of oh-nine," I was one of the first customers of one of the world's finest pizzerias in… um… "oh-ten."
From the photos I had seen before the fire, it didn't look like Totonno's changed one bit. The same photos and newspaper clippings that I read about adorn the walls, and the ancient tin moldings and ceiling still make up most of the eating area. My waitress told me that the ceiling section above the counter area was totally new, as well as the skylight.
Here's a photo from my Friday visit: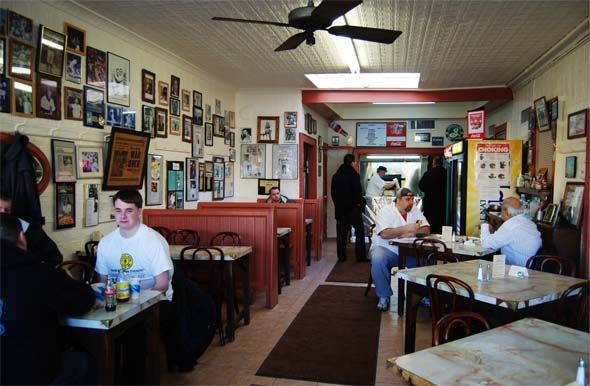 Owner Louise "Cookie" Ciminieri told the Brooklyn Paper that she's not 100 percent confident the taste is the same just yet. You see, the decades-old 900-degree coal-fueled oven has been completely re-lined. Like a baseball glove, it needs to be broken in before you get the best out of it. But in a few days, after its churned out enough pizza to cover the oven's walls with magical awesomeness again, the pies should be perfect once more.
As for the pie I had – I got no complaints. If it gets better than that, well, bring it on.