Three Of Green-Wood's Most Notorious Gangsters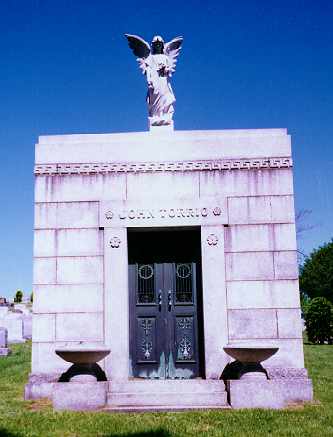 Whether it was the moonshine tasting at Slope Cellars a few weeks ago, or the fact that we're quickly becoming obsessed with Boardwalk Empire, South Slope News has gangsters on the brain.
Knowing that our very own Green-Wood Cemetery is home to over 560,000 permanent residents, we were certain that there would be a few (or more) notorious characters resting beneath the soil.
The historic landmark did not disappoint.
Albert Anastasia (left), born Umberto Anastasio, became one of the most powerful crime bosses of the 20th Century. As the head of Murder Inc, an organization of hit men hired by the five major crime families in New York City during the 1930s and early 1940s, Anastasia ordered the killings of "at least 63 men, with some estimates running much higher."

Anastasia was murdered on October 25, 1957 as he sat in a barber chair at the Park Sheraton Hotel (now the Park Central Hotel, located at 870 7th Ave in Manhattan). The site of the attack is currently home to a Starbucks.
His marker at Green-Wood (below) is Grave 182, found in Section 39 of Lot 38325.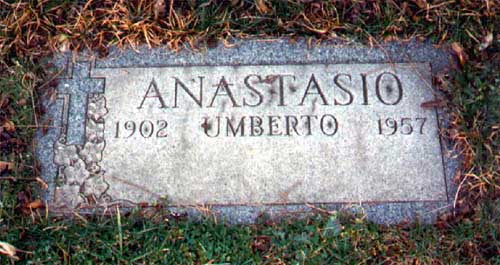 Green-Wood historian Jeff Richman tells us on his blog that Brooklyn native Johnny Torrio (left) was responsible for teaching a young Al Capone the tricks of the gangster trade. After ordering the death of his boss, Giacomo Colosimo, for his failure to jump on the booze bandwagon during Prohibition, Torrio lead The Chicago Outfit until an assassination attempt shook him into retirement. He reportedly told Capone, "It's all yours, Al. Me? I'm quittin'. It's Europe for me."
Johnny Torrio died from natural causes in 1957. His final resting place can be found in Section 130, Lot 36321 at Green-Wood.
Joey Gallo (left) was the bad guy that (almost) everybody loved. He made fast enemies with many of the established NYC crime families when his "rag-tag bunch of mobsters" began infringing on their established racketeering turf.
This somewhat charming underdog persona eventually led to the publication of a book by Jimmy Breslin called The Gang That Couldn't Shoot Straight. The book later became a film in 1971.
Gallo was celebrating his 43rd birthday at Umberto's Clam House on Aptil 7, 1972, when he was gunned down by a team of rivals.
His marker at Green-Wood is somewhat difficult to find (shown above), but is located in Section 12 of Lot 40314.
Photos of Anastasia and Gallo via Biography.com. Photo of Torrio via Jeff Richman. Photo of Anastasia's grave via  Bill Heneage. Photo of Torrio's grave via Jim Tipton. Photo of Gallo's grave via EviL EcHo StuDio.