Three Bay Rd. Businesses Sign Up For Adopt-A-Basket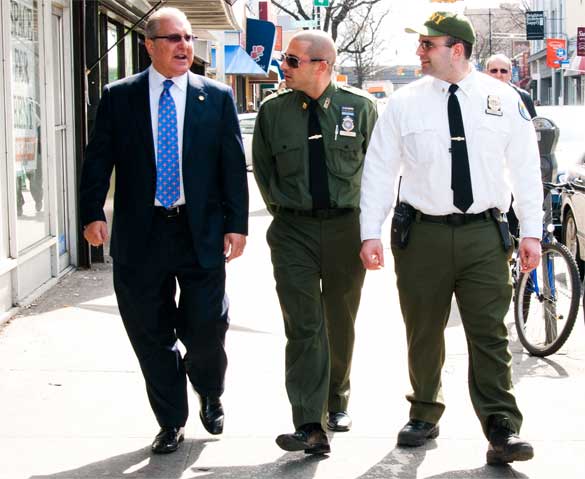 Assemblyman Steven Cymbrowitz pounded pavement with Sanitation Department officials recently, introducing the agency's Adopt-a-Basket program to local businesses in an effort to reduce litter.
Cymbrowitz announced that he and the department signed up three new local businesses on Sheepshead Bay Road – Liquor World (1709 Voorhies Avenue), ALFA Vision Center (1402 Sheepshead Bay Road) and Bay Quick Mart, under the Sheepshead Bay Road station. The three new participants join Munchinette (1738 Sheepshead Bay Road) in the program.
Adopt-a-Basket is a volunteer program in which a business, organization or individual agrees to help prevent public garbage cans from overflowing. The department supplies plastic bag liners, a collection schedule and a contact person at the local district operations office, and participants change the bags when the basket is three quarters full.
"Much of our litter problem is caused by pedestrians who just don't care and drop their litter wherever they happen to be and residents living above the stores illegally dumping their household garbage in litter baskets," Cymbrowitz said. "However, those of us meaning to dispose of litter the proper way are often confronted by an overflowing can, caused by fewer Sanitation Department pickups. With the warm weather coming, the Sanitation Department will be putting additional cans on our corners. The Adopt-A-Basket Program reduces litter on our streets by keeping the corner baskets from overflowing."
Let's give thanks to these businesses that are helping keep our commercial corridors clean!