Three Arrested By Ocean Avenue & Dorchester Road After Police Find Loaded Gun & Bullets Inside Fake Bible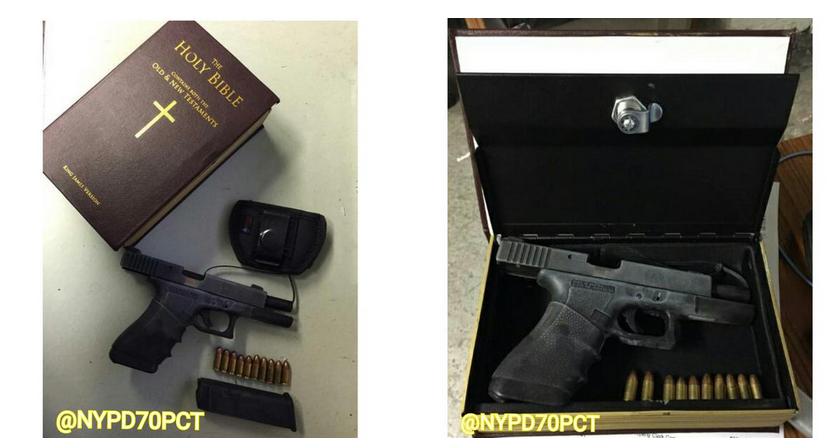 70th Precinct officers who pulled a car over near Ocean Avenue and Dorchester Road around 2:30am Monday made an unexpected find: a loaded gun and a box full of bullets tucked inside a fake Bible, the NYPD said.
According to police, the officers noticed a smell of marijuana coming from the car after they pulled it over and, upon searching the vehicle, found a loaded Glock 17, ammunition, a gravity knife, and an open container of alcohol inside what looked like a leather-bound Bible but was instead a hollowed-out space.
Three individuals were arrested and charged with criminal possession of a weapon and unlawful possession of marijuana: Andre Allen, 32; Satina Ferguson, 21; and DeShawn Thompson, 24, according to the NYPD.
The arrests, led by Police Officer Max Rolffot, were praised by the 70th Precinct's commanding officer, Deputy Inspector Richard DiBlasio, who tweeted, "#70pct PO Rolffot & team arrested a perp for gun hidden in Bible! The dangers our officers encounter."
Officer Rolffot has previously been honored as a 70th Precinct cop of the month for prior arrests, including one that occurred last summer by Church and Bedford Avenues, where Rolffot and two other officers spotted an individual who began to run from them.
They chased him down and recovered a loaded firearm, DiBlasio said.
Additionally, Rolffot was also commended last summer for his work in arresting an individual carrying a loaded .38 firearm in plain view on Newkirk Avenue.