Thousands Of Yemeni-Americans & Supporters Rally Against Trump's 'Muslim Ban'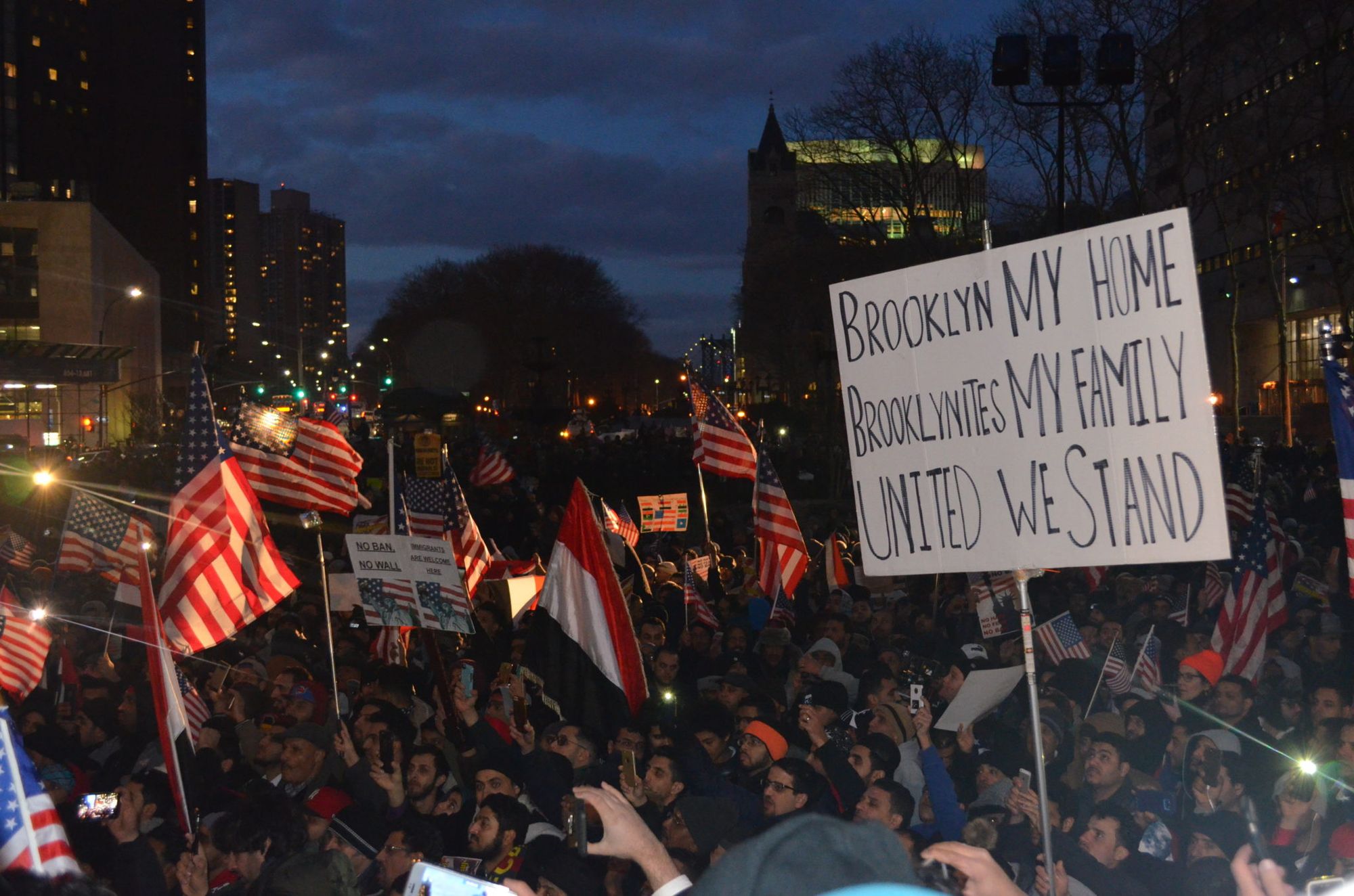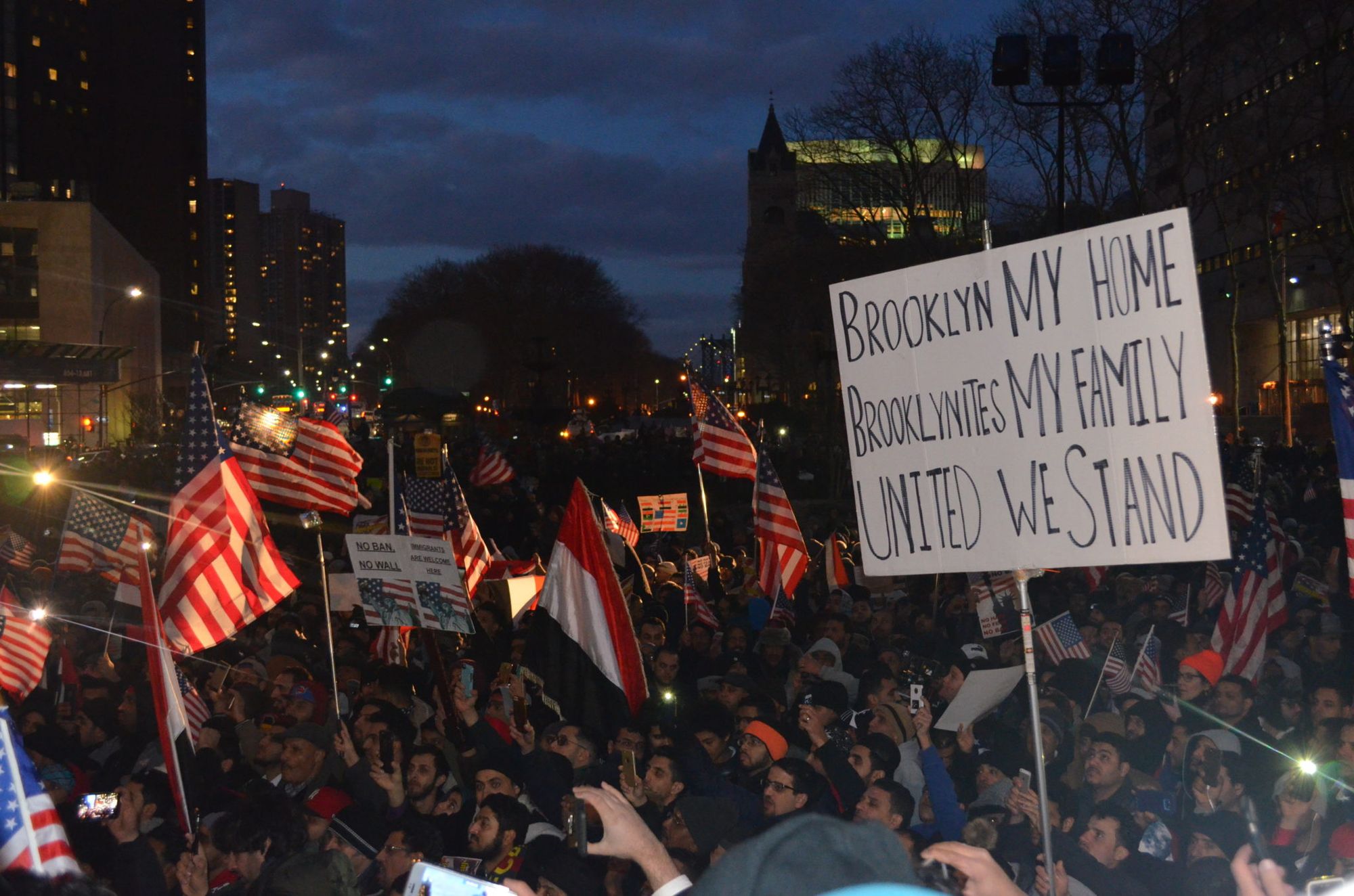 Last night, an estimated 7,000 thousand Yemeni-Americans, Muslims, and supporters peacefully rallied at Brooklyn Borough Hall to protest Trump's "Muslim ban" and stand with Yemeni-American New Yorker whose family members are stranded overseas.
Yesterday's protest marked the culmination of the Yemeni-American bodega strike, in which at least 1,000 bodegas across the city shuttered between 12pm to 8pm to protest Trump's sudden and swift executive order.
The executive order, which passed last Friday, barred refugees and immigrants from entering the U.S. from seven majority-Muslim countries: Iraq, Syria, Iran, Sudan, Libya, Somalia, and Yemen. Non-citizens were barred for 90 to 120 days, and Syrian refugees were barred indefinitely. The order sparked immediate backlash for being anti-Muslim, igniting massive protests across the country and lawsuits from the ACLU.
For Yemeni-born Brooklynite Salah, the ban has upended his family. About a month ago, his mom went to Yemen to visit her sick brother, and now she's been refused re-entry back home.
"I want my mom to come home. She's been living in New York City for six years," said Salah, who's father passed away two years ago. "We want the world to know that we came here because of freedom," he said. "But now, I don't know what's going on."
Among the thousands who clamoured at the step's of the Brooklyn courthouse just before sunset last night, many local officials came to speak including Borough President Eric Adams, City Council speaker Melissa Mark-Viverito, Council Members Carlos Menchaca, Vincent Gentile, and Daneek Miller; Assembly Member Robert Carroll; comptroller Scott Stringer, and many others.
"I, like you, am a Muslim from Brooklyn," shouted Queens council member Daneek Miller. "Despite the rhetoric that comes out of Washington D.C., my colleagues are standing in support of the immigrant populations here. The struggle continues, continue to resist."
The rally began with a rousing call to prayer, as the massive crowd filed into neat rows lining the courtyard. Prayers rang out through the speakers, people knelt on the ground in unison just as the setting sun cast a surreal glow over the backs of devotees.
As soon as the final words were sung, the crowd erupted into rousing chants and cheers as speakers told stories and called the audience to action. Many shouted about trapped family members and why they're fighting the ban on immigrants and refugees.
Yemenis seeking visas into the U.S. have faced many hardships since the U.S. Embassy closed in 2015 amidst a devastating civil war and increased U.S. military involvement in the conflict.
"I will continue to fight until Trump realizes that we are the people, like it says in the constitution," said 17-year-old Brooklyn resident Yasmeen, who doesn't believe it's right to engage in foreign wars then block refugees who have been affected by U.S. military actions.
Both on the stage and throughout the crowd, hundreds of immigrants and American-born Muslims told both heartwarming and heartbreaking stories against a patriotic backdrop.
"For the past few months, my mom has been afraid to wear her Hijab outside," said Makke Dakhlaoui, a 24-year-old Tunisian-American.
"But after 9/11, when I was afraid to identify as an Arab and Muslim, my mom taught me how important it is to be a strong Muslim. And now seeing her take that back, because of fear? That hurts the most," he said. "This is an attempt to give her the choice back."
We spoke with a Yemeni-American woman named Sarah, proudly holding a sign with the seven banned countries — with each letter in red spelling out the acrostic AMERICAN.
Simultaneously, the crowd fell quiet as the commanding voice of a Yemeni-American lawyer rang from the podium. "This is emotional for me. Your blood is my blood," shouted Afaf Nasher from CAIR New York.
"We are challenging the ban in the court rooms, we are challenging the ban in the streets, and we are challenging the ban in our homes."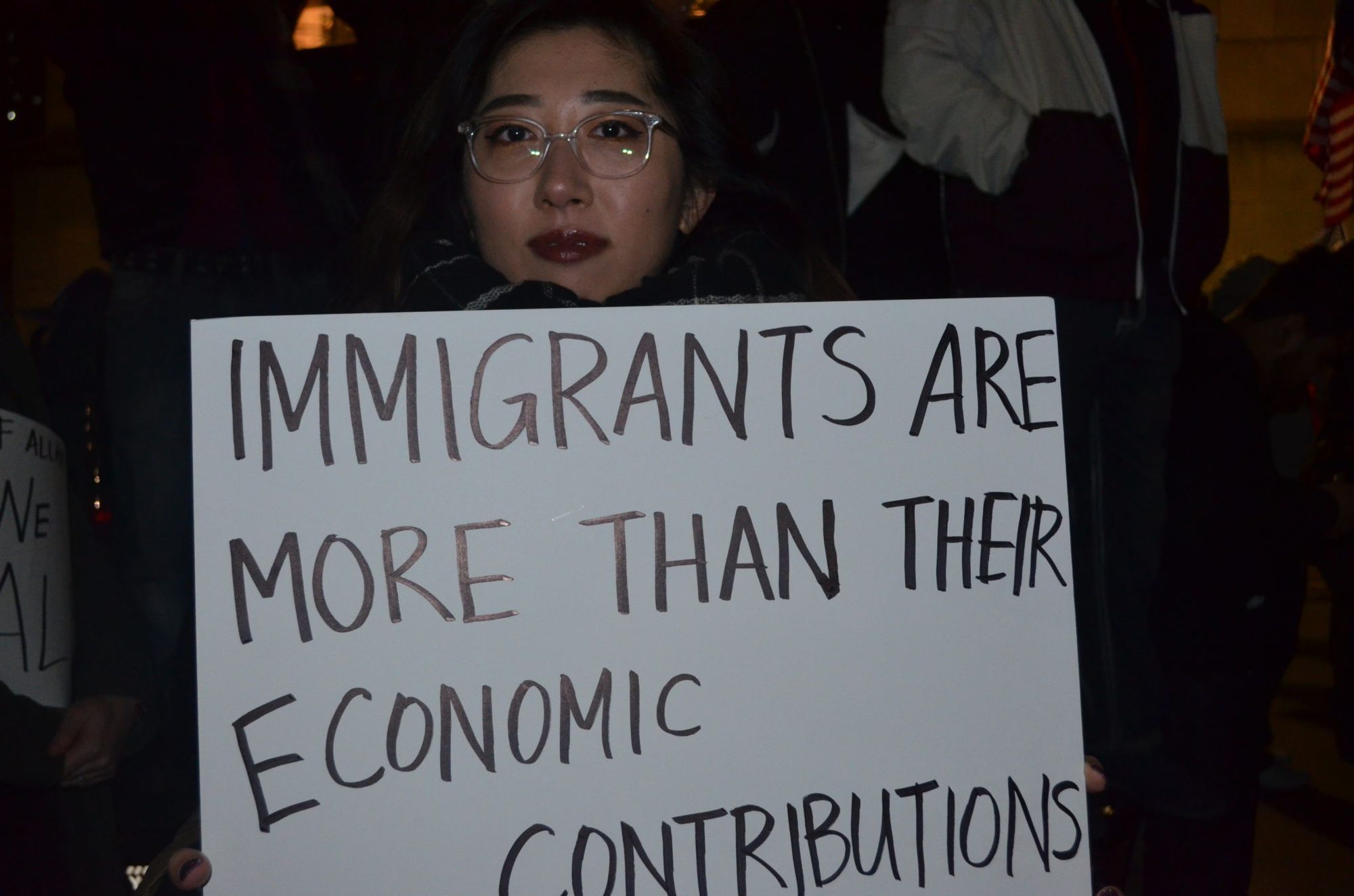 One protester felt that the discourse around immigrants is limiting and dehumanizing. "While they are the driving force behind our economy, they're not just pawns," said Manhattan resident Minori.
"Their lives matter before what they can bring to our table. They belong here."