This Saturday, July 18: Eat Your Brunch With A Side Of Love, Wit & Vengefulness At Sycamore
This Saturday, July 18, neighbors are invited to eat their brunch with a side of love, wit and vengefulness as the professional singers from our Ditmas Park's Opera on Tap bring their talents to Sycamore (1118 Cortelyou Road) from 1-3pm.
Beginning at 12pm, you can begin stuffing your face with brunch from Roswell TexMex — as well as try out Sycamore's bloody mary bar — and the opera performance will kick off in the garden at 1pm. Cortelyou Road Radio will be live recording the event as part of their community spotlight program — which means even if you have to miss this fun event, you should be able to hear it later!
During the performance, the professional singers from Opera on Tap — which was founded by Anne Hiatt in 2005, is headquartered in Ditmas Park and aims to connect new audiences with opera through numerous programs — will regale neighbors with some of opera's greatest hits.
There is no cover charge for the performance, though, of course, you'll need to bring money for Roswell's tasty eats.
Before the opera extravaganza on Cortelyou, we wanted to catch up with Anne about Opera on Tap, Ditmas Park's opera world, what we can expect on Saturday, and more.
Tell us about Opera on Tap! What made the group want to bring opera to places like bars in the first place?
Opera on Tap was born in June 2005 in the back room of Freddy's Bar at its former location in Prospect Heights. It began over a few drinks between myself and the bartender Don O'Finn. I mentioned how there weren't enough performance opportunities for young opera singers outside of the relentless audition circuit. He offered me an off-night to try out a "Diva Night" in the back room. I enlisted the help of my good friends Carla Fisk and Jessica Miller-Rauch to help plan the first event and we were off and running. Our first performance was a huge success. We packed the joint and realized there is an untapped audience out there for what we do. At the same time the performers really enjoyed the casual low-pressure vibe of the show.
A year later, we officially formed as a non-profit with the mission of bringing opera to new audiences while at the same time supporting the creators and performers that continue to make it happen. Ten years later we're a national organization with 18 chapters across the country. We're singing in bars everywhere!
How/why did Opera on Tap come to be headquartered in Ditmas Park? What is the opera community like in our neighborhood?
We became headquartered here when my husband and I moved here six years ago. We love this neighborhood and are happily raising our daughter here! Interestingly, there are many classically-bent musicians living in Ditmas Park these days. Off the top of my head, Opera on Tap has worked with/ collaborated with/ produced with/ commissioned at least 11 locals — namely Kamala Sankaram, Leilah Ezra, Matt Marks, Drew Fleming, Jeff Hudgins, Andie Tanner Springer, Katie Cox, Cameron Russell, Kevin Winkler, Beth Morrison and Mary Kouyoumdjian. All in all, I would say the opera community here in Ditmas Park is pretty darned healthy, innovative and fun.
What can people expect from the Opera on Tap performance at Sycamore? Should we all come wearing our best gowns?
Wear whatever you want. Come naked if you want! (not really — there will be food served). We are the opera company that sings in jeans while we swill beer and sing opera. In honor of Maria Callas, we WILL be donning oversized sunglasses and pearls.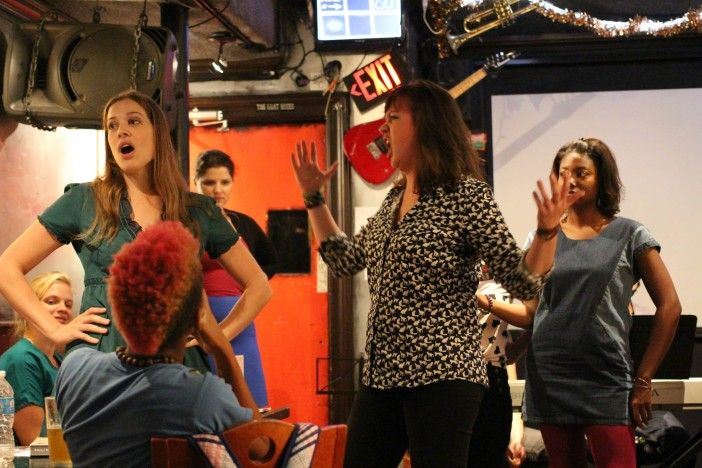 What kind of response have you gotten from Opera on Tap audiences? What about the performances do you think most surprises people who may not consider themselves opera fans?
The response to our shows has been overwhelmingly positive. I think we have really become known in the opera community as a company that does not shy away from the entertainment possibilities in opera. Our shows are all about intimacy and warmth — a LOT of interaction with the audience. We also work hard to break down barriers for our audiences — let them in on the stories and characters they're hearing, albeit often in a foreign language. I think what most surprises our audiences about our shows is how often they leave them feeling thoroughly entertained and moved at the same time. We certainly have had many of our audience members approach us after shows and tell us the like.
Do you have a background in opera?
I studied voice at Indiana University in Bloomington and then completed my Masters in voice at Manhattan School of Music. I spent my 20s freelancing as a professional singer. I still sing, but have really found myself in the administrative side of running our opera company.
What's your favorite thing to drink while listening to opera?
Well it depends on the aria I'm hearing! But generally I continually find myself drinking beer at our bar shows. Obviously this Saturday, in honor of Maria Callas, I'll be drinking Bloody Marias.
To find out more about Opera on Tap, you can check out their website and follow them on Facebook, Twitter and Instagram.