This Is NOT How You Handle Getting Towed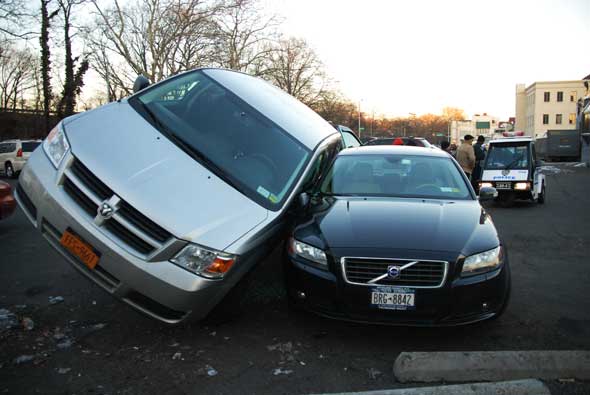 On Monday we wrote about a predatory tow company in Sheepshead Bay that charges illegal rates for unhooking, but what should you do if you find yourself on the hook and don't want to pay the fine?
One thing you don't do is this.
When a client of Ginger Rose Hair Studio (1804 Sheepshead Bay Road) saw his minivan being towed from the El Greco Diner (1821 Emmons Avenue) parking lot – a business he was not patronizing – at 4:30 p.m. yesterday, he sprung into action. Witnesses say they saw the man, Vitaliy Khananayev, run from the salon to the parking lot when employees of County Recovery tow service already had his car "on the hook." Rather than confront the tow operator, Khananayev hopped in his car and "started gunning it."
Instead of doing what Khananayev had hoped – which we assume was to somehow float off the hook and land gently back in the space, or perhaps to fly off and run over a crowd of pedestrians at the bus stop – the minivan lost balance and toppled over on the car next to it.
At least that's what the tow truck driver, Thomas Nunez said happened. It's also what several witnesses recounted.
But according to Khananayev's son, he had been in the car the entire time, and never even started the engine. He said that his father stayed in the van while he went for a haircut, and then they both planned on getting lunch at El Greco.
Nunez, though, said no one was in the car, and he provided video to Sheepshead Bites (below), taken immediately after the accident, which shows him asking the driver of why he would do that, and bystanders calling Khananayev an animal.
Whatever the case, this is definitely not how you deal with being towed.