Things To Do This Weekend In FG-CH, Through April 17: Library Book Sale, ASPCA Adoption Event, And Earth Day At Habana Outpost
WINE TASTINGS: here's a list of seven weekly options!
Myrtle Avenue's KIDS GUIDE also has great listings.
Submit your event listing to our BROOKLYN-WIDE CALENDAR or by emailing editor@bklyner.com.
SATURDAY, APRIL 16
Cadman Plaza Park Clean-up
When: 10am
Where: Cadman Park Plaza
What: St. Francis College is proud to host and participate in a series of events celebrating Earth Day 2016 including a park cleanup, blessing of a water way, an environmentally conscious artists, and a history of how the Space Race created the environmental movement. During this event, the Environmental Club will help beautify the park, rake leaves, and paint lampposts. All are invited.
Voice and Movement Workshop
When: 10:30am
Where: BRIC House at 647 Fulton Street
What: Use sound, breath, and movement to get your body moving and your mind connected with the community, in this class led by The Commons Choir. Participants will use sound, breath, and movement to build health and connect with others. The class starts with a gentle, energizing warm-up based in Qigong (a Chinese system that builds vitatlity) and moves on to vocal exercises for personal and group expression. This class is designed for all ages and abilities, and is led by master teacher Daria Faïn. Open to all levels of experience. Especially welcomes speakers of all languages.
How Much: FREE
Book Sale and ASPCA Adoption Event
When: 10am-4pm
Where: Clinton Hill Library at 380 Washington Avenue
What: The Friends of Clinton Hill Library will host their semiannual book sale on Saturday. All items (books, CDs, DVDs and vinyl records) will cost $1 or less, with proceeds supporting programs at the branch. The ASPCA Mobile Adoption van will be onsite, with cats and kittens looking for loving homes.
Earth Day / Opening Day At Habana Outpost
When: 11am-2pm
Where: Habana Outpost at 757 Fulton Street
What: Vegetable calligraphy, recycling workshops, great food, fun activities for families, and more!
BRIC Hip Hop House Party
When: 12-5pm
Where: BRIC House at 647 Fulton Street
What: Let your family's voice be heard! Brooklyn's best family daytime spree continues with music, dance, and art-making with a social message.
Family Day at Walt Whitman LIbrary
When: 10am-5pm
Where: Walt Whitman Library at 93 Saint Edwards Street
What: The Friends of Walt Whitman Library invites everyone to their first Family Day — a full day of music, double-dutch, board and card games, basketball (bring your own ball), and refreshments! The Fire Department will also be on hand for fun and education, and there will also be storytime (get a free book!) and a chance to beat librarian Mr. Lula at chess in only five moves!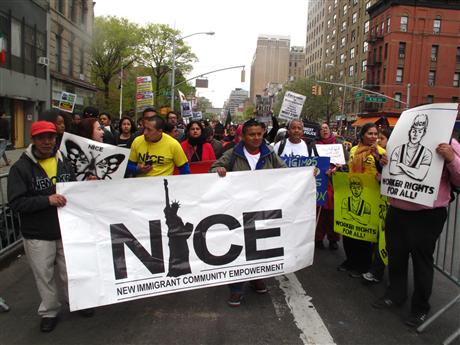 SUNDAY, APRIL 17
Brooklyn Symphony Orchestra Performs
When: 2-3:30pm
Where: Brooklyn Museum at 200 Eastern Parkway
What: The orchestra performs "Masquerade" suite by Aram Khachaturian, Samuel Barber's "Knoxville, Summer of 1915," and Antonin Dvorak's Symphony No. 7 in d minor.
How Much: $18 or $10 senior discount
Stop Wage Theft: A Workshop
When: 2-5pm
Where: BRIC House at 647 Fulton Street
What: The Workers' Studio Family Day will engage families and members of the community through artistic expression and an open dialogue on critical issues affecting immigrant workers in New York, such as wage theft. Day labor workers will share their experiences and knowledge with the community. Families are invited to participate in art-making, musical performances by Son Pecadores and a photobooth, all while they learn about day laborer workers' rights and the power of workers organizing for justice. Let by artist Sol Aramendi. The event will include the presentation of the Jornalero Wage Theft App that was developed under this project by Aramendi.
How Much: FREE