Things To Do This Weekend, Through December 6: UrbanGlass Open Studios, Make Your Own Animated Holiday Card, And Tree Lighting At Fort Greene Park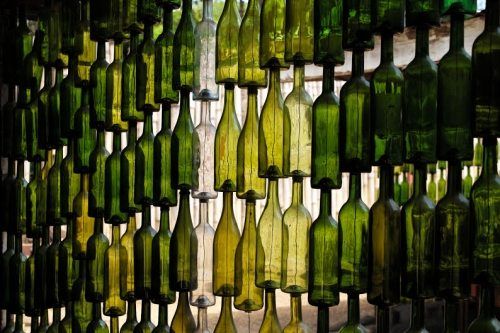 FAMILY-FRIENDLY KIDS events, see this week's (through December 8) Kid Calendar.
WINE TASTINGS: here's a list of seven weekly options!
Myrtle Avenue's KIDS GUIDE also has great listings.
Submit your event listing to our BROOKLYN-WIDE CALENDAR or by emailing editor@bklyner.com.
FRIDAY, DECEMBER 4
Cocktail Happy Hour
When: Friday, December 4 from 4-6pm
Where: Black Forest Brooklyn at 733 Fulton Street
What: To celebrate the official launch of our new cocktail program — combining German old school with Brooklyn new school — we hope you can join us for a special Cocktail Happy Hour where we will officially introduce the cocktails, and you will be able to enjoy it for half the price!
Wine Tasting
When: Fridays from 5-8pm
Where: Leon and Son Wine & Spirits at 995 Fulton Street
What: Free tasting at the new Clinton Hill shop!
Greene Grape Wine Tasting
When: Fridays from 6-8pm
Where: Greene Grape Wine Store at 753 Fulton Street
What: Come sample a selection of this week's wines!
Community Producer Holiday Party
When: Friday, December 4 from 6-9pm
Where: BRIC House at 647 Fulton Street
What: Your presence is requested at our 10th Annual The Spirit of Giving Holiday Party! We'll be serving good food, toasting the year to come, and playing really fun for all ages games like Family Feud, Jenga, Dominoes, and more. In keeping with The Spirit of Giving, we've partnered with Toys for Tots to bring joy to a child this holiday season. We're asking all attendees to please bring one (1) unopened toy for our Toys for Tots box. All toy donations will go to the Toys for Tots Foundation.
How Much: Free, but RSVP
Holiday Party
When: Friday, December 4 at 7:30pm
Where: Lafayette Avenue Presbyterian Church
What: Hosted by the Fort Greene Association. Celebrate the holidays with neighbors and a Local Merchant Raffle that features gift certificates for dining, shopping, and services. Dinner provided by local restaurants, entertainment and beverages by the FGA. Children welcome. Admission supports FGA holiday dinners to those in need.
How much: $10. RSVP to Roslyn Huebener at 718-744-4910 or roslyn@historicfortgreene.org.
Comedy Show
When: Fridays at 8pm
Where: Five Spot Soul Food at 459 Myrtle Avenue
What: Free comedy show every Friday night.
Karaoke Night
When: Fridays from 8pm-12am
Where: SIP Bar at 14 Putnam Avenue
What: Every Friday night. Hosted by Kings of Karaoke.
How much: Free
BAMCafe Live: Matt Darriau's Paradox Trio
When: Friday, December 4 at 9:30pm
Where: BAM Peter Jay Sharp Building at 30 Lafayette Avenue
What: Intoxicating Romany rhythms meet thrilling jazz improvisation in the boundary-pushing sounds of Paradox Trio. World music woodwind virtuoso Matt Darriau (of Grammy-winning ensemble the Klezmatics) leads the outfit, performing intricate, shape-shifting melodic lines on the traditional gaida, a Bulgarian bagpipe; the flute-like kaval; and the driving Balkan beats of the dumbek.
SATURDAY, DECEMBER 5
Fort Greene Park Greenmarket
When: Every Saturday from 8am-4pm
Where: Washington Park between DeKalb and Willoughby Avenues
What: Weekly farmers market with live music and family-friendly activities.
Shape Up NYC: Essentrics
When: Saturday, December 5 at 10am
Where: Clinton Hill Library at 380 Washington Avenue
What: Join these FREE classes.
BRIC FamJam: Holiday Greetings
When: Saturday, December 5 at 10am
Where: BRIC House at 647 Fulton Street
What: Introducing a new family program designed as a workshop for families to work together to complete one creative art project.  From silent movies to mosaic plaque creations, these projects will celebrate the notion of home and more. For families with school age children (ages 7 – 18). For our December 5 FamJam, families will create a digitally animated holiday greeting! Take a family portrait, use wintery props, act out a greeting, and add text!
How Much: Free with RSVP
Shape Up NYC: Cardio-Sculpt and Aerobics
When: Saturday, December 5 at 10:30am and 12 noon
Where: Bedford Library at 496 Franklin Avenue
What: Join these FREE classes.
Brooklyn Pop-Up Market
When: Saturdays through December 23 from 12-6pm
Where: Trilok Fusion Arts at 143 Waverly Avenue
What: Weekly themes and vendors!
How much: Free
UrbanGlass Open Studios: A Recycled Holiday
When: Saturday, December 5 from 1-5pm
Where: UrbanGlass at 647 Fulton Street
What: Our Holiday open studios will focus on glass as a renewable resource. Join us for UrbanGlass Open Studios, an opportunity to explore our spectacular– and closed to the public– 17,000 square foot facility, and learn about the ways that glass can be reused and transformed. Participate in hands-on activities (glassblowing! kilnforming! bead-stringing!), tour our incredible studios, and watch artists blow glass, manipulate glass with a torch, and more.
How Much: FREE
Food Event: Dona Chai
When: Saturday, December 5 from 2-7pm
Where: Mekelburg's at 293 Greene Avenue
What: Dona Chai is delicately crafted using fresh ginger that is cold pressed – a distinct process that preserves the integrity of the ginger root.  Their brewing process begins with whole spices that are ground fresh for each batch to maximize flavor, depth, and purity. Every cup has notes of each flavor: cinnamon, cardamom, vanilla bean, cloves, black peppercorns, cold-pressed ginger, and organic, loose-leaf black tea.
BAMCafe Live: American Candy
When: Saturday, December 5 at 9:30pm
Where: Peter Jay Sharp Building at 30 Lafayette Avenue
What: Part sketch comedy spectacular, part raucous musical satire, AMERICAN CANDY, created by Hollie Harper, is a Brooklyn-based troupe that irreverently skewers the absurd side of American pop culture. Taking inspiration from groundbreaking series like In Living Color and The Carol Burnett Show, AMERICAN CANDY brings together a diverse group of comedians for a special performance to celebrate their tight, naughty grasp on musical comedy.
SUNDAY, DECEMBER 6
St Luke & St Matthew Holiday Fair
When: Sunday, December 6, 12-5pm
Where: St Luke & St Matthew Episcopal Church, 520 Clinton Avenue, Clinton Hill
What: Shop for gifts from local vendors while the kids decorate (and, we're guessing, eat a few) gingerbread cookies!
How Much: Free admission, with suggested $3 contribution for cookie decorating.
French & Chinese Book Fair & Winter Festival
When: Sunday, December 6, 12-5pm
Where: Science, Language & Arts @ The Brooklyn Music School, 126 St Felix Street, Fort Greene
What: Look out for free performances in the theater, including a Manhattan Shaolin Kung Fu demonstration at 12pm; Haitian folktales and songs at 2pm; and David Engel's Pirate School at 3pm. Plus, there will be a French and Chinese book fair, holiday gifts for sale, and crafts, games, raffles prizes, a bake sale, and a silent auction with items from local shops.
How Much: Free admission.
Bethel Sports Club's Free Exercise Class
When: Every Sunday from 3-4pm
Where: Bethel SDA Health Ministry at 457 Grand Avenue
What: Weekly exercise class with dumbbells, tension ropes, exercise ball, treadmill and the guidance of a certified fitness instructor.
Nikolaus Celebration
When: SUnday, December 6 from 3-5pm
Where: Black Forest Brooklyn at 733 Fulton Street

What: A special event for children and grown-ups alike: each December 6th, children in Germany celebrate Nikolaus, and so will we! We will have Glühwein (German mulled wine), Lebkuchen (German gingerbread cookies) and a visit from the real German Niklaus who will be reading Christmas stories to the children. Who is this Nikolaus guy? Though they have similar outfits, Nikolaus is not to be confused with Santa Claus, who Germans call the Weihnachtsmann. Read more about him here.
How Much: FREE
Fort Greene Park Holiday Tree Lighting
When: Sunday, December 6 from 5-6pm
Where: Myrtle Avenue and Washington Park entrance
What: Come celebrate the holiday season with neighbors. Enjoy free hot cocoa and treats from Castro's and Pushkin Creperie. Take photos with Santa! Listen to local students sing! Watch the tree get lit!
ONGOING
Jill Lindsey Holiday Markets
When: Saturdays-Sundays, December 5-20, from 10am-7pm
Where: Jill Lindsey at 370 Myrtle Avenue
What: Several local vendors will be featured over the course of three weekends this month, beginning with this Saturday and Sunday! Stop by and do some holiday shopping and hands-on crafts while enjoying mulled wine and treats at the cafe. Also, check out the new JL Wellness initiative! Gift wrapping is also offered.
How Much: Free unless you buy items!
Show and Tell Photos Of Your Clinton Hill Neighborhood
When: By appointment
Where: Clinton Hill Library at 380 Washington Avenue
What: Bring a picture and your written short caption/short story that tells the story of your Clinton Hill neighborhood. It can be a picture of a person or persons, a place, a thing, a picturesque memory. All photographic short stories/captions & pictures will be displayed in the Clinton Hill Library for you and your neighbors to see for the month of September 2015. You can bring in your picture and story into the branch or mail it to 380 Washington Ave, Brooklyn, NY 11238 or email it to cclark@bklynlibrary.org