Things To Do This Weekend, Through December 20: Ingersoll Tree Lighting, Wreath Making Class At Home Ec, And Brooklyn Symphony Orchestra Performs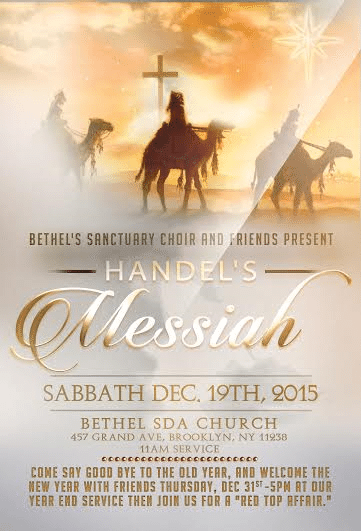 FAMILY-FRIENDLY KIDS events, see this week's (through December 22) Kid Calendar.
WINE TASTINGS: here's a list of seven weekly options!
Myrtle Avenue's KIDS GUIDE also has great listings.
Submit your event listing to our BROOKLYN-WIDE CALENDAR or by emailing editor@bklyner.com.
FRIDAY, DECEMBER 18
Christmas Tree Lighting
When: Friday, December 18 from 5-8pm
Where: Ingersoll Community Center at 177 Myrtle Avenue
What: Free hot cocoa, cider, crafts, Santa, music, and the tree lighting!
Wine Tasting
When: Fridays from 5-8pm
Where: Leon and Son Wine & Spirits at 995 Fulton Street
What: Free tasting at the new Clinton Hill shop!
Greene Grape Wine Tasting
When: Fridays from 6-8pm
Where: Greene Grape Wine Store at 753 Fulton Street
What: Come sample a selection of this week's wines!
Make Your Own Wreath
When: Friday, December 18 at 7pm
Where: Home Ec at 692 Fulton Street
What: Craft your own wreath with Vase Lifestyle! Perfect for friends, dates, singles, whoever. Reserve your seat in advance by emailing theresa@homeec.org.
Christmas At Elim
When: Friday, December 18 at 7pm
Where: Brooklyn Center for the Arts at 28 Madison Street
What: Presented by Arts At Elim and Judah International Dance Theatre.
Comedy Show
When: Fridays at 8pm
Where: Five Spot Soul Food at 459 Myrtle Avenue
What: Free comedy show every Friday night.
Karaoke Night
When: Fridays from 8pm-12am
Where: SIP Bar at 14 Putnam Avenue
What: Every Friday night. Hosted by Kings of Karaoke.
How much: Free
BAMCafe Live: Beat Kaestli
When: Friday, December 18 at 9:30pm
Where: BAM Peter Jay Sharp Building at 30 Lafayette Avenue
What: Swiss-American singer Beat Kaestli has won acclaim for his poignant, expressive vocals and interpretations of everything from American jazz standards to soulful originals. For this special performance, Kaestli debuts work from his latest project Rock My R&B, featuring 80s rock classics reimagined in the timeless style of jazz and R&B.
SATURDAY, DECEMBER 19
Fort Greene Park Greenmarket
When: Every Saturday from 8am-4pm
Where: Washington Park between DeKalb and Willoughby Avenues
What: Weekly farmers market with live music and family-friendly activities.
Shape Up NYC: Essentrics
When: Saturday, December 19 at 10am
Where: Clinton Hill Library at 380 Washington Avenue
What: Join these FREE classes.
Shape Up NYC: Cardio-Sculpt and Aerobics
When: Saturday, December 19 at 10:30am and 12 noon
Where: Bedford Library at 496 Franklin Avenue
What: Join these FREE classes.
Concert: Handel's Messiah
When: Saturday, December 19 at 11am
Where: Bethel SDA Church at 457 Grand Avenue
What: Bethel's Sanctuary Choir and Friends present Handel's "Messiah" during the morning service. A prelude to New Year festivities on Thursday, December 31 at 5pm.
BRIC Media Orientation
When: Saturday, December 19 from 11am-1pm
Where: BRIC House at 647 Fulton Street
What: Some of our classes require that you attend one, 2-hour Orientation before you register for our BRIC Media Education courses. (Check the "Pre-Requisite" section of each class listing for orientation requirements.) We hold these orientations so you can become familiar with how our organization works, making everyone's experience fun, safe, and productive! In the orientations, we go into more detail about community access television, services available from BRIC, and legal stuff (policies and procedures).
How Much: Free, but if you plan on registering for a class afterwards, bring full payment via check or money order AND a current utility bill in your name with a Brooklyn address.
Popup Art Shack
When: Saturday, December 19 from 11am-4pm
Where: Art Shack at 384 Waverly Avenue
What: Popup art shack! The popular afterschool art studio and Brooklyn Flea vendor, ArtShack Brooklyn, will be selling delicate porcelain gift items conceived and designed by students in their apprenticeship program. All proceeds go toward funding their scholarship program, which currently provides free art classes to 25% of their students.
How Much: Free
Brooklyn Pop-Up Market
When: Saturdays through December 23 from 12-6pm
Where: Trilok Fusion Arts at 143 Waverly Avenue
What: Weekly themes and vendors!
How much: Free
Where's Cosmo Pop-Up
When: Saturday, December 19 from 1-2pm
Where: Yu Interiors at 15 Greene Avenue
What: Win a gift certificate for local restaurants while shopping for home decor and holiday gifts!
Tasting: Teapigs
When: Saturday, December 19 at 2pm
Where: Mekelburg's at 293 Grand Avenue
What: Come learn more about Teapigs's quality teas!
BAMCafe Live: Anu~Sun
When: Saturday, December 19 at 9:30pm
Where: Peter Jay Sharp Building at 30 Lafayette Avenue
What: This Las Vegas-born, New York-based Grammy-nominated drummer, songwriter, and producer is a connoisseur's musician, having grown up in a jazz family (his godfather is legendary vibraphonist and percussionist Lionel Hampton) and having honed his drumming chops from an early age. Anu~Sun's sound melds 90s neo-soul grooves with strong hip-hop and jazz influences, and his recent credits include Robert Glasper's Black Radio and Black Radio 2, the score for the forthcoming Miles Davis biopic Miles Ahead, and his own sophomore album, Mr. Las Vegas.
SUNDAY, DECEMBER 20
Holiday Craft Fair and Santa
When: Sunday, December 20, after 8am and 11am services
Where: Brown Memorial Baptist Church at 484 Washington Avenue
What: Come one, come all, to Brown Memorial Baptist's holiday craft fair. Enjoy crafts, games, food, raffles, silent auction, caroling, and meeting Santa (at noon on Saturday)! Continues on Sunday, December 13 and 20 after the 8am and 11am services.
Brooklyn Symphony Orchestra
When: Sunday, December 20 at 2pm
Where: Brooklyn Museum at 200 Eastern Parkway
What: Live music! Gershwin's "Cuban Overture," Rodrigo's "Concierto de Aranjuez," and Whelan's "Riverdance: Symphonic Suite."
How Much: Free, but RSVP
Tasting: Owl's Brew
When: Sunday, December 20 from 2-5pm
Where: Mekelburg's at 293 Grand Avenue
What: The first ever "tea crafted for cocktails" will be on hand for you to check out! Brewed in Vermont in small batches in large kettles, then sweetened, packed, and bottled.
Bethel Sports Club's Free Exercise Class
When: Every Sunday from 3-4pm
Where: Bethel SDA Health Ministry at 457 Grand Avenue
What: Weekly exercise class with dumbbells, tension ropes, exercise ball, treadmill and the guidance of a certified fitness instructor.
ONGOING
Jill Lindsey Holiday Markets
When: Saturdays-Sundays, December 5-20, from 10am-7pm
Where: Jill Lindsey at 370 Myrtle Avenue
What: Several local vendors will be featured over the course of three weekends this month, beginning with this Saturday and Sunday! Stop by and do some holiday shopping and hands-on crafts while enjoying mulled wine and treats at the cafe. Also, check out the new JL Wellness initiative! Gift wrapping is also available.
This weekend's vendors include Irving Farm, TAPA Candles, Izaskun Zabala, and more!
How Much: Free unless you buy items!
Show and Tell Photos Of Your Clinton Hill Neighborhood
When: By appointment
Where: Clinton Hill Library at 380 Washington Avenue
What: Bring a picture and your written short caption/short story that tells the story of your Clinton Hill neighborhood. It can be a picture of a person or persons, a place, a thing, a picturesque memory. All photographic short stories/captions & pictures will be displayed in the Clinton Hill Library for you and your neighbors to see for the month of September 2015. You can bring in your picture and story into the branch or mail it to 380 Washington Ave, Brooklyn, NY 11238 or email it to cclark@bklynlibrary.org