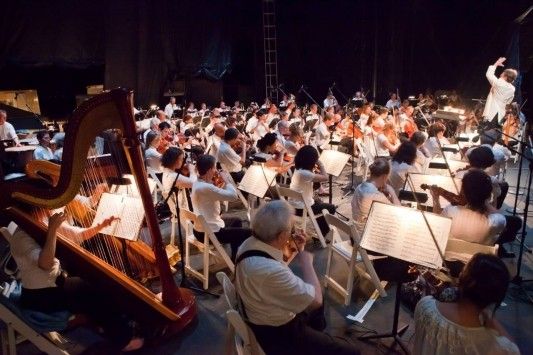 The New York Philharmonic plays in Prospect Park on Wednesday.
Tonight 7/5
• CAMBA small business loan info session, 2pm.
• The first of Prospect Park's series of Twilight Tours features a "bat walk," 6:30pm.
• Neighbor Michaela Anne plays The Castello Plan, 8pm.
Friday 7/6
• Ride bikes with Ditmas Rides! Meet at 7pm at the Cortelyou Library.
• Pop/folk act Pastimer plays a free show at Sycamore, 9pm.
• Coney Island-bound Q trains run express from 11:30pm tonight through 5am Mon.
Saturday 7/7
• Coffee Bark in Prospect Park, 7am.
• Help spruce up the tree beds by the Cortelyou Library, 10am.
• The weekly Arts & Culture Fest is at the Parkside Plaza, 10am.
• Ready, Set, Kindergarten is at the Cortelyou Library, 11am.
• Souad Massi and Simon Shaheen play Celebrate Brooklyn, 6:30pm.
• Bob Doto of SPRCSS plays Sycamore, 9pm.
Sunday 7/8
• Happy birthday Morgan Chan! If you haven't donated to her cause yet, please consider it.
• Free/low-cost spay and neuter van will be on Flatbush Ave, 7:30am.
• Kids can learn to fish in Prospect Park, 2pm.
• Sweet Honey in the Rock honors Ezra Jack Keats at Celebrate Brooklyn, 3pm.
• Sofia Rei Koutsovitis plays Underground Works at Sycamore, 8pm.
Monday 7/9
• Sycamore's Radio Zero Series starts at 8:30pm.
Tuesday 7/10
• Tickets still available for Dirty Projectors benefit concert for Celebrate Brooklyn, 7pm.
Wednesday 7/11
• The New York Philharmonic plays the Long Meadow ballfields, 8pm.