Then & Now: Sheepshead Bay's Superstorm Sandy Recovery In Images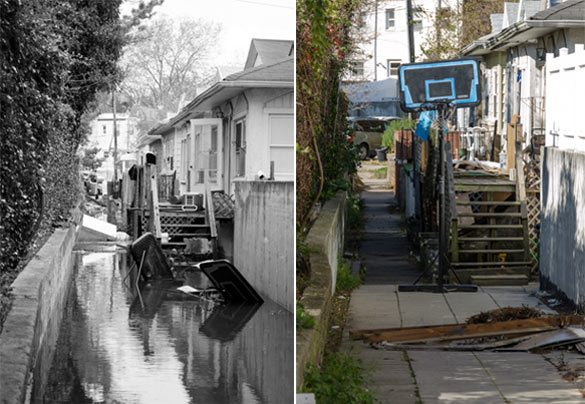 The morning after Superstorm Sandy swept through the neighborhood, local photographer and Sheepshead Bites contributor Max Bolotov took to the streets with his camera. He documented the damage to homes, streets and businesses along and just off of the Emmons Avenue waterfront. As the anniversary neared, Bolotov shared a set of unpublished black-and-white photographs with Sheepshead Bites. We asked him to head back out to the same locations and take fresh photos. The juxtaposition of then and now says a lot more about the Superstorm Sandy recovery in Sheepshead Bay than we can put into words.
While much has been cleaned up, many homes repaired and businesses reopened, the scars are still visible. In some areas, especially in the waterfront bungalow colonies, debris still litters the passageways. Some businesses are still shuttered, some homes still waiting to be rebuilt.
Tonight, the community will gather together for a moment of silence and candlelight vigil in Gerritsen Beach, Sheepshead Bay and Brighton Beach. The Sheepshead Bay gathering begins at 6:30 p.m. at 2801 Emmons Avenue. Come out and heal with us, and hope that our "Then and now" photo set from October 29, 2014, will show less scars.