The World According to Motherland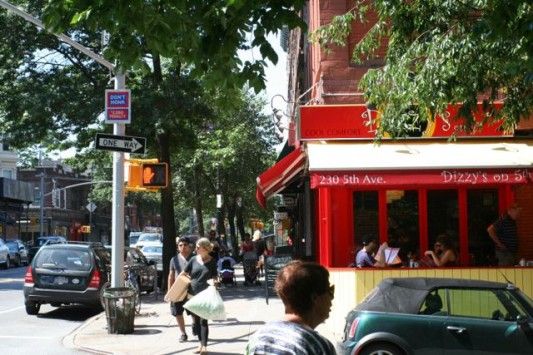 Amy Sohn's latest tract on the agony and the ecstasy — mostly agony — of Park Slope living hit the shelves this week in all its mean-girl glory. A hyperreal satire (soap opera?) starring Park Slope Parents, Connecticut Muffin, and an endless onslaught of Park Slope-y brand names, "Motherland" is a world where what you consume is shorthand for who you are. (Which, frankly, is an awful lot like the actual world, and is suitably annoying/addictive in both places. See also: Pinterest.)
Without further ado, then:
A Portrait of Who Amy Sohn Thinks We Are According to Motherland in Alphabetical Order
al di là
Alka-Seltzer
Applewood
Atlantic Yards
Baby Bjorn
Beansprouts
Bend and Bloom Yoga
Berkeley Carroll School
Big Nose, Full Body
Brooklyn Boulders
Brooklyn Film Academy (a fictional "industrial loft on President Street")
Brooklyn Fish Camp
Brooklyn Museum
Brooklyn Tech
Brownstoner
Bugaboo
Café Regular du Nord
Carroll Park
Cascadian Farms
Cobble Hill Cinema
Community Bookstore
Connecticut Muffin
Dalton
Diana Kane
d'mai Urban Spa
Elevator Repair Service
Fatty 'Cue
Franklin Park
Fucked in Park Slope
Garfield School
Garfield Temple Camp
Gothamist
Grand Army Plaza
Grey Goose
Grindr
Harmony Playground
Hepworth Farms
iCarly
IKEA
Jon Ham & Jennifer Westfeldt
Key Food
Lexapro
Little Things
Maggie Gyllenhaal
Match.com
Montauk Club
New York Magazine
New York Methodist Hospital
New York Times
Park Slope Parents
Prospect Park
"Prospect Park Food Coop" (a.k.a. Park Slope Food Coop)
Prospect Park Picnic House
P.S. 282
P.S. 321
Rag & Bone
Reggie Watts
Riverdale
Saul
Sedutto
Starbucks (7th Ave and Garfield)
The Daily Show
The New York Times
The Vanderbilt
Wooster Group
Zuzu Ramen
I'd love to go on and make sure I didn't miss anything, but I'm about to run to the Coop to pick up vegan chocolate chips before heading to the Cape, where I'll self-consciously wear a too-tight wrap dress, down some ironic cocktails, and have an affair with a Princetonian ex-con while my kid slightly overweight toddler screams from his Bugaboo parked nearby. Then I'll eat an artisanal popsicle, obsess about my celebrity ex, and change careers.
(The gross part is, at least three of these things are true.)