The Wooden House Project Shines Light On Forgotten Gems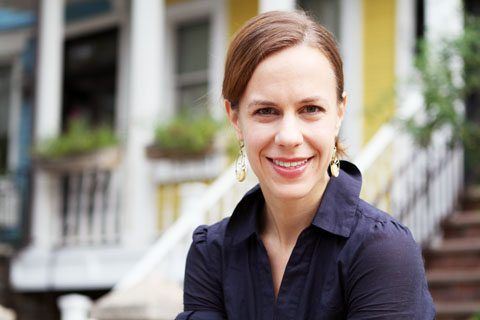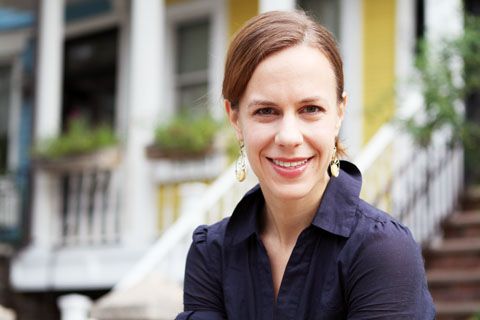 When historic Brooklyn homes come to mind, it's not uncommon for brownstones to receive the lion's share of the glory. South Slope resident Elizabeth Finkelstein is looking to change that with her blog, The Wooden House Project, which provides some much-deserved attention for the neighborhood's wooden row houses.
We sat down with Elizabeth to learn more about her website, and the history of these oft-forgotten neighborhood treasures.
SSN: First of all, tell us a bit about yourself. What brought you to South Slope, and how long have you lived here?
EF: I've lived in the South Slope for the past 4 years. Before that I bounced all over Brooklyn. I originally came to New York 15 years ago to attend NYU, and haven't looked back! I quickly fell in love with New York history, and I've always loved old houses (I grew up in one that my parents restored). I eventually acquired a master's degree in Historic Preservation and have been working in the field professionally ever since. I feel very lucky to get to do what I love! New York is the most interesting place in which to study this topic, because there are so many layers of history here.
What is The Wooden House Project?
The Wooden House Project is a website with a mission to bring together owners and lovers of Brooklyn's vast collection of wood-frame rowhouses. I've been writing it for the past few years with my partner, Chelcey Berryhill, who also lives in the South Slope.
What sparked your interest in the wood-frame houses?
They intrigue me for many reasons. First, because once they're gone, they're gone for good. Because the city burned down so many times, the government outlawed the construction of wooden houses in much of Brooklyn a long time ago. They can no longer be built. So they're very precious! And a lot of them are older than the neighboring brownstones. In the past few years, many of the South Slope's wooden houses have been torn down. I think some people consider them disposable.
I would love to see these houses returned to their former beauty. If you look at old photos of them, you'll see they have incredible texture and often have very interesting and creative ornamentation. But outside of the landmarked districts in Brooklyn, few of them are restored that way. Because there aren't too many examples of really interesting wooden house restorations, people kind of "guess" at how to go about it, cherry-picking elements from all different styles and periods. Everyone knows what a restored brownstone should look like, because there are so many examples. But a wooden rowhouse that was just stripped of its vinyl siding? It's a little more ambiguous.
You see long rows of brownstone streets, and the houses all match, and it creates a wonderful tableau. Today the wooden house blocks look more disjointed, because there isn't a sense that the houses should work as an ensemble. But if you look at old photos, there was a wonderful cohesion to a lot of these blocks.
Now more than ever, it's important for people to appreciate and understand the value of these houses. People are being priced out of brownstone neighborhoods and buying more modest wooden houses in places like the South Slope and Greenwood Heights. There's a huge restoration movement happening here. It's an exciting time for wooden houses!
Do you know how many of the wood frames are still standing in South Slope?
So many! Entire blocks of the South Slope are lined with wooden houses. Hundreds and hundreds.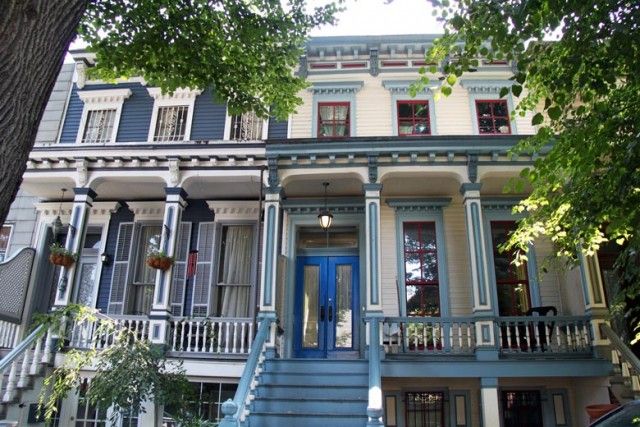 Do you have any favorites?
I love the row of houses with porches on the east side of Webster Place (shown above). That was one of the blocks that inspired me to start the Wooden House Project. There's that cohesion I was talking about! I love the yellow "gingerbread" house at 337 12th Street (below), and the little white cottage at 354 12th Street. And any of the Second Empire wooden houses with mansard roofs. There's a movement happening on 11th Street between 3rd and 4th Avenues — I'd keep an eye on that block, because in a few years I think it's going to be a great example of what a block of beautifully restored wooden houses can look like.
Why do brownstones get all the glory here in Brooklyn?
I think there are many reasons for that. First of all, brownstones are beautiful! Who wouldn't want one? There is a romanticism about owning a Brooklyn brownstone that is very powerful. It seems that every novel ever written about Brooklyn has a brownstone on the cover. The most widely read Brooklyn blog is called Brownstoner. They've very iconic. And they have those lovely, formal Victorian details and big stoops. They are wonderful.
But beyond that, I don't think the city has done a very good job of teaching people that these wooden houses have value. If you look at the neighborhoods in the city that are officially landmarked, they are predominantly brownstone neighborhoods. Granted, some of these landmarked districts contain wooden structures — Fort Greene, Brooklyn Heights, and Clinton Hill come to mind — but even these are still predominantly defined by brownstones. Somewhere and somehow, someone decided that we needed to preserve the brownstone neighborhoods. And there you have it.
You can't really blame the city, though, because they are tasked with designating the most architecturally intact neighborhoods. Unlike many brownstones, a vast majority of Brooklyn's wooden houses got hit hard by the synthetic siding craze several decades ago. From the outside, they don't "look" like there's anything worth saving. But underneath the siding they have a beautiful and very interesting architectural vocabulary all their own. People just don't know that. I think if they could see it, they would value these houses much more!
When I got the idea to write the Wooden House Project, I googled "wooden house Brooklyn." One New York Times article came up. That's it. And you know how New York is — everything has already been done! So why not this? Why was nobody talking about these houses?
What is the best way to research the history of your own home?
I just took an amazing class at the Brooklyn Historical Society. It's called the "Research Your House Workshop," and they offer it periodically. I highly recommend it! Researching your house can be very hit or miss in this city — sometimes you find a lot, sometimes nothing at all. I love the Brooklyn Eagle archive, which is searchable online. That's great for finding names of past owners/tenants. I also love looking at old fire insurance maps because they give a well-rounded sense of what a neighborhood used to look like. And of course, the photo archives of the New York and Brooklyn Public Libraries. Many of their collections are online.
There's so much to say about this topic. I could go on and on. Readers can feel free to email me if they have specific questions.
What can you tell us about your upcoming South Slope tour?
I'm excited! My dream is that the Wooden House Project becomes more than just a website, but a thriving, active community. I want people to really appreciate their homes and share their stories with one another. And that means meeting face-to-face.
We'll be holding our first of many walking tours on June 9. This one will be of the South Slope; future tours will focus on other wooden house neighborhoods like Greenwood Heights, Greenpoint, and Williamsburg. You can sign up on our website.
Photos via Elizabeth Finkelstein