The Thrift Shop That's Never Open But Always Selling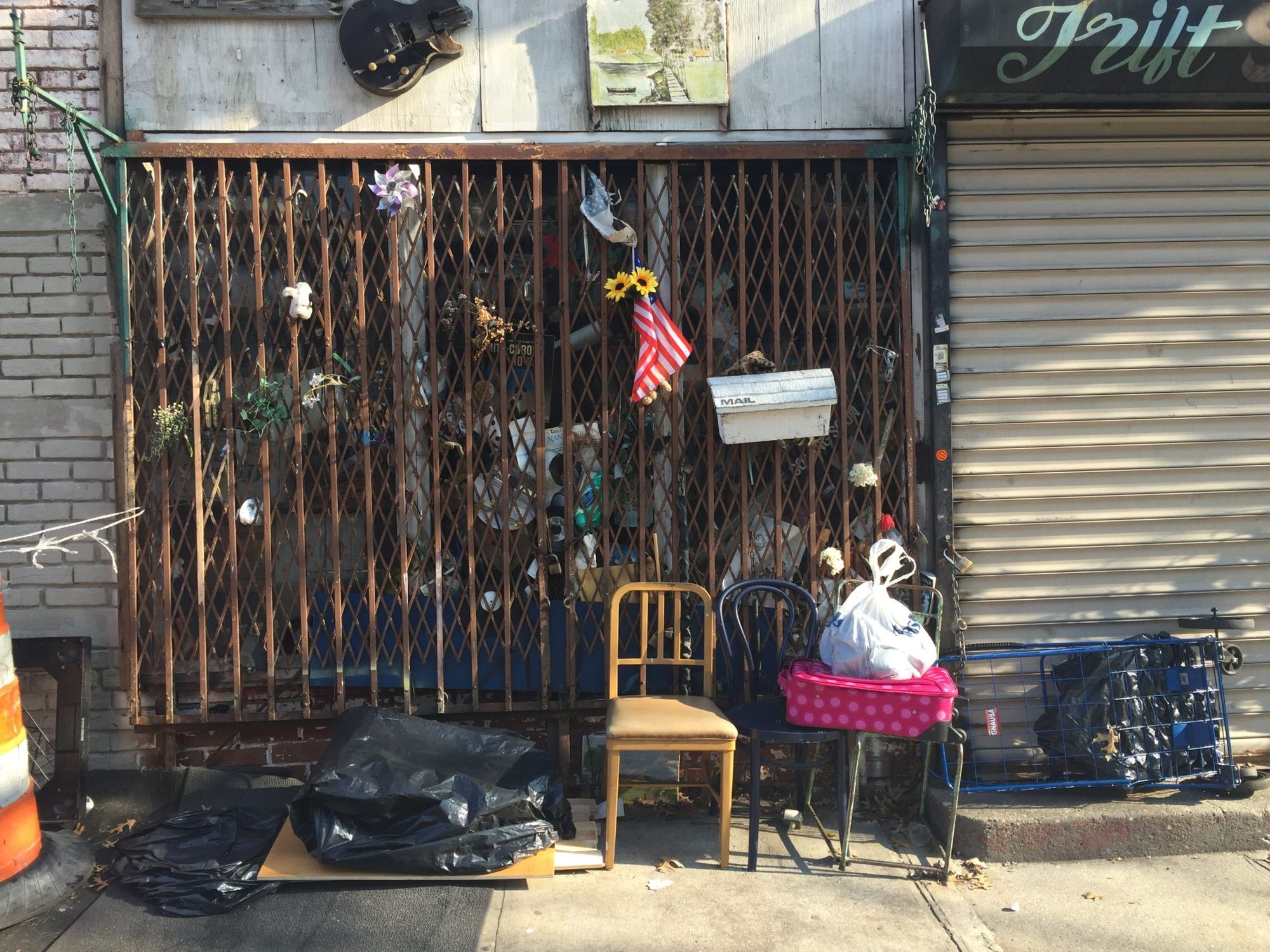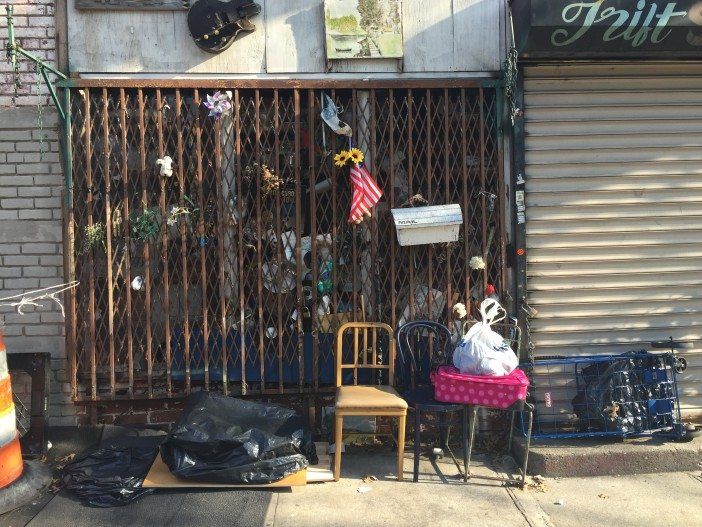 There is a thrift shop on the corner of Cortelyou and Westminster roads but you cannot go inside it. The gates are always down. They are old, rusted, and stuffed with things.
Fake flowers, books, records, collectables, and trash fill the small area between gate and window. The windows of the shop are also full of things — boxes upon boxes of things.
The sign above says only "Thrift Shop" and out front in a faded yellow chair you can usually find store owner Maritza Rivera selling what she chooses.
"I come out and sell on Sundays when the weather is permitting, when the weather is nice," says Rivera. "I sell books and records — just books and records — I don't sell nothing anymore."
It was the constant fear of city violations, Rivera said, that brought her to close up shop. "They were just coming around [to inspect] and I don't like it. I don't need the stress" said Rivera.
As the windows filled, the fire department took notice.
Local artist and neighbor Carlos Pinto has seen them around her shop. "The amount of things she got, the firefighters harass her," says Pinto.
The stockpile of thrifted collectables pushed into the territory of hoarding or a potential fire hazard according the FDNY.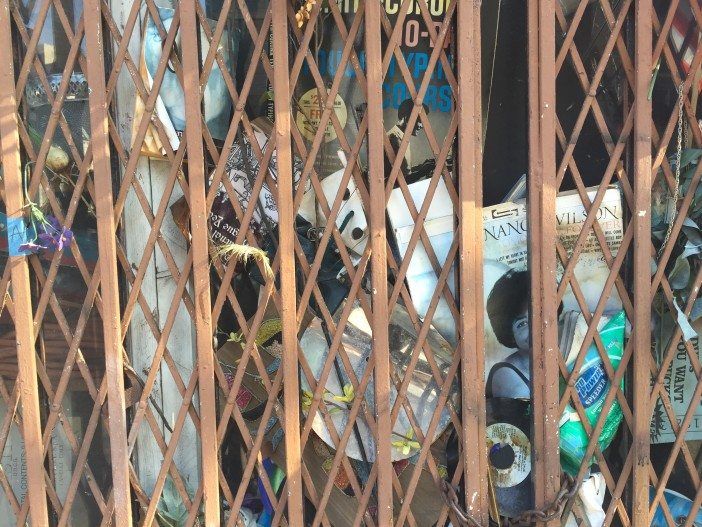 The store is being used as storage but soon it will be empty, says Rivera. "I don't know if I'm going to sell everything, I might give it to the Salvation Army."
The inside of Thrift Shop is locally known to be off limits. The physical store has not been open for three years, when Rivera stopped renewing her business license. Though many local residents can remember seeing her outside selling on and off for the past 15 years.
She collected to the point of overabundance, and her store filled with items to sell faster than she was selling them.
"You don't really go inside her store." said Paul DeCoster, a neighbors who stops by the shop whenever he sees that Rivera is out. "It's like storage, everything is out on the street."
Community residents have accepted this fact and buy what Rivera allows them to.
"I walk by and glance at the stuff and nod hello to the lady but to be honest I hadn't realized there was a shop you could go inside of," says Catalina Bertaini, who also lives near by. "She has a running garage sale all the time."
The shop is so full of goods that only a small walkway remains. Rivera now uses it to stash the interesting items she buys. But the business carries on out front, where she sells her thrifted items on the sidewalk. The number of items she pulls out varies and has no order.
Local Emma Assian was once an avid customer, "My husband and I have bought various cool vintage items from her over the years!"
Even though some have found her prices to be a bit high, Rivera is known throughout the community as a friendly face sitting at the corner always willing to have a chat. All who pass by her nod or say hello by name, even if they don't have time to talk.
Since growing up in the Dominican Republic, Rivera has always been a thrift shopper and a collector.
"Since I was a little girl, my sister used to tell me, 'You were born old,'" she says. "Because I used to collect everything, little things that I used to see around."
The knick-knacks that she collects and sells don't just end up on coffee tables. Local artist Carlos Pinto, uses them in his artwork. His bright mosaics, which can been seen all over the Flatbush area, are made of recycled materials and the Thrift Shop is one of his go-to suppliers.
"Maritza saw that I was an artist and she basically helped me," he says. "She gives me things, ceramics, and canvases. She hooked me up."
Though thrift shops are often known for their eccentric organization or clutter, with Rivera's shop it got to the point that customers who did come inside couldn't help but to comment on the disarray.
Remembering a time when a women came in after the store was all but full Rivera found the comments annoying. "She went inside, and she wanted to see and she asked me why everything was not organized," says Rivera. "Why this? Why that? Just to bother."
Soon after this she decided not to let people in anymore. Slowly, Rivera has chipped away at the hoard of things inside, bringing out items here and there to sell.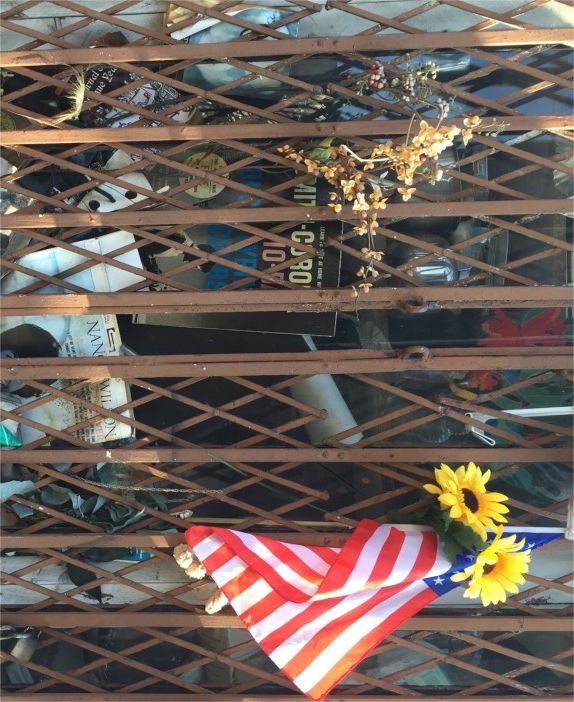 Instead of having a massive blowout sell, Rivera recently chose to give all of her backstock to The Salvation Army. She wasn't selling for the money but rather for the hunt of collectables and the conversation with her customers.
"The young people come and I feel good," she said. "I'll miss it because of the young generation. I like to talk to them, makes me feel good."
The Salvation Army told Rivera that they will come pick up her stock what they have space for it in a month or two. A donation as big as hers will take time.