Construction On The Jamaica Bay Pipeline Is Officially Underway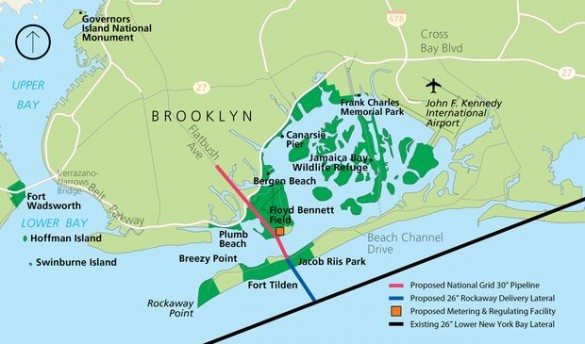 After months of protests, legal wrangling and more last-minute protests, the controversial Jamaica Bay Pipeline project is now in construction. According to a report by Gotham Gazette, construction on the 1.6 mile pipeline that stretches underneath Jacob Riis Park and ends at a meter and regulating station positioned at Floyd Bennett Field is now officially underway, much to the consternation of opponents who believe the pipeline could pose an environmental hazard.
While officials at National Grid have stated that the actual drilling has yet to commence, preparatory work for construction has already begun. Eventually, National Grid will connect the pipeline to the planned gas meter and regulating station located in a hanger at Floyd Bennett Field. The gas lines will service customers in Brooklyn and Queens. The project links the National Grid delivery system with Transco Williams's offshore feeder.
While environmentalists have protested the pipeline, citing potential harm to the Jamaica Bay Wildlife Refuge, local animal life and danger to residents from potential hazards, as well as industrializing a national park, National Grid promised that the line would actually be good for the environment.
"Each conversion is equivalent to taking 15 cars off the road for a year," the Gotham Gazette reported the company saying.
The first phase of the construction effort is expected to be completed by May.