The Four Chaplains, And The Indomitable Irwin Meyer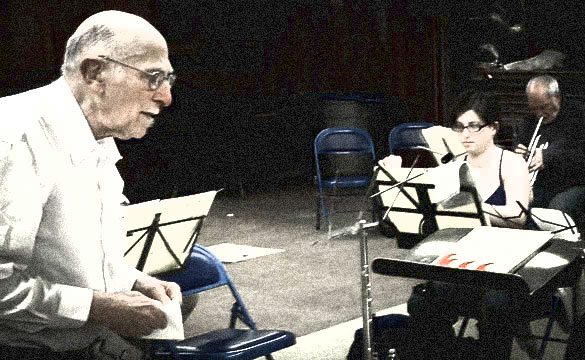 It was a bitterly cold night when I arrived outside the Floyd Bennett American Legion last Thursday. There was talk that the Kings County American Legion Headquarters Band would cancel its rehearsal due to how the stinging cold might force "93-and-three-quarters-year-old" band maestro, Irwin E. Meyer, to stay in that night.
Just then, outside the corner of my eye, I saw a spry older man with a heavy box bound past me with a big smile on his face. Trumpet player Larry Rapaport nudged me, informing me that Meyer, the indomitable leader of the Kings County American Legion Headquarters band had arrived. Preparations for this weekend's Four Chaplains memorial tribute at Fort Hamilton, where the Legion band will play, can now move forward.
As Meyer opened up the rehearsal space, located in the American Legion basement, I was immediately drawn to the faded photographs of former servicemembers that filled up the entire side wall. The photographs were clearly of another era, the colors of each naturally aged in a way Instagram could never duplicate. Other musicians began to file in, some clearly still in middle school, some still in college and others long retired.
"We have teachers, one guy's a cop," Meyer said. "One guy served in the military; we have one-and-a-half attorneys."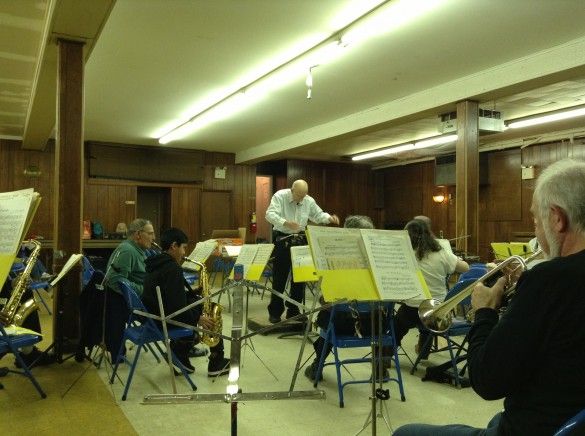 At first I found myself seated next to flute player Lauren Klasewitz. A Brooklyn College student, Klasewitz has been playing in the Kings County American Legion Headquarters Band for a remarkable 10 years, since she was 12 years old. She was good enough at age 18 to march in the Macy's Great American Marching Band, beating out competition from across the country.
"I love to play. That's why I'm here," Klasewitz said as she assembled the metal fingers of the flute. "[There are] only three American Legion bands in the state of New York. We're the smallest, but we're the best. I don't think any band has the spirit this band has."
After shaking off the January chill, the bandmates launched into pieces by Brahms, military marches and religious hymns, including a jazzed up version of "Amazing Grace."
The band was preparing for their upcoming gig in honor of the legendary Four Chaplains this Sunday.
The legendary Four Chaplains, sometimes known as the "Immortal Chaplains," were Methodist Minister George L. Fox, Rabbi Alexander D. Goode, Reformed Church Minister Clark V. Poling and Roman Catholic Priest John P. Washington. They were Army chaplains during World War II who were on board the sinking troop ship USAT Dorchester. They heroically helped soldiers into lifeboats and eventually gave up their own life-jackets to other men when the ship's supply ran out. The chaplains, all of different faiths and denominations, went down with the ship, arms locked, reciting prayers and singing hymns.
It's easily one of the greatest displays of heroic religious harmony the world has ever witnessed, and Meyer, along with his American Legion Headquarters Band are paying tribute to them this Sunday at the Chapel at Fort Hamilton.
Surrounded by the pictures of long-passed servicemen and women, hearing the music of another era and reflecting on the heroism of the Four Chaplains, it would have been easy to slip into a dreary nostalgic head space as the band worked its way through its sometimes somber concert music, but Meyer's energy, vitality and life story transformed the thing entirely.
Meyer, himself a Navy veteran of World War II, was recently profiled in the New York Times after his Sheepshead Bay home was flooded out by Superstorm Sandy, taking much of his precious and rare sheet music he cultivated over the decades, as well as many irreplaceable family photographs. The misery of Superstorm Sandy was but a blip for this sturdy survivor brimming with love for music.
"I cried when I saw the music was ruined," Meyer told the Times. "I can't replace it. I'm too old… I finally said, 'Hey, I've seen worse than this.'"
During breaks, Meyer took the opportunity to let me soak in his life story, reflecting on some of the truly sad things he has seen in his long life. He told me that most heart-breaking memory of The War was when the Navy had to bury fallen troops at sea, providing little closure for their families a world away back home. He told me he was there for the Normandy invasion on a destroyer off the beaches of France. He also let me in the moments of great laughter and hilarity that punctuated his war experiences as well.
I wanted to know more, everything, but Meyer had a band to prepare and not a beat to lose.
To see the Kings County American Legion Headquarters Band, show up to the Chapel at Fort Hamilton Army Base, Sunday, February 3. The concert is 1:30 p.m. to 2:30 p.m., following mass, and it's free to the public. Call (718) 630-4969 for more information.