The Hamilton To Unveil Luxury Apartment Models In Sunset Park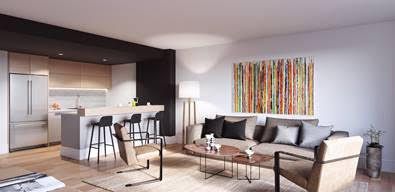 The Hamilton is coming to Sunset Park — no, not the Broadway play, but luxury apartments.
Real estate developers at Halcyon Management announced Wednesday that the five-story Hamilton (968 60th Street) building would unveil three on-site model apartments on Wednesday, August 17, followed by official tours on Sunday, August 21, from 11 a.m. to 6 p.m.
The new development rentals, which spans the entire block between 60th and 61st Streets along Fort Hamilton Parkway on the border of Sunset Park and Borough Park, will have 92 studios, with one, two, and three-bedrooms.
"This is a development that is both affordable and conveniently located," co-developer Yoel Sabel of Halcyon Management said. "The apartments have modern layouts and lots of amenities, which makes this offering a great opportunity for people who want to live in Brooklyn."
Developers say rooms are set to feature oversized windows, light-stained hardwood floors, spacious kitchens with stainless steel appliances, deep sinks, and blond wood European style cabinets.
Porcelain tiles, deep tubs or showers with rainforest shower heads, and full-sized mirrors would also furnish bathrooms. Other apartment perks include double closets in bedrooms and a generous amount of storage space.
In addition to all the features, developers say, the building will have 14,000 square feet of commercial retail space with all-glass frontage along Fort Hamilton Parkway.
"This is a well-established neighborhood that's close to great transportation and shopping, which is already a significant draw for prospective residents," Sabel adds.
Note: To make an appointment to view these apartments contact 718-633-1033 or register online at www.TheHamiltonBrooklyn.com.