The Former Beigel Bakery Space On Waverly Avenue Will Have Eight Stories Plus Atlantic Avenue Retail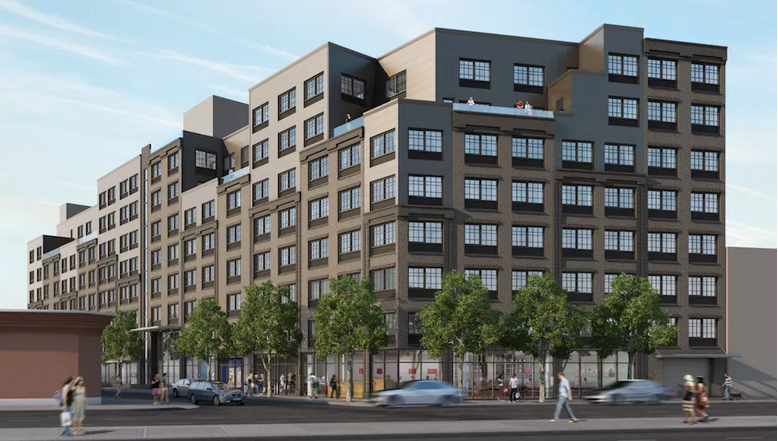 The former site of Beigel Bakery will soon be transformed into an eight-story residential building with a wide strip of ground floor retail along Atlantic Avenue, according to new renderings from designer HTO Architect, which is working with developer Madison Realty Capital on the project.
As first reported by New York YIMBY, the development between 551-555 Waverly Avenue will have 190 apartments — a mix of studios, 1-br, and 2-br units; 40 units of which are designated "affordable" — plus a roof deck and 1,500 square foot fitness center, within 145,000 square feet of residential space. There will also be at least 80 parking spots.
The ground floor will have a whopping 7,000 square feet of retail space, thanks to Madison Realty's purchase of three adjacent sites, which has allowed them to build out on a larger scale. The original plans from back in November described a 122,000-square-foot building with 122 apartments.
The design concept, wrote HTO Architect, is to "amplify the formal townhouse streetscape language of the Clinton Hill neighborhood."