The Feast Is Back, But 18th Ave Business Owners Have Mixed Expectations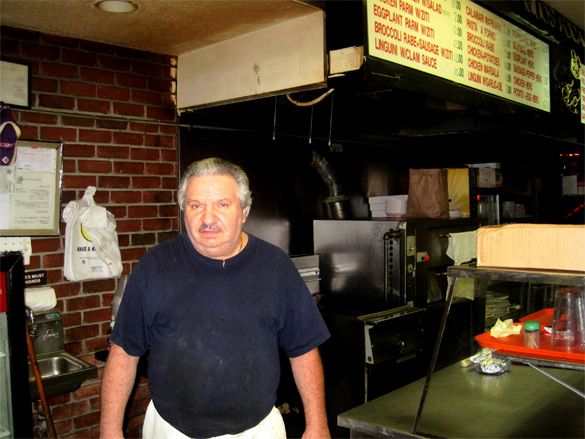 The 18th Avenue Feast has been coming to town for close to three decades, bringing this Brooklyn neighborhood a sprinkle of culture, a pinch of cuisine, and a wrinkle straight into that summer lovin' state of mind. While last year's Festa di Santa Rosalia was canceled at the last minute, this August it's back – and tomorrow it's show time.
But while many natives are ready to indulge in some funnel cake and perhaps brave a ride on the rickety Zipper, some 18th Avenue business owners are a little less enthused about the return of the Feast.
Giuseppe Maffei is one such Bensonhurst resident. As owner of Gino's Foccaceria, on 71st Street and 18th Avenue, for the past 11 years, he has seen his fair share of street carnivals. And frankly, from a business perspective, he's over it.
"We used to make a lot of money… not anymore," Maffei said, shaking his head.
Maffei explained that he used to set up tables along the pathway of the Feast, proudly selling his Italian delicacies to passers-by. Though he was successful for a few years ("Customers came all the way from New Jersey and Pennsylvania for my seafood salad!") in 2010, everything changed.
After working 16 hours a day for 11 days straight at the Feast that year, Maffei came up short on his earnings – $7,000 short, to be exact. He attributes the deficit to a few things: His register being robbed on multiple evenings, his former employees handing out endless free food, and his general bad sales luck that summer.
"I worked like an animal for almost two weeks and I lost all that money," Maffei said, running his hand through his salt-and-pepper hair. "It's a big mess, and I stopped it."
So this year, while workers inflate the famous Big Chair and vendors brew freshly-squeezed lemonade, Maffei is staying in. Aside from setting up a few tables for diners directly in front of his restaurant, he plans on keeping his business inside.
But it's not just declining sales that has business owners thumbing their nose at the Feast. Last year, when rumors of the Feast's cancellation began circulating, a local store owner, who asked that her name not be used, said good riddance to the noise, traffic and trash that come with it.
"The Feast takes a lot of business away from 18th Avenue merchants, who pay rent to be have stores on the Avenue," she said in an e-mail. "The Avenue is closed to traffic, the sidewalks are filthy and the local merchants have to clean up, loud music and a rowdy element come to the Avenue. No one comes to shop the stores during the week or so that the Feast is going on."
Still, some store owners are looking forward to the Feast. Emanuele Alaimo Jr., owner of Villabate Alba Pasticceria & Bakery at 70th Street and 18th Avenue, is welcoming the festivities with open arms.
He admitted feeling disappointed when the Feast's opening day unexpectedly folded last summer.
"It's like that saying, 'You don't know what you've got until you lose it'," Alaimo Jr. said.
A Brooklyn-local for more than 40 years, he has been at the bakery since 1978, starting his long-term career as a young boy helping his father glaze sweets.
"[The Feast] draws people outside of the neighborhood back into Bensonhurst," Alaimo Jr. said. "And it's all right in our backyard."
Though he scoffed at the pain that is parking (just when you thought parking here couldn't get worse, it does) and the sometimes rowdy crowds, Alaimo Jr. said that he looks forward to the carnival-like magic that sweeps over Southern Brooklyn each summer. He's also patiently awaiting the profits that the spike in crowd numbers usually brings to his bakery.
And, though they disagree on whether the
Santa Rosalia
Feast will help or hurt business, both Maffei and Alaimo Jr. concede that the noise and general merriments of it don't bother them.
"Of course there's gonna be noise. It's a feast, not a funeral," Maffei said.
And while both divulge that some of the attractions look like fun, neither businessman actually has time to step out and enjoy this summer festival himself.
"I work until 1 a.m. By the time I get to go home, the Feast is long over," Maffei said.
Typically, the streets clear out a little before midnight. This year, the 18th Avenue Feast will be open to the public from Friday, August 24, until Monday, September 3.