The Day: The Navy Yard's New Executive Director and an Arts and Culture Festival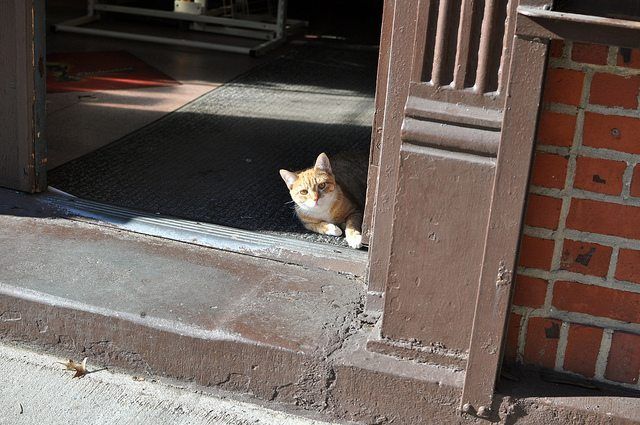 Good morning, Fort Greene and Clinton Hill.
The summer is winding down, but we hope you got to enjoy one of the last weekends before the kids head back to school, cooler temperatures start rolling in and leaves start falling from the trees. Don't pull pull out your winter jackets yet, as signs of summer still linger around the nabe, such as this shot one of you took of brightly colored flowers. We saw that one local traveled this weekend and snapped a view of the city from the airplane window, with Fort Greene Park in the center. If you took any photos this weekend, be sure to share them with your neighbors in our Flickr group.
Today's forecast calls for temperatures in the low 80s, the National Weather Service reported, but there's a chance of showers and thunderstorms this afternoon, so be prepared to pull out your umbrella.
The Brooklyn Navy Yard has a new executive director – David Ehrenberg, who previously served as executive vice president of the city's Economic Development Corp. in charge of real estate, Crain's New York Business reported. Ehrenberg will replace Andrew Kimball, who transformed the navy yard into one of the borough's industrial hubs. Among his accomplishments at the Economic Development Corp., Ehrenberg oversaw bidding for Cornell's new tech campus on Roosevelt Island, helped plan the new Memorial Sloan Kettering/City University of New York medical facility on the Upper East Side and worked as the point person for the city on the Atlantic Yards development, Crain's reported. Ehrenberg, who grew up in Brooklyn, told Crain's he doesn't have big plans for the navy yard just yet, but he's sure ideas will come once he gets started.
The fourth annual Soul of Brooklyn Week, a festival connecting the borough's black businesses to arts organizations, continues this week after its first performances on Saturday and Sunday, DNAinfo reported. "The idea kind of spawned as sort of a response to a lot of the ways in which Brooklyn is experiencing gentrification, and a lot of local black businesses are suffering," said Ryann Holmes, the director of community programming at the Museum of Contemporary African Diasporan Arts (MoCADA), which sponsors the event. The festival will feature hip-hop, jazz and some film screenings, plays and workshops. You can find a show of the comedic play "H Street" at The Lee's Stoop on Washington Park, a trunk show at MoCADA on Hanson Place, a musical, colorful celebration called "I Don't Camouflage" at Free Candy on Atlantic Avenue and a Afropunk Block Party at Commodore Barry Park. Get the full list of events, venues and times here.
A 95-unit mixed used building on Myrtle Avenue at Ashland Place called The Andrea is accepting sponsors for a tree bench in front of Red Apple Supermarket on Myrtle Avenue at Prince Street, Myrtle Minutes reported. Funding from the sponsorship will help the Myrtle Avenue Brooklyn Partnership afford bench plank replacements, supplemental ornamental plants and care for local trees.