The Commute: Reflecting On 2012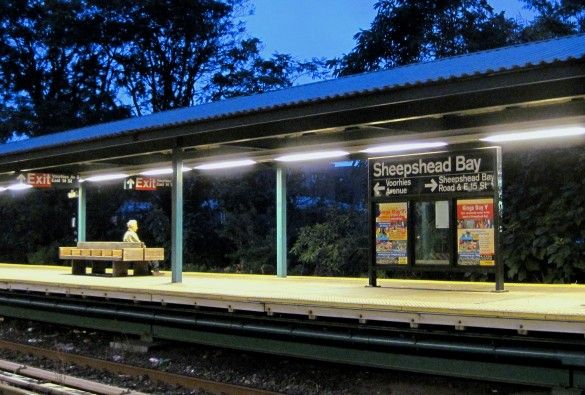 THE COMMUTE: It is difficult to believe that I have been writing "The Commute" for two years. In my reflections for 2011, which seem like yesterday, I explained what I hope to accomplish in this column. I stated that my primary goal is to make a positive difference by getting people more involved in transportation issues. I think we have partially succeeded in that goal. Many of you attended Sheepshead Bay's transit town hall last summer, which resulted in the full restoration of the B4, effective January 6, 2013. Still, much work remains to be done before Sheepshead Bay residents and those in adjacent neighborhoods have the reliable and affordable service we deserve, which takes us as quickly as possible to our destinations.
The MTA Chairman
During the past year, we covered a wide variety of topics. We began the year speculating on what type of leader the new Chairman Joe Lhota would be, then did a mid-year assessment and ended the year discussing his departure, stating that he surprised many, performing better than expected. I was the first to give the MTA much credit for how Superstorm Sandy was handled, then took away some of the credit I gave the chairman after reading a report from the Rudin Center for Transportation. We also discussed the MTA's image problem, which was not helped when Chairman Lhota decided to depart so that he could explore running for mayor.
MTA Finances
We did a lot of columns devoted to MTA financing and wasting money such as discussing refinancing the MTA's debt, how the MTA got screwed in a real estate deal, how the MTA wastes money by replacing station benches when all they need is some refurbishing or a paint job, by not exploring separate Friday schedules for routes such as the B1 when passenger loads are much lighter due to half-day sessions at Kingsborough Community College, and in my three part-series "What Does MTA Mean" [1, 2 and 3]. We also discussed how the MTA loses money through fare beating and misplaced priorities.
Fares, Tolls And Hearings
These were favorite topics this year. There were at least four articles on the fare, several on the hearings and one on the annual Bus Forum. There was a three-part series I wrote called "What's A Fair Fare," in which I discussed the history of free transfers, asked if we a moving backwards by adding more and more complexities to the fare, and suggesting we consider a time-based system rather than a vehicle-based system, such as what we presently have.
Since that series was written, the MTA decided to add another three-legged transfer as a result of implementing the S79 Select Bus Service along Hylan Boulevard in Staten Island. You can now transfer between the local S78, the S79 SBS and the B1 at Fourth Avenue for one fare. Normally only one bus transfer is provided, and the few three-legged transfers that do exist are kept secret and are not enumerated on the MTA website. The B11 to the B6 and a second transfer to another bus for the same fare also is available. Again, so much for MTA transparency, something Jay Walder was so proud of.
Specific Bus Routes
As in 2011, we also focused on individual bus routes. There were two articles specifically about the B4, here and here. We did a story about long bus waits, crowding and other service irregularities on the B49 and in our series "MTA Caught with their Pants Down" [1 and 2], in which I also monitored the B1 buses that were documented leaving the terminal already bunched. We also covered the successful B64 protest.
Other Subjects
The need to reopen closed station entrances, and the bus and subway satisfaction survey were also topics of discussion. We asked for better coordination among modes, that light rail be considered, and discussed the bias against buses. I asked where are our elected officials when we need them and we also told you about the nostalgia train.
Department of Transportation – The DOT
We did not forget about DOT, with two articles about CEMUSA, the company that builds and maintains our bus shelters. The incorrect location sign on the shelter pictured here was corrected three weeks after the article appeared, with the location of "Flatbush Avenue and Avenue V" being replaced with the address of Toys 'R' Us.
We discussed parking regulations and signage here and here as well as Emmons Avenue traffic.
Sometimes It Takes A Series
I am especially proud of the seven series of articles I wrote this year. In addition to the three-part "What Does MTA Mean," and the three-part "What's a Fair Fare?" there also was:
Conclusion
At times I have been very critical of the MTA, but I have complimented them as well. Sometimes the MTA also receives undeserved criticism. Several weeks ago, a New York Daily News article revealed that the MTA is paying for two chief operating offers but is receiving the services of only one. That was the result of a decision made by Governor Andrew Cuomo without consulting with then-new Chairman Lhota, to replace Chief of Staff Charles Monheim. This wasted more than $150,000 when Monheim quit five months later and had to be paid for the remaining five months of his contract.
The year 2013, will probably see the launch of B44 Select Bus Service, and who knows what other surprises it will hold? Will the MTA universally start allowing transfers between local, limited and SBS buses and a second transfer? It's possible, but unlikely. One thing is clear. Whatever challenges the MTA will face in the coming year, they will require much help — not hindrance — from our elected officials.
Happy New Year to everyone!
The Commute is a weekly feature highlighting news and information about the city's mass transit system and transportation infrastructure. It is written by Allan Rosen, a Manhattan Beach resident and former Director of MTA/NYC Transit Bus Planning (1981).
Disclaimer: The above is an opinion column and may not represent the thoughts or position of Sheepshead Bites. Based upon their expertise in their respective fields, our columnists are responsible for fact-checking their own work, and their submissions are edited only for length, grammar and clarity. If you would like to submit an opinion piece or become a regularly featured contributor, please e-mail nberke [at] sheepsheadbites [dot] com.