The Brooklyn Campaign Trail, Mapped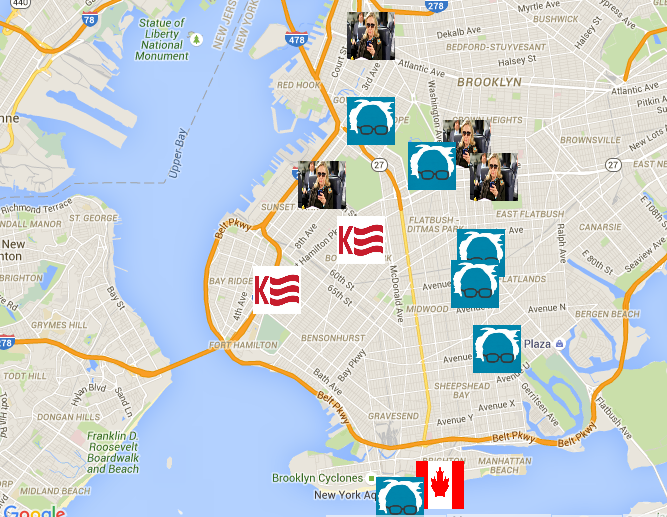 With New York's presidential primary coming up on April 19, Democratic and Republican presidential hopefuls descended on our fine borough this week to court voters and vie for Brooklyn's electoral heart.
We've mapped the pit stops made by the candidates along the campaign trail — some showed Kings County more affection than others — and we think the results are pretty telling.
Southern Brooklyn in particular enjoyed plenty of attention from Senator Bernie "Straight Outta Brooklyn" Sanders, who opened campaign offices in Gowanus and Flatbush. With his snowy comb-over flapping in the wind, the candidate visited his old alma mater (Brooklyn College) to film a campaign ad, then zipped through his old 'hood to shout his message about wealth and inequality from the mean streets of Midwood to Coney Island, where the obligatory mediocre hot dog was consumed, and up to Prospect Park. Sanders also bumped elbows with his fellow celebrities and made sure to woo the hipsters in Greenpoint... as well as everywhere else.
Secretary (and formerly Senator from New York) Hillary Clinton returned to the Big Apple, where her campaign is headquartered in tony Brooklyn Heights. The wonky former First Lady bungled a subway swipe and then paid a visit to Sunset Park's Industry City. Later, the potential future first First Gentleman Bill stumped for Hillary at a Prospect-Lefferts Gardens church. Addressing Brooklyn's Caribbean American community, the former president took several sharp digs at his wife's opponents and probably regretted his now-vegan-induced inability to dig into the neighborhood grub.
The more conservative-leaning pockets of our borough saw their fair shares of GOP candidates this week. After declaring his support of veterans at Bay Ridge Manor at Bay Ridge Manor, Governor John Kasich painfully tried debate scripture with some Yeshiva students at a Borough Park Judaica store. Ted "Canadian" Cruz also cruised for Jews last week, baking Passover matzah with some children in Brighton Beach.
Meanwhile, New Yorker and GOP contender Donald Trump — despite his most loyal supporter living in Dyker Heights — was MIA.
All of this culminated in a grand sparring match between the two remaining Dems in the race at the Brooklyn Navy Yard on April 14 — which the New York Times has called "a draw." So who won Brooklyn's heart? Was it Bernie or Hillary? Did Kasich or Cruz resonate with your conservative values?  Share your thoughts in the comments below.