The Blogologues: Mining The Deep, Dark Interwebz For Comedic Gold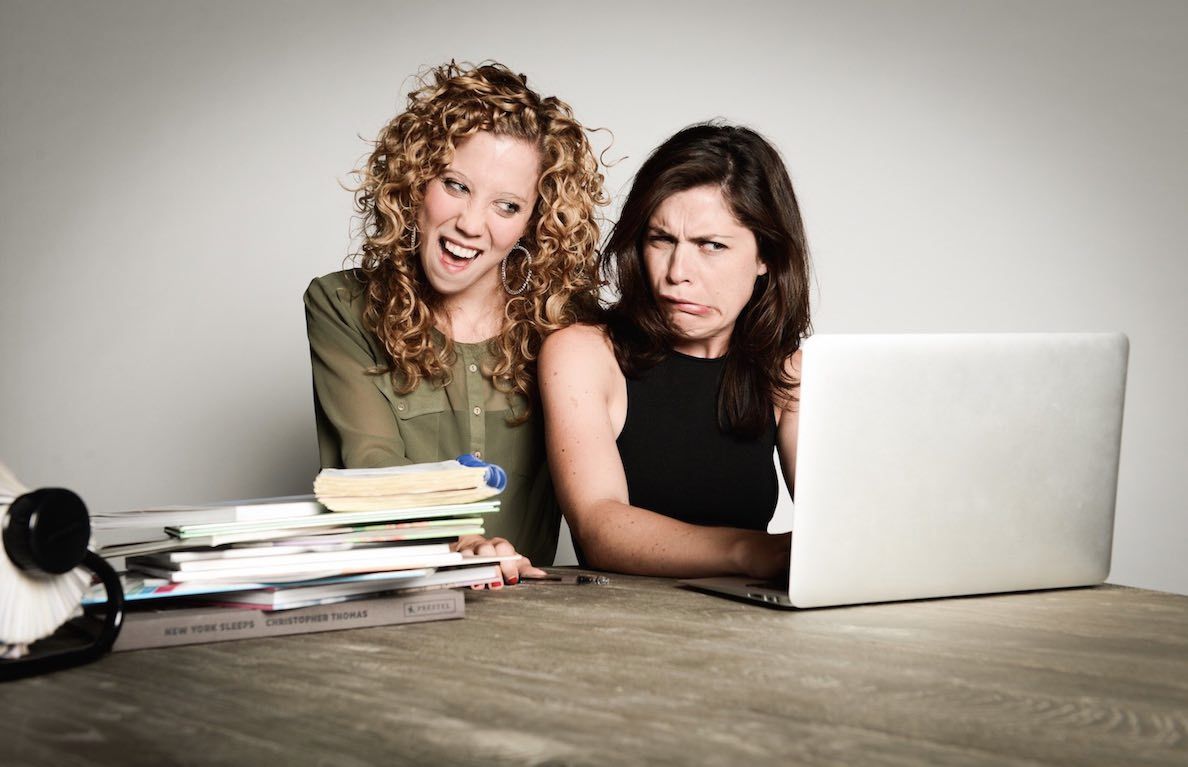 Sugar babies. Mixologists who specialize in semen cocktails. Donald Trump.
You've been there before — let's call it going through the looking glass of the Internet. One site leads you to another, and to another, until finally you've spent hours in the lost and found of all that which is online.
And sometimes, you come up with jewels. You'll be able to experience those jewels tonight as Allison Goldberg and Jen Jamula bring The Blogologues to Union Hall.
Searching the web can almost seem like a craft — and comedians Allison Goldberg and Jen Jamula are quite good at it. "We've spent a lot of time in the deep, dark hole of the internet," says Goldberg.
Goldberg got her start in the world of musical theater. "'What type are you?' they'd ask. It just wasn't for me," she says. Jamula comes from a theater background as well.
Back in 2010, when they began searching for an alternative, Goldberg and Jamula would interview people on the subway in a series called "Why Are You On My Train?" That was back in the flipcam days.
Searching the internet for the comedic and the performative was the next step, which has become a long-term project for Goldberg and Jamula.
The two actors-comedians have developed a series called The Blogologues: The Internet Performed (subtitled on their website "Because the Internet Is a Strange Fucking Place").
Goldberg and Jamula use community forums, Missed Connections, Yelp reviews, OkCupid profiles, fan fiction, tweets, comment sections, and more as their raw material. "We then perform it word-for-word," explains Goldberg.
And the comedians provide their sources right up front: the name of the post and url are projected before their sequence is performed. "So if you assume that whack Facebook status is written by a bored college student, we'll perform it as a vengeful lover in a romance novel, a kindergarten book report, or full-blown musical number," as explained on their website.
When asked how they begin developing the material for the stage, Goldberg tells us they "treat it as a theatrical script."
And the material they select is inherently theatrical. Goldberg and Jamula perform a sequence that pulls from a site called Bronies Who Want To Hug Ponies Both Sexually and Non-Sexually. "We are people that clop to the poni pones," begins the text on the site.
As a side note, you all should be experts on all things My Little Pony and Brony as we covered the recent Ponycon that took place a few weeks ago at the Grand Prospect Hall.
Goldberg and Jamula come with many accolades. They appeared on Time Out New York's Top 10 Funniest Women in NYC in 2014.
Tonight's show promises to cover diverse subject matter. We've been told that Goldberg and Jamula will be covering sugar babies, mixologists who specialize in semen cocktails, and Donald Trump.
So, it's time to turn off your phones — because the internet is onstage.
The Event Rundown: The Blogologues — The Internet Performed
Where: Union Hall, 702 Union Street and 5th Avenue
When:Friday, February 26, 7:00pm (door), 7:30pm (show)
Admission:$10, tickets available in advance. $12 at the door. 21 and over. This event will be mixed seated/standing. Arrive early for best seat selection.