The Bite: Village Cafe's Deliciously 'Offal' Food — Sheep Testicles, Liver, Heart & Kidneys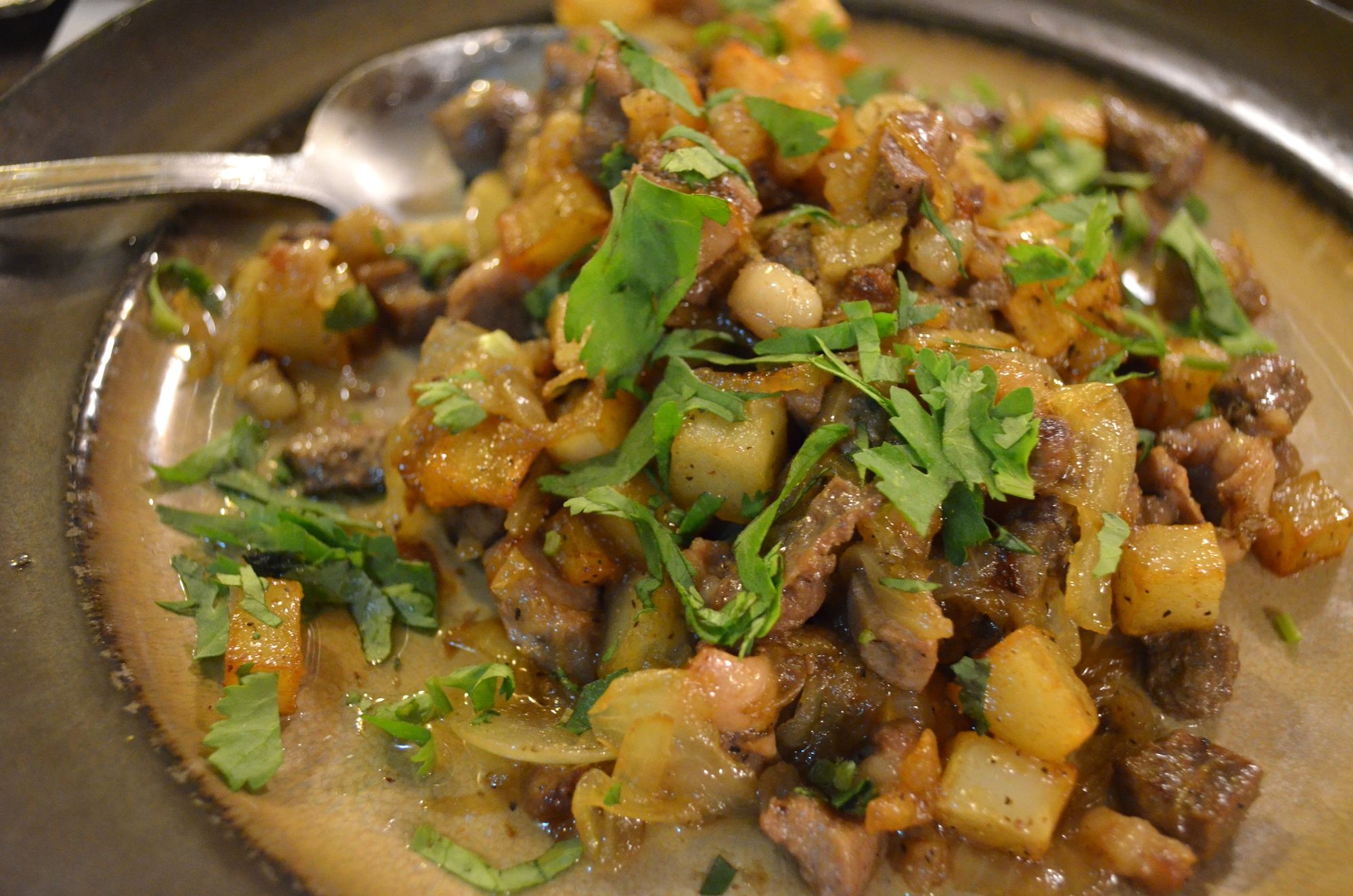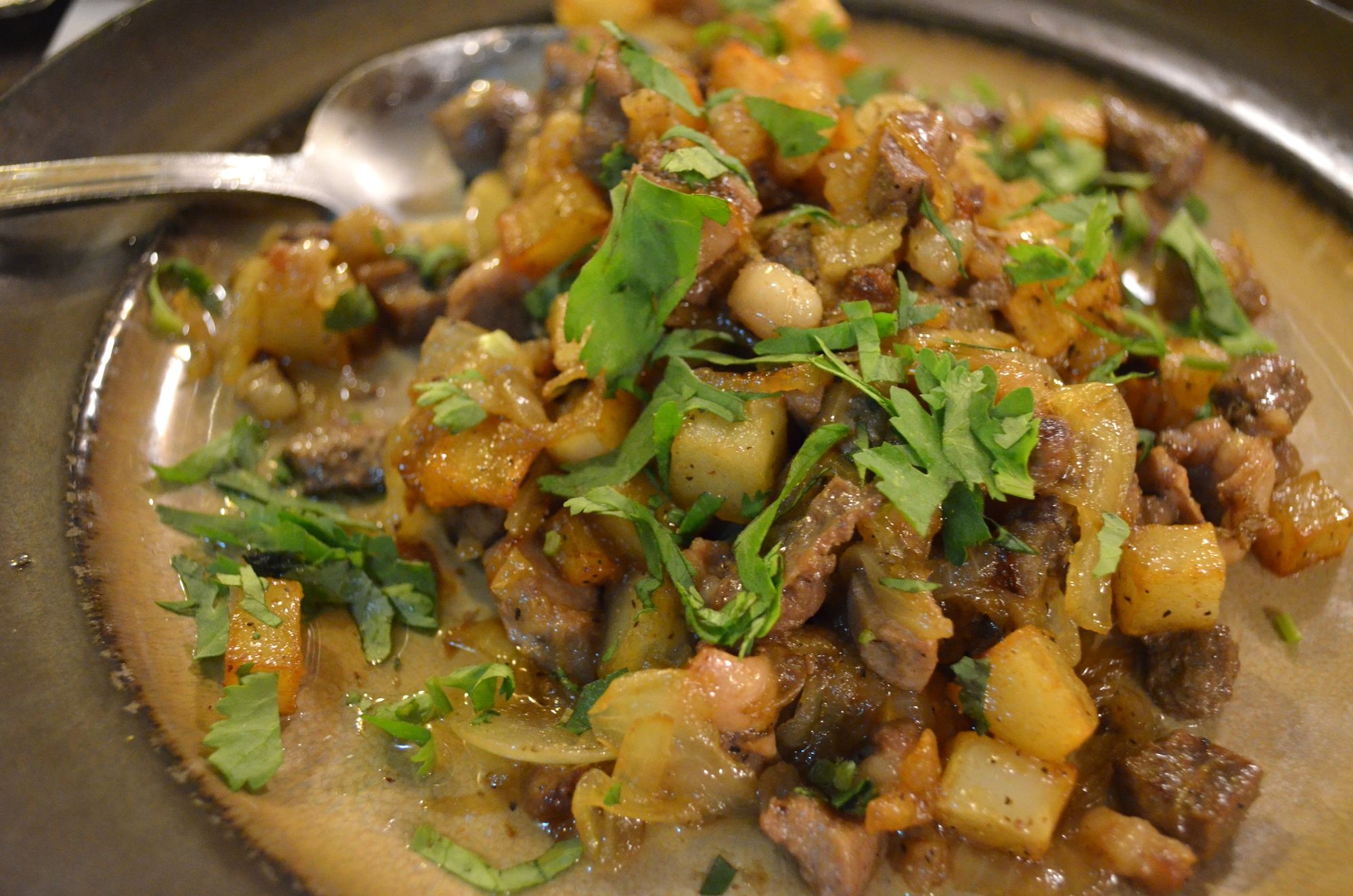 THE BITE: We were already into two bottles of wine and a fifth of vodka when I decided to go for the most adventurous dish on the Village Cafe's menu: The Djiz-Biz, a hash made with roast kidneys, heart, sheep testicles, and liver.
The Azeri restaurant, which this summer celebrated its second year of business, aspires to be "Your Village Away From Home." Indeed, the wooden picnic tables certainly add a rustic charm. But it is the experience of finding the place, a squat hut tucked behind a steel gate and parking lot at 1968 Coney Island Avenue, near Avenue P, that feels like the urban equivalent of discovering a family-owned restaurant on a backwater country road.
It's also conveniently located beside a well-stocked liquor store. (The Village Cafe is BYOB.)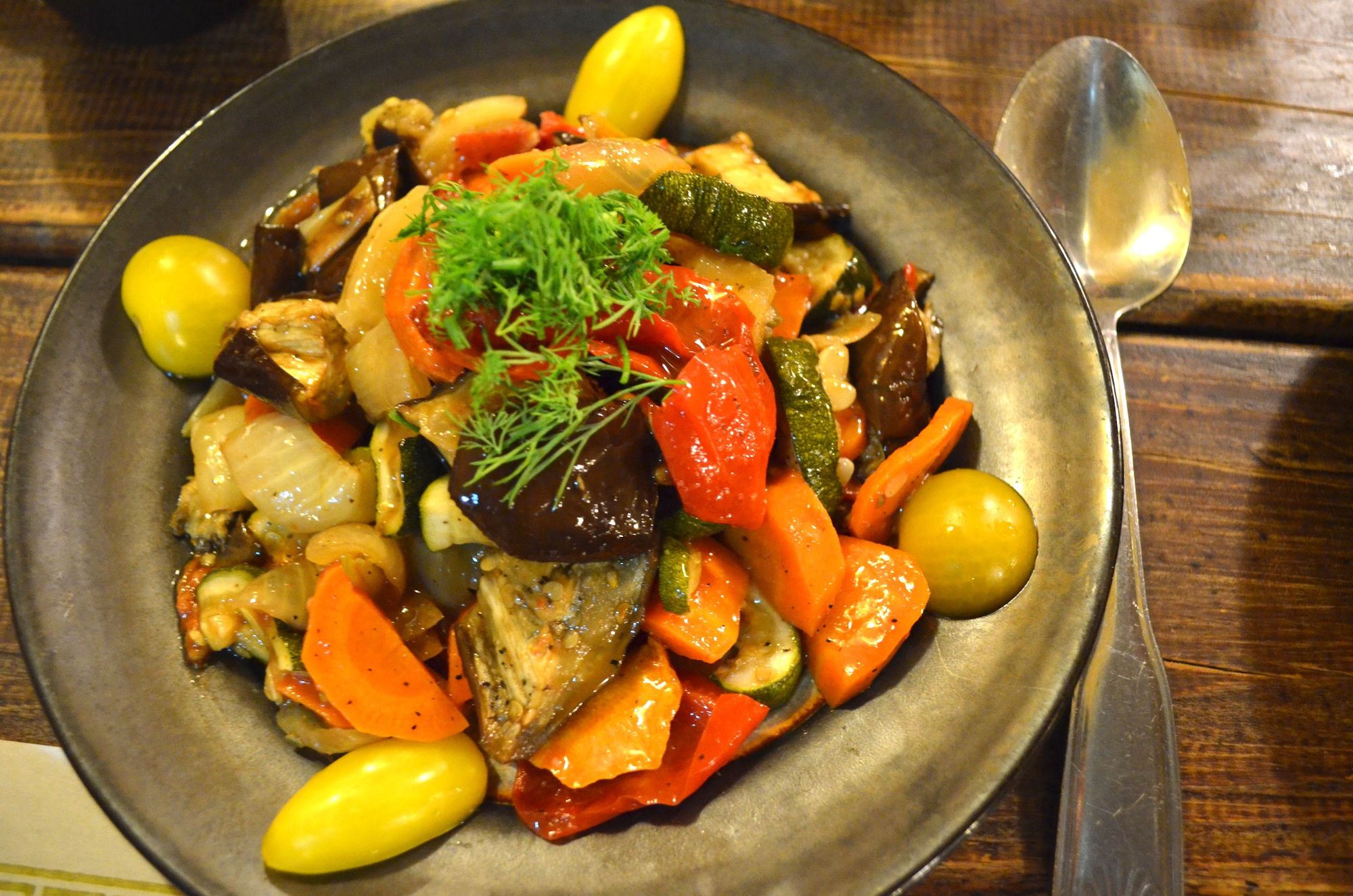 We began our meal by sampling two of the salads. Unlike many other restaurants with cuisines from post-Soviet states, which often don't emphasize quality produce, the Village Cafe's salads were fully fresh and flavorful. The Journey to Baku ($11), a chilled mash-up of grilled eggplant, tomatoes, peppers, and smokey garlic, was a wonderful triumph of spring freshness. But it was the Unexpected Guests ($8) that really wowed. The soft eggplants, tomatoes, and carrots were turned into a flash grenade of flavor by the light barbecue sauce dressing. My table mate described the choice of ingredients as something you might find in your fridge when you're surprised by a few "unexpected guests."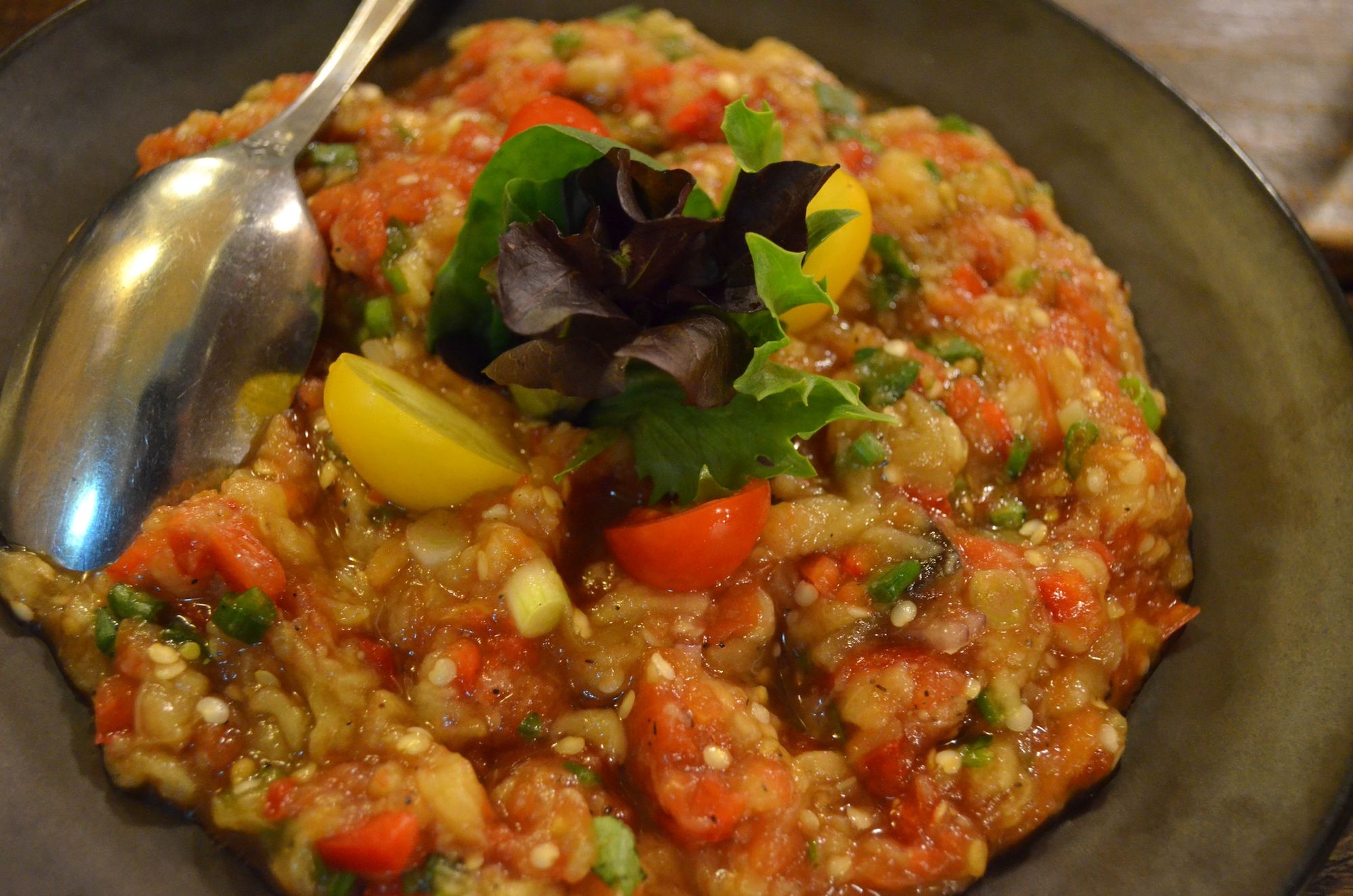 When the main courses came out, I had the privilege of tasting everyone else's dish. (I was, after all, writing about our meal.)
The kutaby ($2) had a nice texture. There was a lot of flavor in those thin, flat crepes. But it was the citrusy sumac sprinkled on top that really made the dish shine.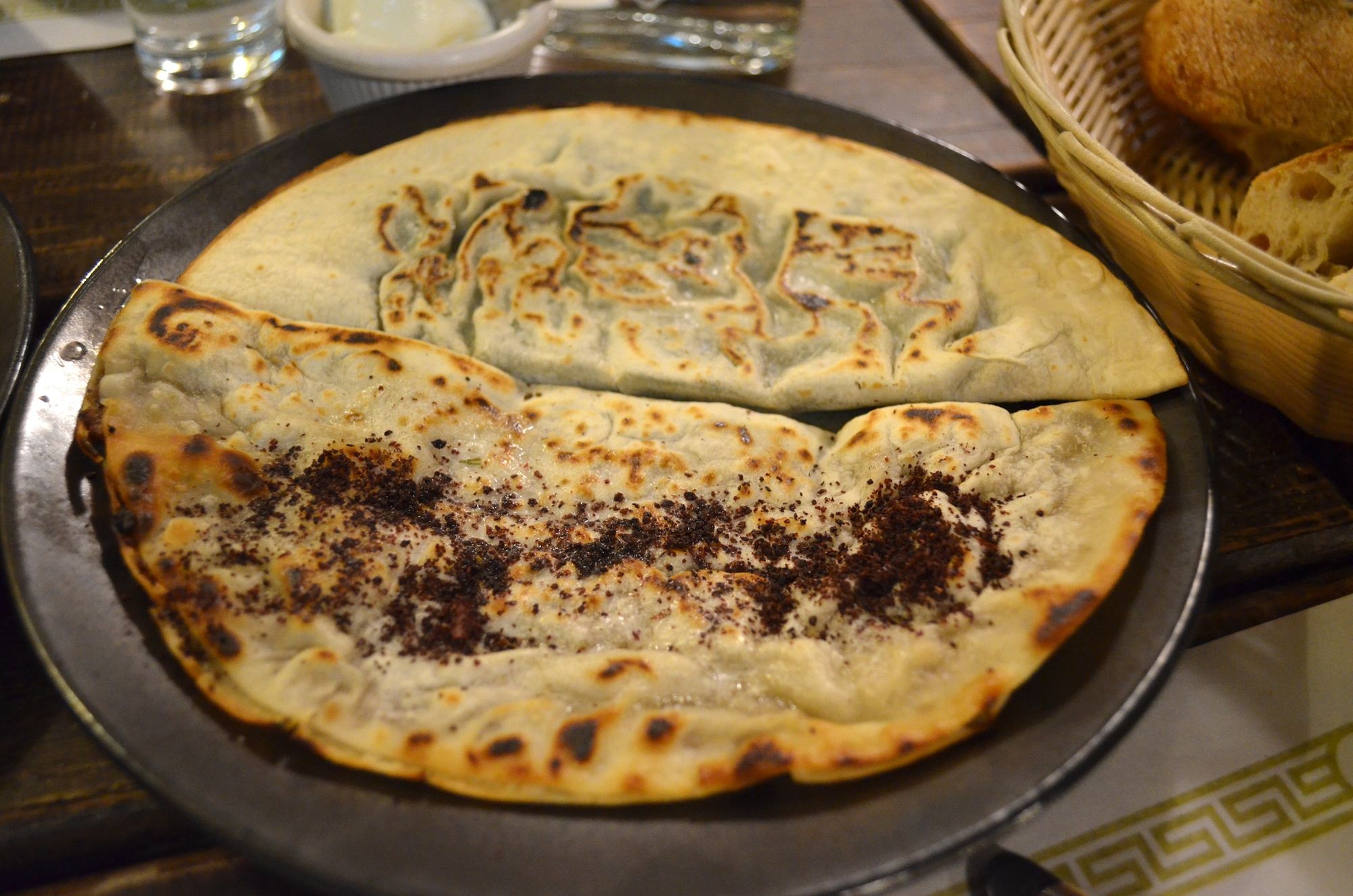 The Julienne with Mushrooms ($9) might have been the evening's ultimate comfort food. The mushrooms were stewed with hot melted white cheese that tasted like it had just been roasted in a roaring fireplace kettle.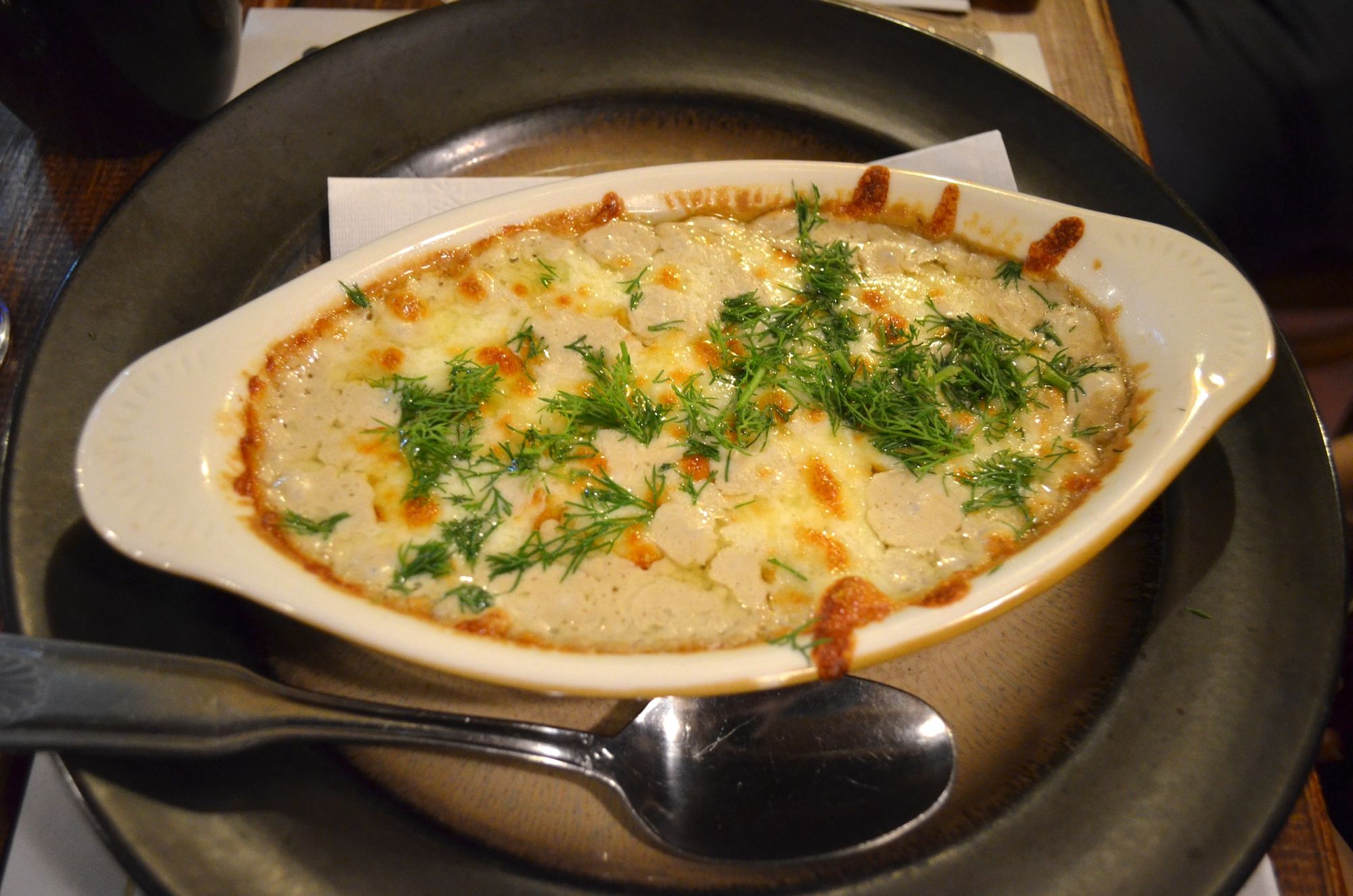 A close runner up for comfort food though, were the Lamb Lulya Kebabs ($6). Topped with fresh onions and served with rice, the meat had nice sweet spice that made the flavor sing.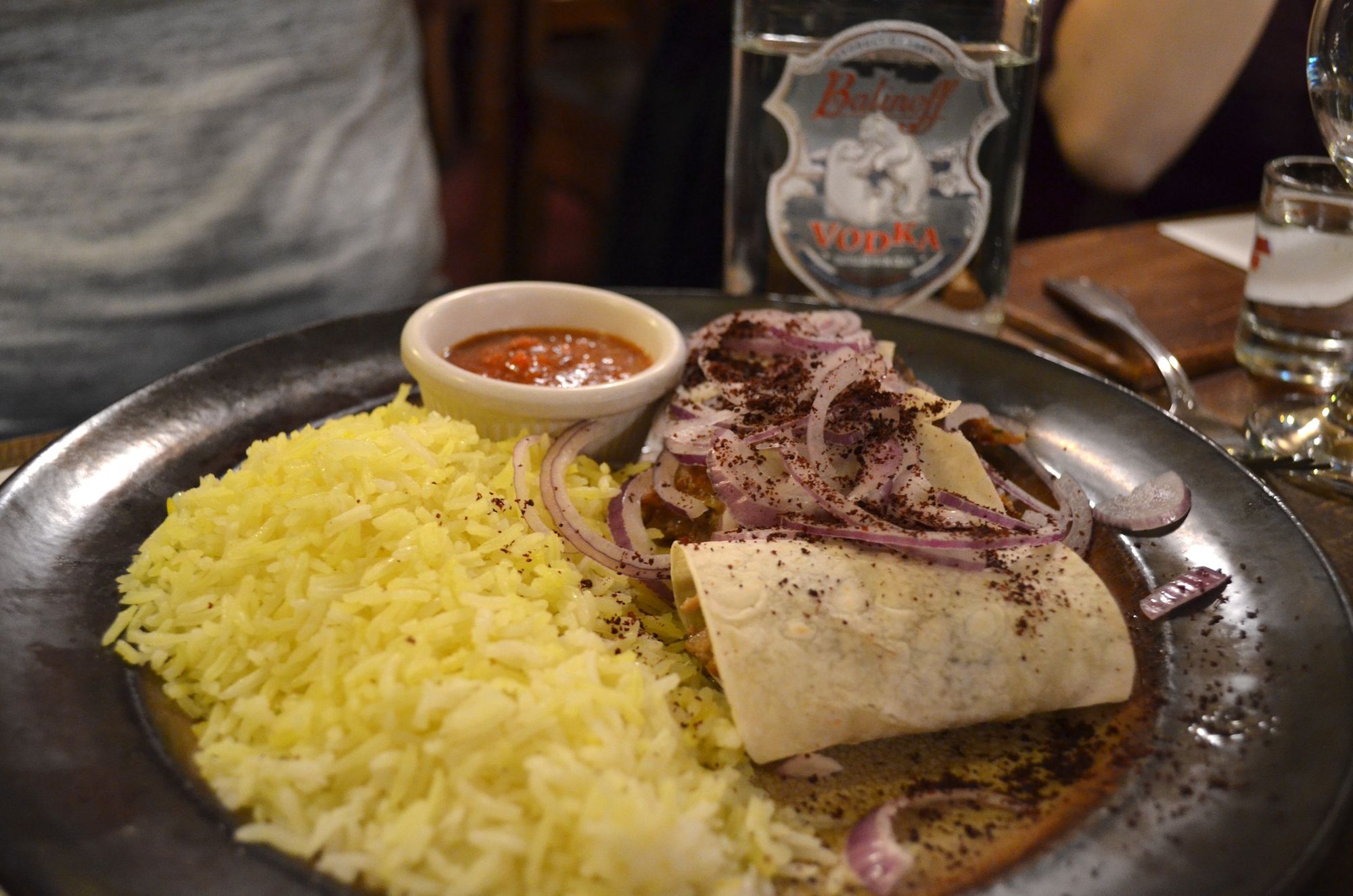 The Mother-in-Laws Chicken ($13.50) also did a lot with melted cheese and mushrooms. But it was the charcoal grill on the bird that made it stand out.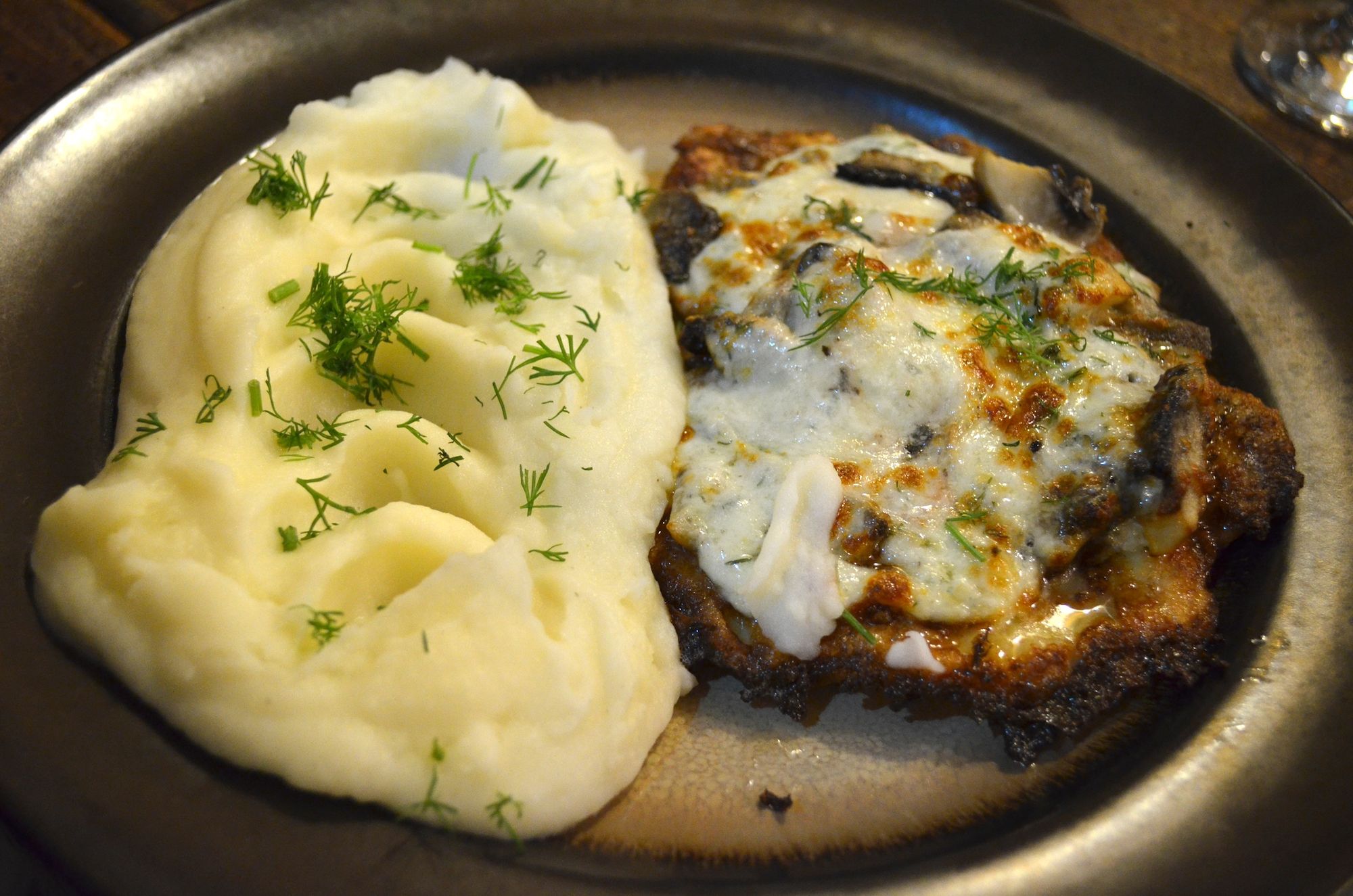 But I was most looking forward to tasting the Djiz-Biz. I've enjoyed my share of offal food (the organs of an animal that often aren't eaten). I've eaten liver, heart, tongue, and even had fried salmon milt (sperm), which actually wasn't much different than salmon filet in both taste and texture.
It was difficult to distinguish the different meats in the Djiz-Biz because they were chopped up into little hunks, though I could definitely taste the variety of flavors. A punch of iron signaled I was probably chewing heart and the tingle of vitamin D came from the liver. I assumed the fatty, veined meats were the testicles. They tasted very gamey, but the soft, melted fat was like what you would encounter in a prized steak. Probably the most pleasant surprise was the flash of cilantro, which was like a zap of green in a protein-heavy dish.
The Djiz-Biz was a satisfying and filling meal. However, I'm now craving it in the morning. The loads of protein, along with fried potatoes, would surely be a blast of energy that would ready you to conquer your day. Good thing they open before noon.
Village Cafe, 1968 Coney Island Avenue, between Avenue P and Quentin Road, 718-975-3373. Open daily, 11am – 12am.
The Bite is Sheepshead Bites' column exploring the foodstuffs of the Sheepshead Bay area. Each week we check out a different offering from one of the many restaurants, delis, food carts, bakeries, butchers, fish mongers, or grocers in our neighborhood. If it's edible, we'll take a bite.