The Ballad Of 'Gypsy' George Mihalopoulos, South Slope Cut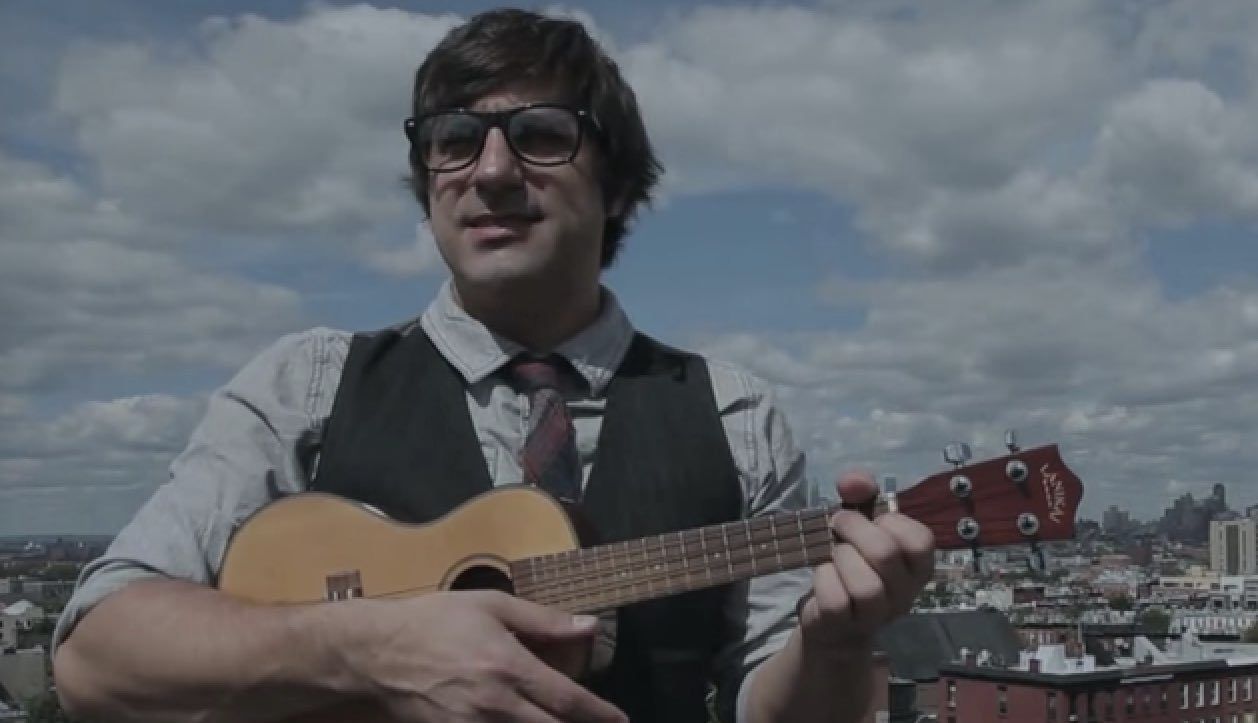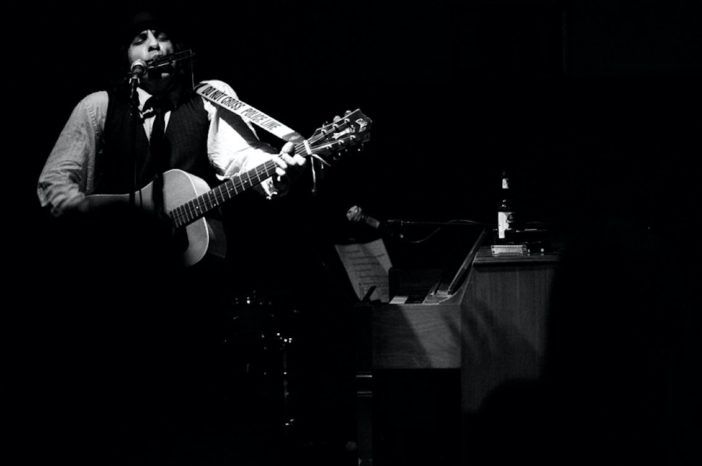 "It's a nickname I inherited."
He doesn't talk much about why, but what an appropriate name it is. Whether you know him personally or not, you've seen him around. He's having coffee at Roots Cafe (639 5th Avenue at 18th Street) in the morning, perhaps a drink at South Pub (629 5th Avenue between 17th and 18th Streets) at night. Or he's cooking and teasing us with fantastic photos of his culinary triumphs and travels. Or he's leaving his mark on the arts and music scene in South Slope.
Oh, and he's the neighborhood king of olive oil.
We'll explain.
For now, all you need to know is that George Mihalopoulos goes by "Gypsy," and you don't have to be a close friend of his to call him that. We'll dispense with our typical usage of last names. Because he's Gypsy.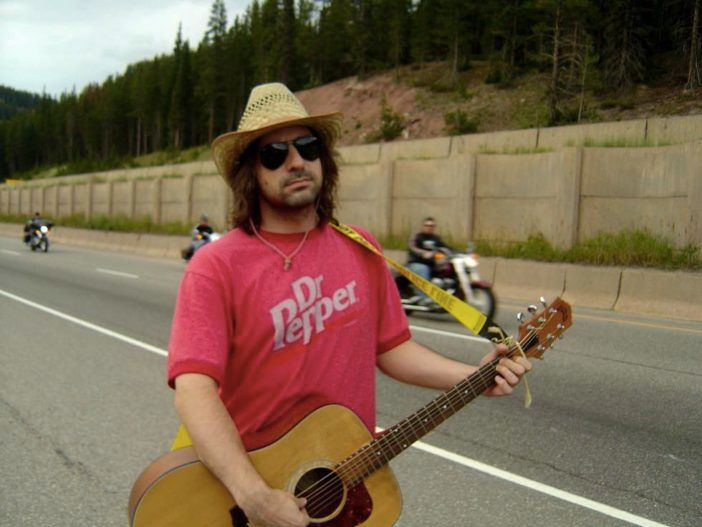 The South Slope Song
Gypsy is a Chicago native and a first generation Greek American. His family comes from Nafpaktos, Greece, and his Greek cultural roots play a significant role in multiple aspects of his life.
Gypsy has made many stops in between Chicago and Brooklyn (we'll get to them soon); he arrived in South Slope about eight years ago.
Gypsy moved to Brooklyn after living for quite a bit of time in L.A., and immediately connected to the borough. But he had to do some searching first. "I hated Williamsburg," he says. "It reminded me too much of L.A."
Gypsy wanted to find a place to settle where he could live as well as record his music. His apartment on 21st Street "was a find," he says. He doesn't have to commute far to his studio, as he created one in his home.
When he first got here, Gypsy often played music in Central Park. "The key to busking is going after the kids and tourists," he says. He tell us he would make $150 a day doing so.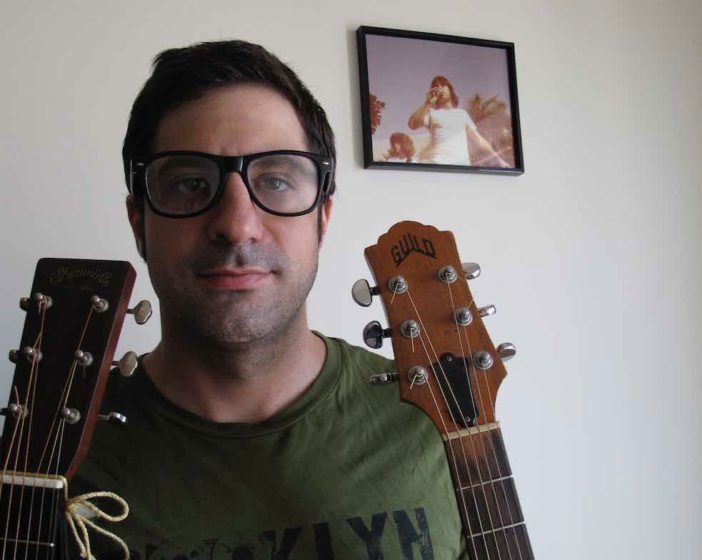 "I Had To Get Basic Terror Training"
Gypsy's employment resume features a wide range of jobs, but none is more intriguing than his time as a secret shopper.
"I guess you could say I was doing undercover work," he explains. Gypsy worked at J.F.K., LaGuardia, and Newark airports, rating customer service in the many stores in each terminal.
"While I was working there, I received basic terror training and security clearance," he explains.
L.A. Story
Before his South Slope times, before the busking, and before his secret shopper career, there was southern California. He lived a different life when he was in Los Angeles.
Gypsy spent his time composing music for t.v., and picked up his music licensing acumen when he was out there. But he never felt at ease with the L.A. culture. "I was there … much longer than I needed to be," he says.
He describes a pivotal moment which took place — the "final straw" which led him to moving.
"I was driving on the 101. To my left was an agent talking bullshit into his phone. To my right was an actor doing the same thing," he says. "I screamed 'Fuck L.A.!' and drove due east. It had to happen."

"Loneliest Man In New York" by Gypsy George & the Open Road Love Affair.
An Open Road Love Affair
"I've never taken a lesson in my life," says Gypsy.
He tell us his first instrument was the drums, "but they were too loud in my house growing up." Nowadays, he plays mostly strings — guitar, bass, mandolin, banjo, and ukulele. Actually, you can add piano, harmonica, and bouzouki to the list.
"Roots [Cafe] was my first connection to the music world here," says Gypsy. The first album he recorded in Brooklyn, called The Loneliest Man In New York, included original cafe owner Jamey Hamm on the record. "Everyone has to make one decent break-up album," he adds.
He's recorded and worked as a producer for a series of bands, including That Moon, Barefoot & Bankside, and Frankie M. George. Always Already is his music company, which handles their music licensing as well.
When he performs live, he's often backed by his band The Open Road Love Affair, which he describes as having a "revolving door" of musicians. You can check out their recent shows here.
Gypsy credits his dad with his passion for music. "He had this new wave band. It's kind of hard to describe," he says. "Greco-Rock, I guess."
His parents were "kind of hippy-ish," he says. His dad worked as a flavor chemist. "You know those popcorn flavored jellybeans? My dad invented those."
"My Days Are About Music And Olive Oil"
Gypsy's Greek roots spread further than his music influences. With the help of his father's food science background, and his grandfather's traditions of harvesting and pressing, he also runs a flourishing olive oil business. "It's an informal way to help the Greek economy," he says.
10δεκα Olive Oil is a collaboration between Gypsy, his father, and his cousin. The family imports single varietal olive oil from Nafpaktos and markets it in the U.S. You can catch Gypsy selling down at the Park Slope Wednesday Down To Earth Farmer's Market at The Old Stone House. And local businesses regularly carry it, so you can multitask at Roots Cafe by getting both your coffee and olive oil there when you stop in.
"My days are about music and olive oil," he says, as several bottles are on sale just a few feet away from us.

'Hey Little Girl' by Gypsy George & the Open Road Love Affair.
"I Feel Protective Of The Neighborhood"
While his music career and olive oil business takes up a huge amount of his time, Gypsy is committed to working with the community in other ways. He's the musical director, composer, and associate producer for South Brooklyn Shakespeare, and he is already busy composing for their upcoming production of Twelfth Night (look for major coverage from us surrounding the rehearsals and performances).
Gypsy has become such a huge part of the fabric for so many facets of the community, it's hard to keep track. He's seen a lot of changes over the eight years he's been here. "I feel protective of the neighborhood," he says, during our discussion of real estate expenses and concerns over the character of the neighborhood losing its authenticity.
Just before we spoke, Mary's Bar was readying to close its doors. I asked him if he was concerned that a less neighborhood-oriented bar would potentially open in its place. "If you're going to be a douchebag bar and try to make it in this neighborhood, you're not going to survive," he says.
While his life is split among a myriad of projects, Gypsy radiates focus during our conversation. To him, this is life — a constant exploration. Quite often, he uses the phrase "See ya on the open road!" in his emails and website.
This wandering troubadour is certainly one of the most important personalities in our neighborhood. Stick around Gypsy, the open road will always be there.