The 10 Best Places To Get Pancakes In Park Slope
One of our favorite cold-weather comfort foods is pancakes — few other meals can warm you up on a chilly December morning better than a gut-busting stack of flapjacks. And with so many diners and brunch options in Park Slope, pancake lovers have got a lot of choices. So which ones are worth their weight in syrup?
We've rounded up our 10 favorite places to eat pancakes in Park Slope. As with any list, it's subjective, so we'd love to hear your own favorites — let us know which ones you flip for in the comments below.
Photo: <3 Zombie Lori
Alchemy
56 5th Avenue
Breakfast Mon-Fri 9am-4pm; Brunch Sat-Sun 11am-4:30pm
The winner for most unusual pancakes in Park Slope has to the the sweet Guinness pancakes at Alchemy. If you for some reason fear beer, though, don't worry, they don't taste too much like the stout (thankfully, because we could see it leaning dangerously toward bitter). During breakfast hours, a plate will run you $7.50, and at brunch, which we appreciate is served later than most other brunch spots in the area, it's $10. Just be warned there can be a wait for a table on the weekend, and that wait only gets worse if there's an event at the nearby Barclays Center.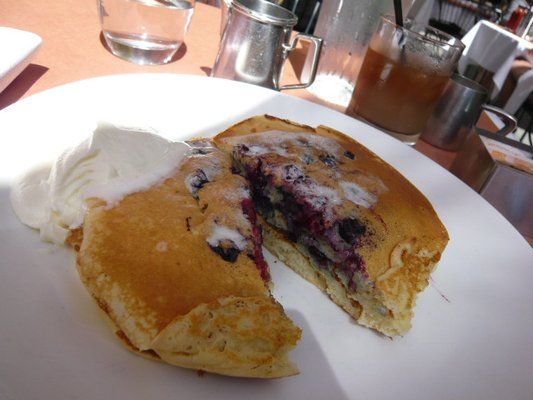 Photo: tomoko m. on Yelp
Benchmark
339-A 2nd Street
Brunch Sat-Sun 10am-3pm
Though chef and owner Ryan Jaronik may be better known right now for his award-winning potato pancakes (which he should add to the menu ASAP), his brunch pancakes aren't too shabby, either. Three fluffy buttermilk pancakes are $12, and you can get bananas, chocolate, or blueberries (along with homemade whipped cream) at no additional cost — and they won't bat an eye if you perhaps want both bananas and chocolate in yours, you rebel.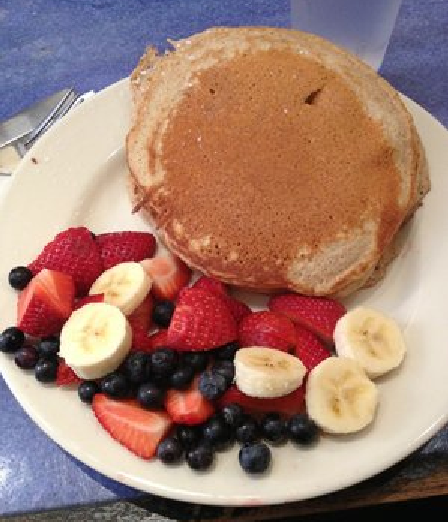 Photo: Daisy M. on Yelp
Cousin John's
70 7th Avenue
Breakfast Mon-Fri 7am-12pm; Brunch Sat-Sun 10am-3pm
With frosted layer cakes in the window, it's often easy to forget that Cousin John's is more than just a bakery. It's a nice spot to tuck yourself away in the back with a stack of whole wheat pancakes, which aren't as heavy or grainy as some other versions we've tried, and you have the option to add whatever fruit — bananas, berries, apples — they may have at the moment. Of course, if you somehow have room left, it's nice to know you can grab a slice of cake, too.
Dizzy's
511 9th Street & 230 5th Avenue
Breakfast Mon-Fri 7am-4pm; Brunch Sat-Sun 9am-4pm
Bringing a more nuanced approach to the diner model for the past 15 years, one thing that tends to surprise reviewers about both spots is the price, but $9 (until 4pm on weekdays; $13.95 during brunch on weekends, includes coffee/tea, juice, and muffin basket) for a stack of three good-sized pancakes seems reasonable to us, especially when they're this good. Be sure to ask about what special pancakes they've got that day (pictured above with roasted pears and almonds) — and if they don't happen to have a version you've liked in the past, just ask, and they might be able to whip them up anyway. A short stack for kids comes with fruit for $6 on weekdays, $9.50 at brunch with a side and juice.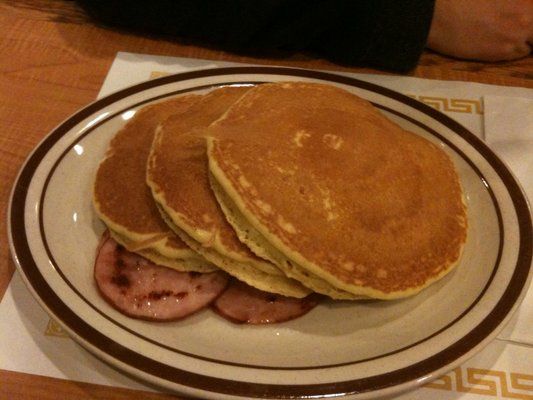 Photo: Albert W. on Yelp
Fifth Avenue Diner
432 5th Avenue
24 hours a day, 7 days a week
This might be our favorite traditional diner in the neighborhood: open around the clock with bottomless cups of coffee for $1.25, inexpensive but tasty grub, and a full bar that features $2 mimosas and $3 Bloody Marys on the weekend. And the pancakes fit the bill nicely, with a few options — like whole wheat, chocolate chip, or blueberry — that even if you add on, it won't break the bank, topping off at $6.25.
Photo: Jamie L. Roseman on Foodspotting
Flatbush Farm
76 St Marks Avenue
Brunch Sat-Sun 10:30am-3pm
One of our local spots that changes up the pancake selection with the seasons, right now they've got pumpkin pancakes with apple jam and spiced brown butter syrup. We particularly like that you can get one ($5) or two ($9), because hey, sometimes we want to split one with a friend as a brunch dessert — don't judge, it's genius.
Park Café
82 7th Avenue
Daily 8am-9:30pm
While you may be tempted by the ludicrous Sloppy Breakfasts here (where, like any good traditional diner, breakfast is available all day long), if you want to truly gild the breakfast lilly, you've got to go for the Nutella, peanut butter, and banana pancakes ($10.80). It's really the perfect drunk food, so it's sad they're not open later than they are — you'll just have to make due with the insanity of these pancakes the morning after, when they'll hit the spot, too.
Photo: Pork Slope
Pork Slope
247 5th Avenue
Brunch Sat-Sun 11am-4pm
Just like, well, almost everything on the menu here, their version of pancakes takes something traditional and flips it on its head, and is probably best accompanied by a lot of booze. The McDowell's griddle ($13) comes with a fluffy but flavorful cornmeal pancake, plus this is a meat-eaters paradise, so there's cheddarwurst and a fried egg, and it's all doused with a spicy maple syrup. It's basically a heart-attack on a plate, but what a way to go. Plus, they've always got a game on, so this is a great brunch option for football season.
Photo: This Is Gonna Be Good
Rose Water
787 Union Street
Brunch Sat-Sun, 9:30am-3pm
The $15 prix fixe menu, which comes with your choice of juice, coffee, or tea, always has pancakes, but what kind of pancakes changes with the seasons. We've found that any time of year we're there, those pancakes are light, fluffy, and really tasty. Right now they've got a pumpkin buttermilk version topped with cinnamon butter and pumpkin seeds (which offer a nice surprising crunch, something more places should consider).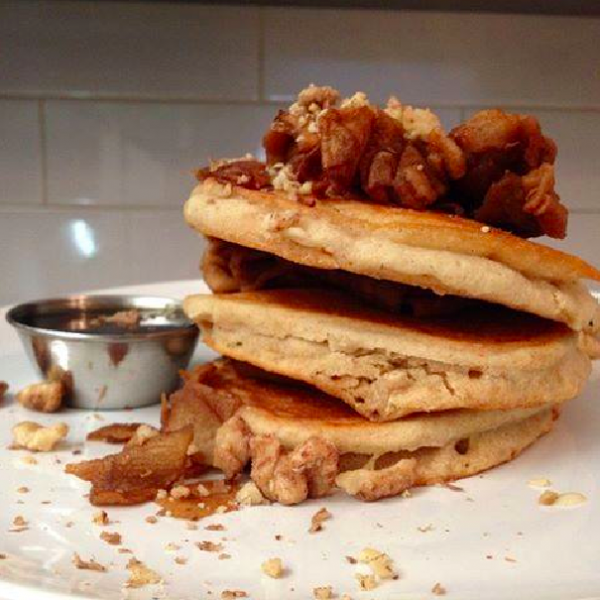 Photo: Sun In Bloom
Sun In Bloom
460 Bergen Street
Mon-Fri 8:30am-9pm; Sat-Sun 10am-5pm
As many who have tried others will know, it's tough (sometimes literally, blech) to make great gluten-free pancakes. But the ones at Sun In Bloom will satisfy any pancake craving, gluten-free or otherwise. For $10, try the apple pie or the caramelized banana versions, both equally decadent. They've been known to sell out, though, so if you're in the mood, get there early.