Thank You, Mr. Crossing Guard!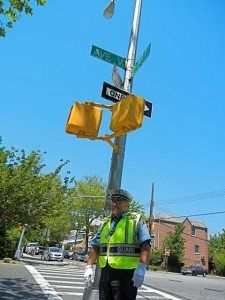 We received some photos and kind words from a reader, who really wanted us to put a spotlight on Michael Rodriguez, crossing guard at P.S. 206 (2200 Gravesend Neck Road) and commander of Kings County American Legion Post 391.
Here's what our reader had to say:
This is his bike, his school, his business card and the corner he keeps safe. This man, rain or shine, is there every single day. He is working, not talking to passerbys. I have seen him for years. I am sending the pics along with compliments and a thank you to his post, 391 of The American Legion. With all the bad rap crossing guards get – and deserve – his outstanding performance should be noted.
Is there a neighborhood fixture you think should be thanked publicly? Let us know!