Tenants Of E. 17th Street Building Sue Landlord Over Terrible Living Conditions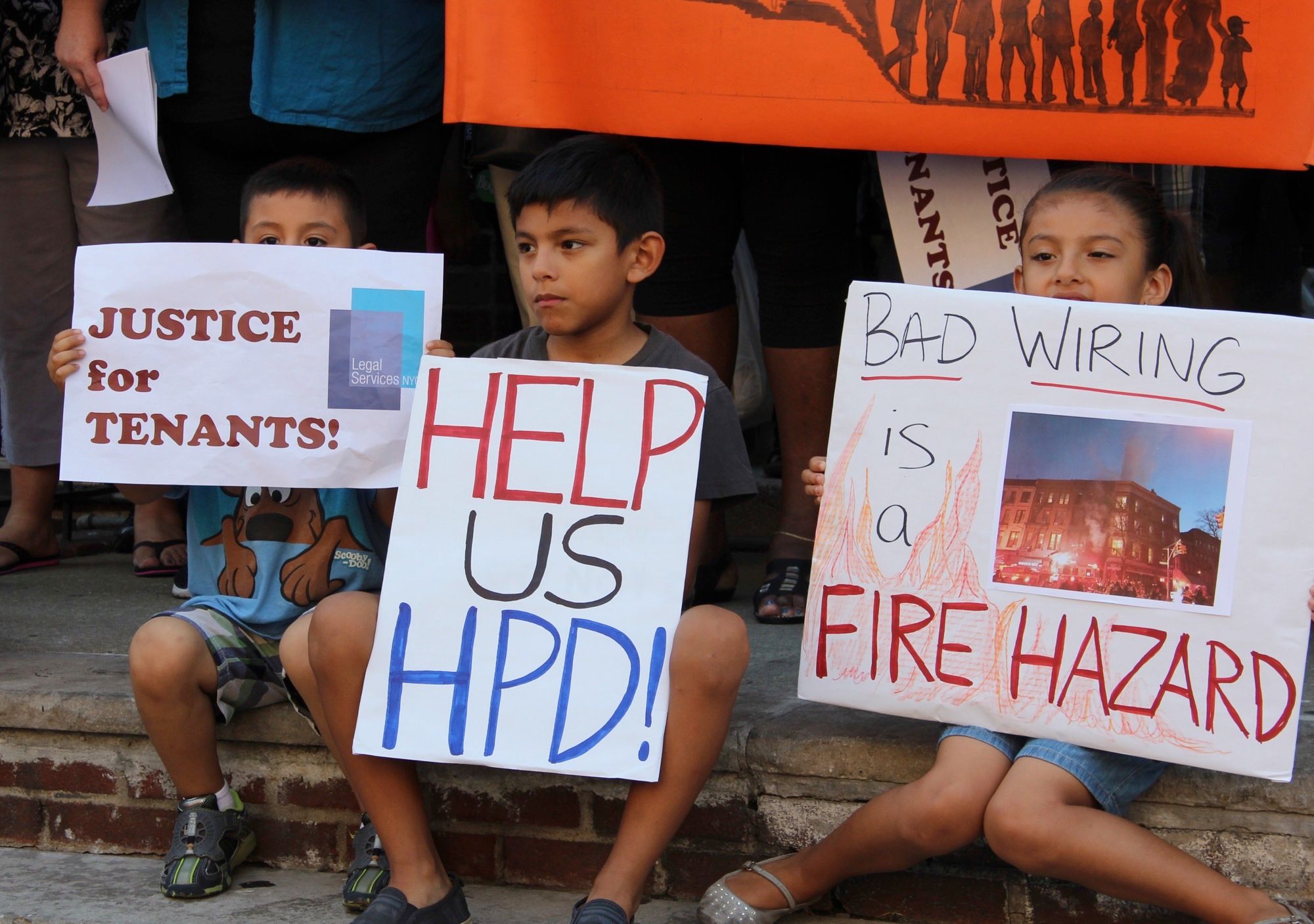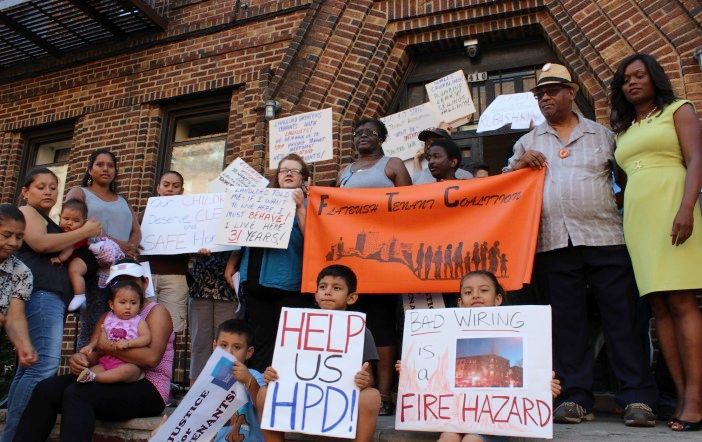 Tenants of 410 E. 17th Street announced at a press conference Tuesday that they are suing their landlord, Sholom Rubashkin, over the terrible living conditions the tenants have had to deal with for years. The tenants are members of the Flatbush Tenant Coalition and are being represented by Legal Services NYC's Brooklyn program.
Beth Baltimore, one of the lawyers representing the tenants, said at the press conference that tenants have dealt with a lack of heat and hot water, fire hazards, faulty wiring, infestations of vermin, widespread mold, lead-based paint, missing window guards in apartments with small children, blocked access to fire escapes, rotting floors, and more.
Conditions have been so bad in the rent-stabilized building that at the beginning of 2015, it was put in the city's Alternative Enforcement Program, which is reserved for only the worst 250 buildings in the city.
A Housing Court Judge ordered Rubashkin to fix the 166 open housing code violations in March, but tenants claim that the repairs that were done were not done well and did not deal with the underlying conditions.
Although the building was taken out of the Alternative Enforcement Program in June, the building had 207 violations, including more than 20 that are immediately hazardous, as of September 6.
"These are abominable conditions," said Baltimore. "Tenants are now living with more dangerous conditions than before."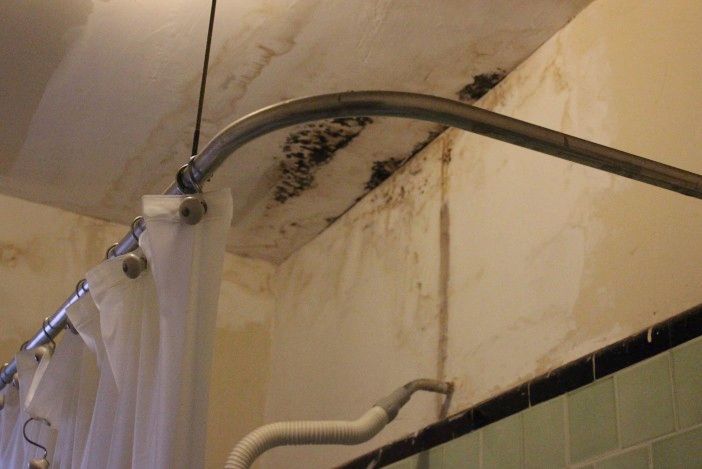 Tenants say the building's superintendent passed away in February and no replacement has been hired. "There's no one for us to call to get things fixed and the trash just keeps piling up," said tenant Susan Saldarriaga.
Saldarriaga has lived in the building since 1983. She says that during December 2014, and January and February 2015 they suffered without heat or hot water for 25 days. "We used an electric heater to stay warm, which caused higher electric bills," she explained.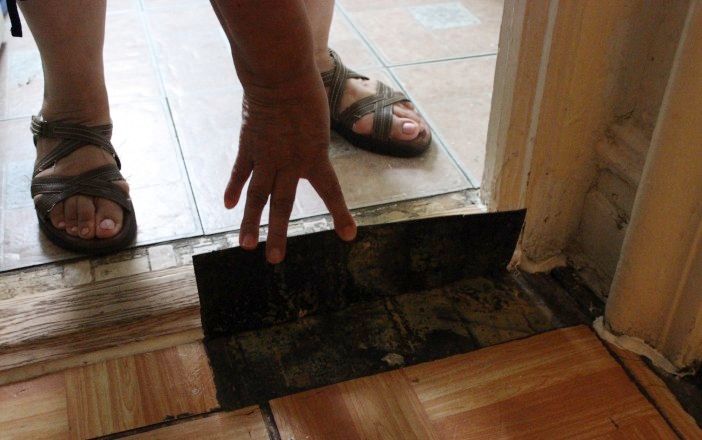 Several tenants said they have been trapped in the elevator in the building, which according to the inspection card posted inside had not been inspected since 2008, until last month. Instead of addressing the issue, tenants say the landlord posted a sign in the elevator telling them not to call 911 if they got stuck.
Tenant Lucia Muniz lives in the building with her five children. "I suffered the consequences four years ago when high levels of lead were detected in my daughter's blood."
Muniz has also had electrical issues and her power goes out regularly, preventing her daughter to use her nebulizer to treat her asthma.
"I complain to the landlord and he tells me, 'If you don't like living here. why don't you leave? You are costing me a lot of money,'" said Muniz.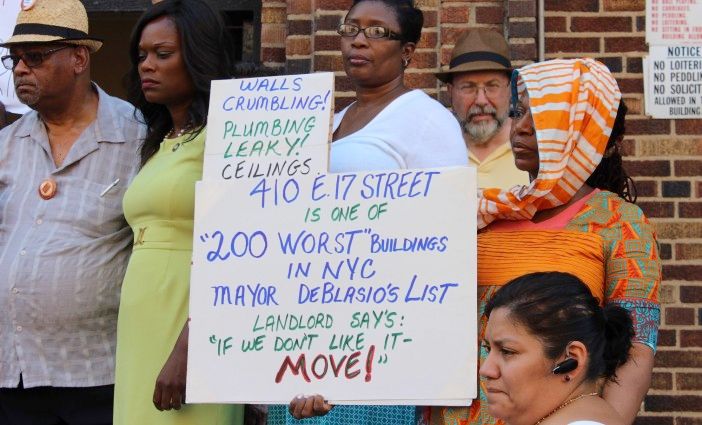 410 East 17th Street has been owned by Rubashkin's family since 1987, and this is not the first time the family has been embroiled in scandal and lawsuits. The family's company Agriprocessors, a kosher slaughterhouse, had salmonella scares, and labor violations including child labor. It was also the site of one of the largest immigration raids in U.S. history, with 300 undocumented immigrants being deported.
The now-bankrupt company pleaded guilty to 83 child-labor charges. Sholom Rubashkin, the owner of 410 E. 17th Street's uncle, was found guilty of fraud and perjury and sentenced to 27 years in federal prison.
The younger Sholom also had legal troubles in Pennsylvania in 2008 when his father, Moshe, sold his Montex textile bleaching and dying mill to Sholom, who was operating under an alias. Sholom's father, Moshe, had not cleaned up hazardous waste at the mill, which led to fires.
Moshe pleaded guilty to improper chemical storage, but Sholom lied to federal investigators about his ownership. He was sentenced to four months in prison and was sent back in 2013 because he failed to pay a fine, report to his parole officer and complete community service hours.
Regarding the alleged harassment of his tenants at 410 East 17th Street, he claims there are no problems with his management.
"It's not a story of a landlord versus tenants," Rubashkin told Gothamist. "I have a very good rapport with a lot of tenants there. Help me help yourself. When you have a problem with the window or the refrigerator, be home when the repair people come."
"I'm not harassing anybody. We're not asking anybody to leave. We're asking people to respect the property," he said.
Our efforts to reach out to Rubashkin went unanswered.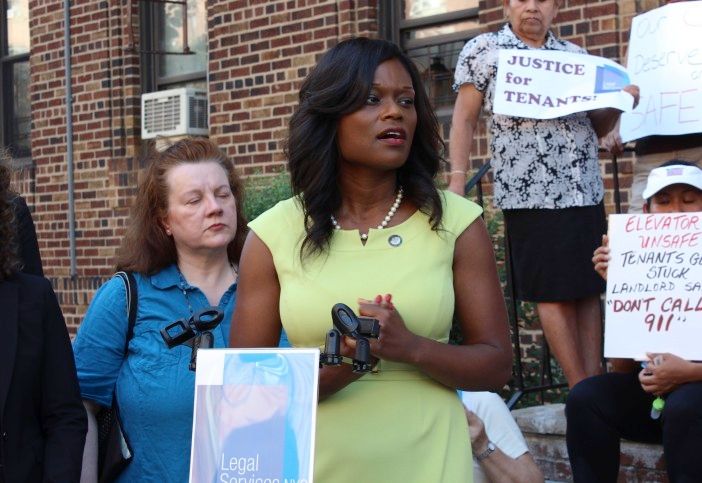 Assembly Member Rodneyse Bichotte spoke out in support of the tenants. "This is another way for landlords to kick people out on the street." said Bichotte. "I call on Mayor de Blasio and Public Advocate James to investigate wha'ts going on at the Department of Housing Preservation and Development and at the Department of Buildings. They need to be held accountable."
Council member Mathieu Eugene also expressed his support for the tenants. "I am with you. We will stand together and make New York City a place for everyone."