Tenant Advocates Continue Push For Rent Reform Following Mass Arrests In Albany
After about 60 legislators and tenant advocates were arrested while rallying for stronger rent laws at Gov. Andrew Cuomo's office in Albany Wednesday, elected officials and other community leaders are continuing to urge the governor to enact legislation to better protect tenants who are being illegally pushed from rent-regulated units.
Protesters at the event — which came just days before the rent laws are set to expire on June 15 — who were arrested included Council members Jumaane Williams, Laurie Cumbo and Corey Johnson, and Assembly members Rodneyse Bichotte, Walter Mosley, Dick Gottfried, Felix Ortiz, and Maritza Davila. State Sens. Bill Perkins Adriano Espaillat, Brad Hoylman, and James Sanders were also arrested.
"Affordable housing is a right worth fighting for — a right that many New Yorkers will lose if Albany does not strengthen our City's rent laws by June 15th," Williams said in a statement sent to the press Thursday evening. "Governor Cuomo has not provided the same leadership on this issue that he has on others that are apparently more important. So yesterday, I joined hundreds of tenants and city and state elected officials to tell him that not strengthening our rent laws would be an unforgivable disgrace that the residents of this city would not forget. The same New Yorkers who are currently the only positive influence in his low poll numbers will remember inaction during his next election."
While Cuomo has said he favors strengthening the rent laws, he will not back one of the major changes advocates are pushing for: ending vacancy decontrol, which allows landlords to charge market rent on an apartment once the rent reaches $2,500 a month. Instead, Cuomo said he would like to see that threshold raised to $2,700 — a statement lambasted by tenant advocates throughout the city, including the Flatbush Tenant Coalition.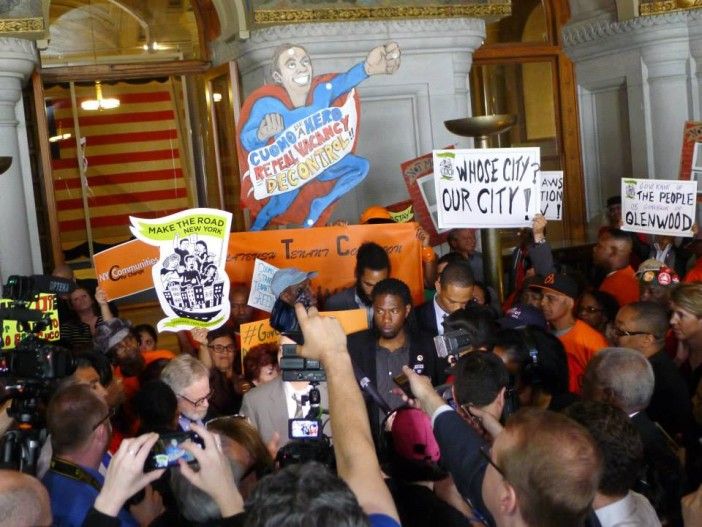 Cuomo has "set the bar incredibly low, telling Albany lawmakers that he will call them back during the summer if they don't renew the rent laws," Aga Trojniak of the Flatbush Tenant Coalition wrote to us. "He's trying to keep strengthening the laws off the table.  The most he's mentioned is raising the deregulation threshhold to $2,700, which is just insulting."
Wednesday's protest is one of numerous actions held by those hoping to see real reform when it comes to protection for tenants — a particularly crucial issue in our neighborhood, where diluted rent laws have caused Flatbush to lose thousands of rent-regulated apartments in recent years (for example, the FTC has cited that Flatbush lost 3,500 rent-regulated units between 2008 and 2011).
The state Assembly recently passed legislation to strengthen the rent laws, but the state Senate and Cuomo have yet to take up the issue.
"As we yelled and screamed and chanted, more than 50 people sat down in front of the Governor's office and refused to get up," Trojniak, from the FTC, wrote about Wednesday's rally. "For a grueling three hours, one by one they were arrested… It was an impressive stand to show Albany we will not back down!"
Criticism for the state's current rent laws has reached some of the city's highest political echelons, and yesterday New York City First Lady Chirlane McCray came to Flatbush to demand that tenants be better protected.
But it was Williams who seemed to issue the most damning public statement in regards to Cuomo, saying to the governor that he must "strengthen our rent laws or you will be to blame."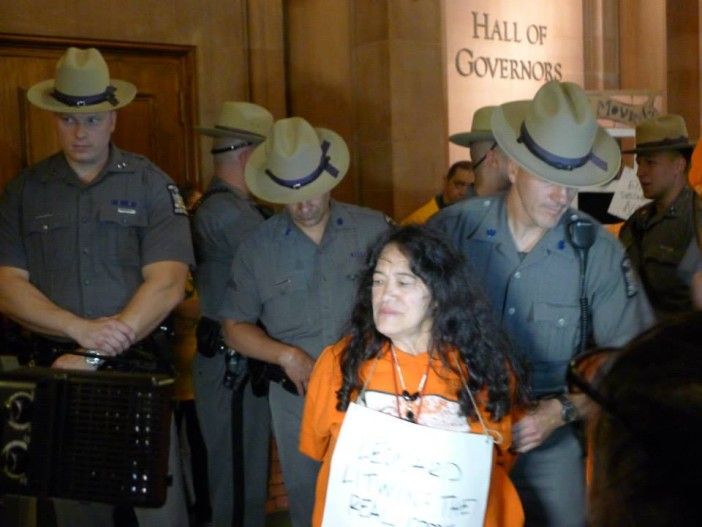 In his statement, Williams said:
I engaged in an act of civil disobedience with other concerned New Yorkers because housing is a human right that Governor Cuomo is trying to limit for our neediest New Yorkers. And what is his answer to strengthening our rent laws? Raise the minimum rent from $2,500 to $2,700 before a rent-stabilized unit that becomes vacant and can be removed from the regulatory system and go to market rate. This a terrible joke. A $2,700 limit will endanger more affordable housing, not save it. Rent regulation is not just about the price of rent but about protections given to a tenant that would be lost forever.
Governor Cuomo should realize that if our rent laws aren't strengthened, countless families will be displaced – many of whom would enter an overcrowded, underfunded homeless shelter system. To ensure that doesn't happen, we need to end decontrol, close preferential rent loopholes and increase the amount of possible fines for landlords found guilty of harassment and repeal vacancy deregulation.
There will be at least one more large rally held in Albany prior to the rent laws expiring on June 15, and the Flatbush Tenant Coalition will join numerous others in Albany this Tuesday, June 9. Anyone is welcome to attend the event with the FTC — for more information about joining them, you can go here.