Tell Every Amazing Lady (And Family Member, And Everyone Else) That T.E.A.L. Is Here
We'll give you a moment to bookmark this page.
[Reader bookmarks page.]
Now that you've done that, we'll tell you why: this information could very well save you or a loved one's life.
Since the offices for T.E.A.L. (Tell Every Amazing Lady) opened in our neighborhood (533 16th Street near 10th Avenue) six months ago, the foundation continues to achieve one of its goals — to be a national movement to illuminate and educate about ovarian cancer.
When we sat down with co-founder and CEO Pamela Esposito-Amery, it becomes abundantly clear why the organization has gone so far. Self-possessed and driven, Esposito-Amery is at the helm of an organization that is working hard to address a cancer that is in need of public awareness and support.
"The community really wants to help. It's provided us the ability to expand," she says.
The official name of the organization is a bit longer: Tell Every Amazing Lady About Ovarian Cancer Louisa M. McGregor Ovarian Cancer Foundation. Louisa M. McGregor — sister to Esposito-Amery — lost her life to ovarian cancer in 2011 after a four-year battle. McGregor and Esposito-Amery co-founded T.E.A.L. in 2009.
McGregor was diagnosed at age 41, and learned that the prognosis and survival rate for ovarian cancer was poor. In
In McGregor's own words, "It is because doctors do not have all the knowledge, understanding and tools to help with early detection, which all comes down to lack of funding for research."
Esposito-Amery showed us a teal (the recognized color of ovarian cancer) card that provided vital, clear, and revelatory information about ovarian cancer. On the top section — in all caps — the card displays the following:
Currently there is
NO ACCURATE SCREENING TEST
to detect Ovarian Cancer.
We were shocked to learn about this. A PAP Smear may detect cervical cancer, but it does not detect ovarian cancer.
"Women have to listen to their body," says Esposito-Amery. "They are often diagnosed in advanced stages of the cancer."
But have there been improvements? "More women are discussing it with their doctors. And our Scientific Advisory Board is working very hard on research," she says.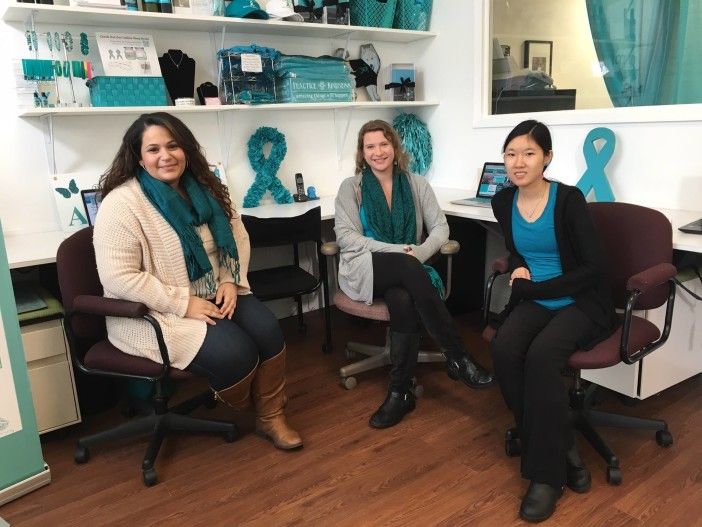 In an inviting and hyper-focused office environment, T.E.A.L. provides more than steps to promote awareness. The foundation offers free educational workshops, including "Men of T.E.A.L.," for men who have lost a wife or for someone that has been touched by it. "This is a place you can come to. You can walk in and talk to us," says Esposito-Amery.
The sisters are Brooklyn natives — originally from Marine Park — so they wanted to keep the foundation in their home borough.
Already, the foundation has been of great benefit to our neighbors. Kathie Lou Moser is an ovarian cancer survivor, and has contributed some amazing photos to the Park Slope Stoop.
"Pamela and the volunteers really have done a great job in promoting T.E.A.L. locally," says Moser.  "I am a survivor (surgery was in October 2012) but vowed I would never be one of those people running around wearing T.E.A.L clothes, get teal mani/pedis, hats, clothes, tutus, or tiaras!"
Moser tells us that the foundation changed her. "TEAL made me own my Ovarian Cancer. I was no longer alone.  I could participate and help spread the word about detection, about asking questions, about talking about my symptoms and the fact that there is no test or cure, yet, for OC. I can help raise awareness and perhaps contribute, in some way, to finding a cure…I may not wear a teal tutu but I do wear teal scarves and jewelry nowadays…and I respect those ladies who go full tilt boogie with the stuff."
Moser is one of the many thousands who have participated over the years in Annual Brooklyn T.E.A.L. Walk/Run. The 2.5 mile walk is non-competitive, but the 5K Run is timed so that winners can be announced. The Walk/Run is the signature event for the foundation. In addition, walk/run events are held in various cities. This year's Brooklyn event held in Prospect Park will take place on Saturday, September 10.
For survivor Moser, the event inspired her to get more involved:
"I registered for the Prospect Park TEAL walk in June 2015 and after that I was hooked. I realized that I was sooooo damn lucky to be able to participate in the walk, when most folks who were there were supporters of women who were gone or women too ill to be there."
"I guess what got me was standing up on the stage (before the walk) with a bunch of other OC survivors.  We were being cheered and applauded. I looked around me and felt so lucky to be alive, a little survivor's guilt and then admiration for what all of us went through (there were women who were still in treatment or recently diagnosed standing up there with me)."
"Hearing the applause and standing on a stage with a bunch of OC survivors made me realize how lucky I was to be alive. My OC was caught early, stage 1C. I began to get teary eyed as well as a few other women. I knew I had to get involved, even if just a little."
And their awareness campaign is building.
In September 2015, T.E.A.L. was honored by ringing the NASDAQ opening bell. The event featured survivors, board members, staff, and loyal supporters for September, which is Ovarian Cancer Awareness Month.
In their quiet neighborhood office, the foundation has big plans. Esposito-Amery recalls what her sister told her after she was diagnosed. "Louisa said, 'There's nothing out there. Let's make some noise.'"
They're making that noise. And we're so glad they're doing it in our backyard.
The offices of T.E.A.L. (Tell Every Amazing Lady) are located at 533 16th Street (near 10th Avenue). You can reach them at 917-310-4835 or info@tealwalk.org. The 8th Annual Brooklyn T.E.A.L. Walk will take place in Prospect Park on Saturday, September 10, 2016.