Sheepshead Bay Has The Greatest Share Of Cruz Supporters Of Any New York Neighborhood
It appears Ted Cruz has built a stronghold in Sheepshead Bay. Data collected by Renthop, the apartment-hunting website, shows the lion's share of the presidential candidate's New York campaign donors live in zip code 11229 — which includes Sheepshead Bay's northern half and Gerritsen Beach. Cruz has drawn 26.19 percent of the neighborhood's contributions, the greatest of any other New York zip code, compared to the other candidates in the race.
The community delivered $2,939 from eleven donors to Cruz's campaign and was the only Brooklyn neighborhood to land among the top five zip codes with the largest shares of Cruz supporters. The others are in Staten Island, the Bronx, and Upstate New York.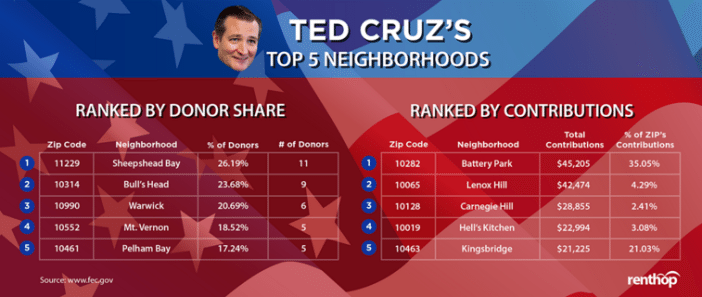 That doesn't mean Sheepshead Bay and Gerritsen are overwhelming populated by Cruz supporters. The neighborhood skirts Vermont Senator Bernie Sanders' childhood home, who took one-third of the political donations for presidential candidates. Hillary Clinton scooped up the rest of the contributors (21.4 percent).
Further south, in the rest of Sheepshead Bay, as well as Brighton and Manhattan Beach, support shifts in Clinton's favor. In that zip code (11235), 43.5 percent of donors gave their money to Clinton.
To come up with the figures, Renthop analyzed campaign contributions from the Federal Election Commission (FEC) and grouped the data by area code throughout the Metropolitan area. The study also counts donations of $200 or more because those are the only ones collected by the FEC.
The analysis found New York donors overwhelmingly favored Clinton. With a total haul of more than $12 million, her New York war chest dwarfs second place finisher Marco Rubio's $1.3 million in donations. It probably helped that Clinton drew most of her support from Glitzy Manhattan neighborhoods.
So do the numbers reflect how the candidates will perform at the voting box? I suppose we'll have to wait for the New York primary on April 19.
Play around with the Renthop's interactive map for yourself and explore the political leanings of some of your neighbors.