Taste Test: Who Delivers The Best Pizza In Ditmas Park?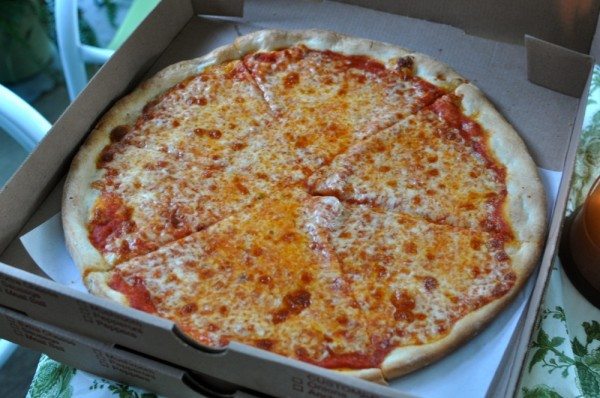 We live in the best city in the world for pizza (despite what some clueless folks say), but that doesn't mean that all slices are equally delicious. So to help our neighbors decide where to order from in Ditmas Park, we gathered nine adults, five kids, and two dogs (who weren't supposed to eat any, but may have snuck a bite or two) to taste pies from five local pizzerias and discuss what they liked or didn't like about each one.
Our criteria:
1. Must Deliver: The best pizza available in our area might be from Di Fara or Wheated or even Lo Duca, but they don't deliver, so they weren't included. We picked a central Ditmas Park location — Cortelyou at Argyle — for pizza to be delivered to, but it's possible that one or more of these spots won't deliver to your end of the neighborhood. The tasting was held on a Friday evening, and all pies were ordered at about 7pm — what we figured was a prime time for pizza delivery demand.
2. Plain and Toppings: We ordered two small pies from each place (except for one, details in the tasting notes), one plain, and one half pepperoni and half mushrooms. We figured that each of those toppings is popular (to account for meat eaters or vegetarians), and mushrooms are particularly noteworthy, to learn if they're canned or fresh.
3. Customer Service: We considered how accommodating the pizzerias were by asking what can be a common request, especially for kids and parties — that they cut the pies into smaller slices than usual.
4. Ranking: While all that's important, it really about taste, and so that's what the rankings are based on. The pizzas are ranked in order of our taster's picks — #1 is the best, #5 is the least favorite.
Obviously, not all tasters are equal — what we liked might not be what you like — and these results are based on a single delivery, so it's possible a place could have been having an off day. A lot of variables, and I'm sure some disagreement, to follow…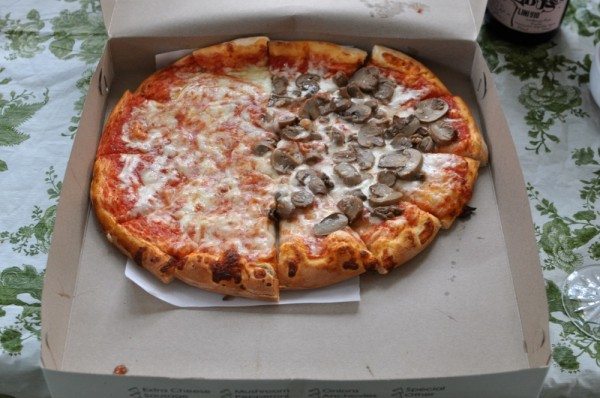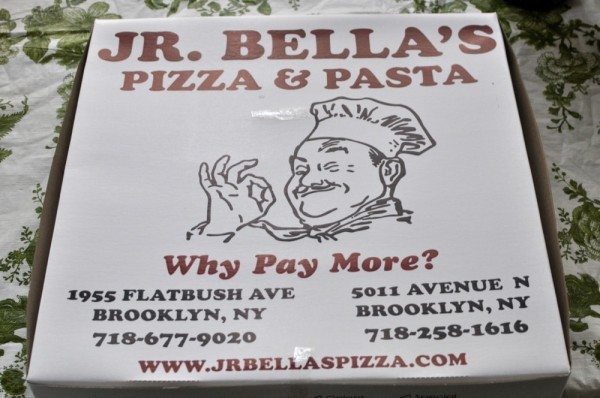 #5 Jr. Bella's Pizza & Pasta, 760 Coney Island Avenue, 347-318-3223
Price: $10 (only place we ordered just one pie)
Customer Service: Nice on the phone, and they cut the pie into smaller slices as requested.
Delivery Time: 24 minutes
Taster's Notes: One of our tasters who had tried delivery from Jr. Bella's before warned us that we might only want to try one pie, and we obliged, ordering a small pie, half plain and half mushroom. Unfortunately, the warning was warranted. Though the pie was delivered quickly, as you can see from the photo above it had a little extra movement on the way — but if it was delicious, that could have easily been overlooked. Tasters liked the garlicky flavor, but that was about it. They were put off by the canned mushrooms, and described the pie as too chewy and soggy, "a big mush-ball," adding that it was hard to distinguish between crust, sauce, and cheese. Tasters felt it was the least like what you expect when you order pizza in NYC. We tried the $1 slice when they first opened, and it was different than this, better, so maybe the key is to order that slice in-house?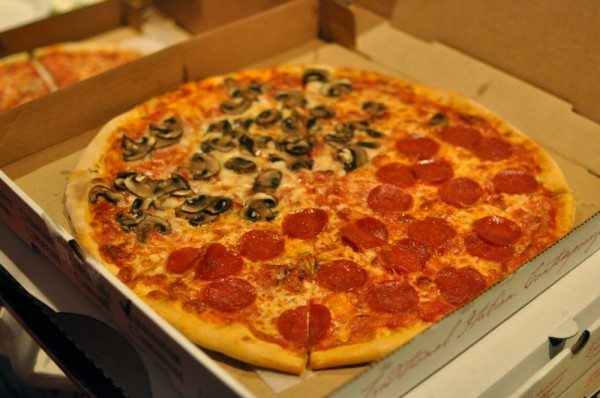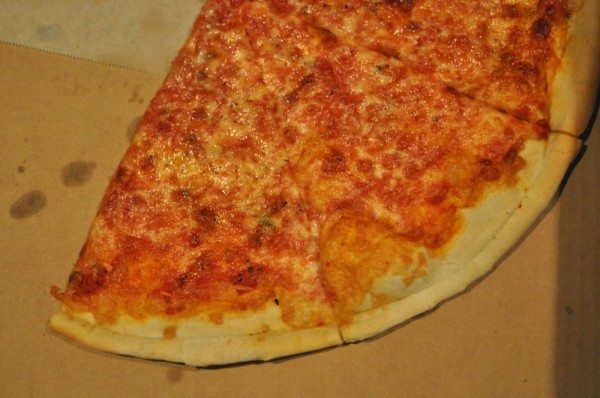 #4 New York Brick Oven Pizza, 1502 Cortelyou Rd, 718-282-4222
Price: $26.50
Customer Service: An inauspicious beginning, as it took a very long time for someone to answer the phone. When they did, they sounded bored — while we don't expect everyone to be bubbly, it'd be nice to feel like your order is understood. Then: "It's been forever," a taster said as she realized we were still waiting on one last pizzeria. In response, one of the kids said hopefully, "It's because they're concentrating on making the best pizza." At that point it had been an hour, so we called again. They told us the pizza was on its way, and it arrived about 5 minutes later.
Delivery Time: 1 hour, 9 minutes
Taster's Notes: "Oh dear," said one taster as he opened the first box. Another leaned in and said it looked like his grade school cafeteria pizza. So, not winning points for looks, we hoped for the best with taste — it had fresh mushrooms, which was promising. But taster's faces after the first bites told it all. Despite the time they took to arrive, the crust tasted undercooked, and tasters wondered if it was frozen, saying that the flavor of the pie was just as institutional as the look. It was so far off from what tasters expect from quality pizza, that it makes us wonder if we were too hopeful when we first tried a slice when they opened. This was a tight race for last place.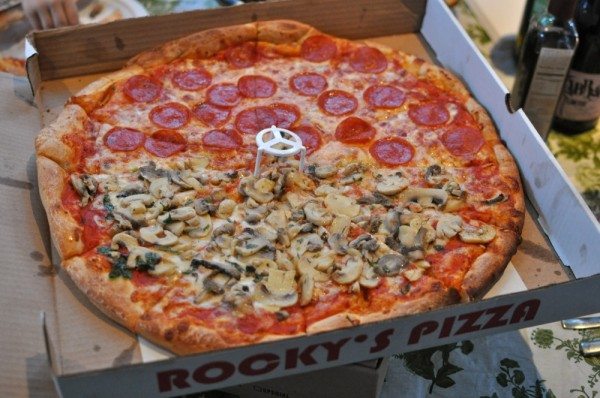 #3 Rocky's Pizzeria, 474 Coney Island Ave, 718-854-9270
Price: $27
Customer Service: Very nice and accommodating on the phone, and they did cut our pies into smaller slices as asked. One taster noted that they have a pretty wide delivery area, and they they're good about remembering their customers.
Delivery Time: 41 minutes
Taster's Notes: Though they took a little longer to get to us, the pies arrived very hot. We liked the look of the pies, though were put off by the canned mushrooms that were piled on. Tasters found Rocky's pies to have too much cheese, and the crust is what ended up sealing the deal for Xpress to pull ahead — tasters found Rocky's crust a bit too puffy and spongey, which overwhelmed the rest of the flavors and textures. Still, it was a close call for second, and tasters agreed that Rocky's is a good option. And while it doesn't count for the taste of the pie, we do love the boxing gloves on the box.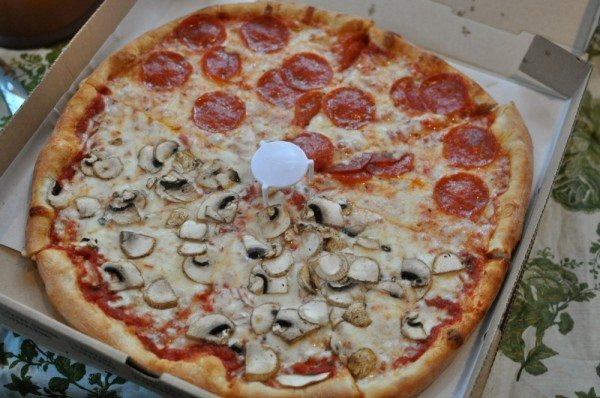 #2 Xpress Pizzeria, 709 Church Ave, 718-854-5557
Price: $22.85
Customer Service: Another one that forgot to cut the pies into smaller slices, even though they were very nice and accommodating on the phone. They're the only ones who sent a menu.
Delivery Time: 22 minutes
Taster's Notes: Xpress lived up to its name with the fastest delivery time. With the delivery following close after San Remo's arrival (the two plain slices pictured above are San Remo on the left, Xpress on the right), tasters were more harsh at first, happy for the fresh mushrooms but noting that there was way too much cheese and that the texture was like something you'd find at a bland pizzeria outside of NYC. Going back later and comparing it to other pies, though, our tasters came around to it, mostly because of the somewhat crunchy crust — in fact, one taster even came close to naming it her favorite. Most, though, felt it was a close decision for second between Xpress and Rocky's — which are also the only two that sent their pizzas with those little plastic pizza savers. A couple tasters noted that they've ordered the grandma pie from Xpress before, and they recommend it.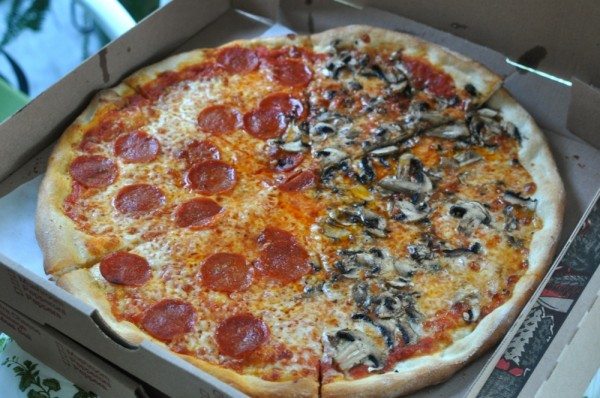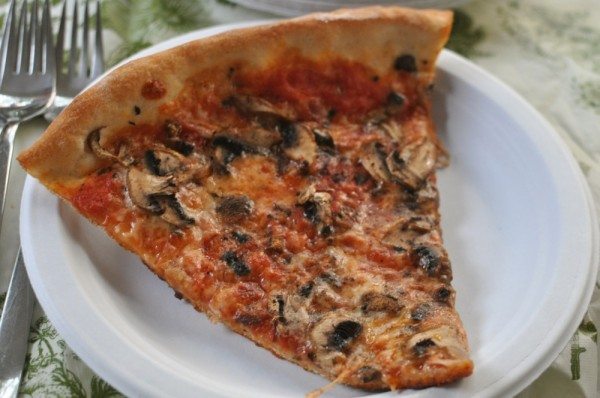 #1 San Remo, 1408 Cortelyou Rd, 718-282-4915
Price: $28
Customer Service: Very nice on the phone, and their computer system links your address to your phone number to make ordering quicker. They said they would cut the pie into smaller slices, but they forgot to do so.
Delivery Time: 29 minutes
Taster's Notes: Looks like we have an answer to Jr. Bella's box, which asks, "Why pay more?" The most expensive pies in our tasting, San Remo's were also the most delicious. Located the closest to our delivery destination, it's not a big surprise that the pies arrived piping hot (too hot for the mouth of one sad young taster), and the mushrooms were fresh and the tastiest that we tried. The crust was the best by far, with tasters praising its crisp char, the sauce had a nice balance of sweet and tart, and there was just the right amount of cheese and toppings. The kids and the adults all agreed that San Remo is the best option for delivery pizza in Ditmas Park. What sealed the deal: A couple of hours after the last pies arrived, even though everyone was stuffed, someone still ready for a bite asked, "Any San Remo left?" But it was the only one that was all gone.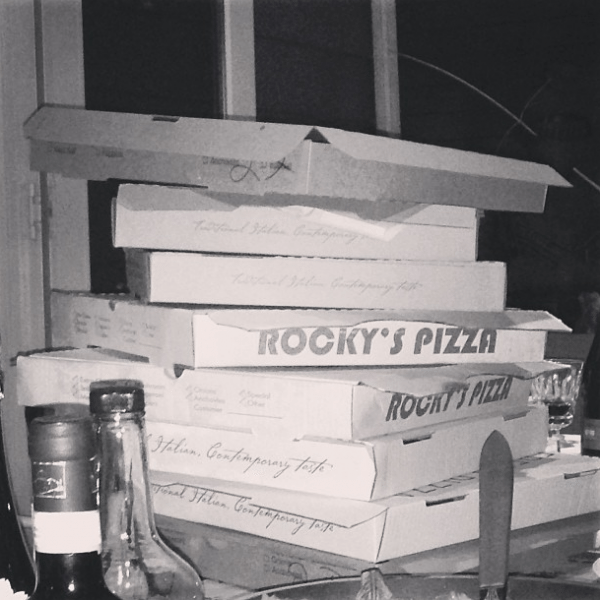 Now it's your turn — who delivers up your favorite slice in the area?
[poll id="53″]