Taste Test: The Best Delivery Pizza In South Slope

It's one of the most divisive questions you can ask in New York: "What's your favorite pizza place?" There are a couple ways you can approach an answer — are we talking best slice, the greatest whole Neopolitan pie, the mighty square slice? Or do you just want to know what we order at home on a Friday night?
That last one, that's what is important to us here at South Slope News.
We recently asked you, our neighbors, to pick your top choice for delivery pizza in the area, and some clear favorites emerged. Rather than leave it at that, we decided to hold a taste test to determine, when pitted slice-to-slice, which of those pies is the best in South Slope. Assembling more than two dozen tasters, we took over local favorite Mary's Bar on a recent evening, got plain pies delivered from the top seven pizzerias in the poll (at the time of the tasting), and then did some serious eating and judging.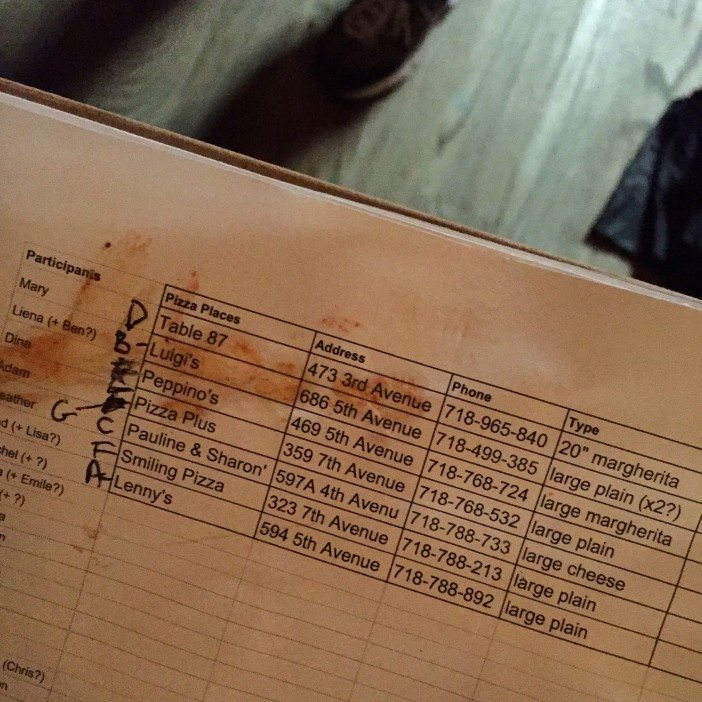 Even though pizza preferences can be subjective, many common critiques emerged from person to person in this blind tasting — for instance, most found Smiling Pizza's crust to be overly doughy, and that Table 87's crust got too soggy too quickly, noting that it's probably best when it's eaten straight out of the oven (so maybe not the best bet for delivery!).
And, most surprisingly to our tasters, they learned some serious things about their New York pizza-loving souls.
"I didn't want to like the fancy one — I wanted to like the real 'New York' one," said taster Ben, who grew up in the city. "But I got suckered."
Dayna and Seth, who live in the neighborhood and came to the tasting with some preconceived notions about local pies, were surprised by their choices.
"We're going to have to order more from Peppino's!" Dayna said after discovering that was the one she'd picked as her favorite, noting that when she'd tried their pizza in the past, she'd considered it "mediocre, nothing great."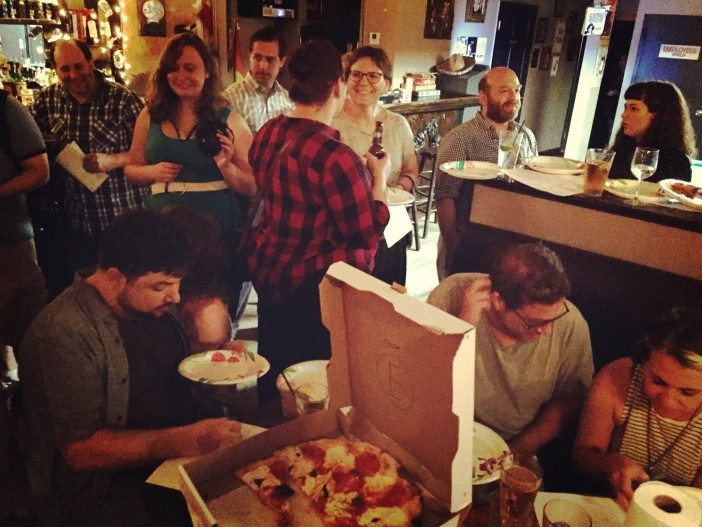 That said, unless you sit down and have your own taste test, you might be happiest to continue eating the neighborhood pizza you already know and love — but if you're looking for a change, we've got some recommendations for you.
For each pizza, tasters were asked to assign points on a scale of 1-5, judging crust, cheese, sauce, and overall impression, then those points were combined into an overall score, and those scores tallied for each pizza.
And now, ordered from lowest ranked to the top choice based on the combined total scores, here are the best places to order delivery pizza in South Slope: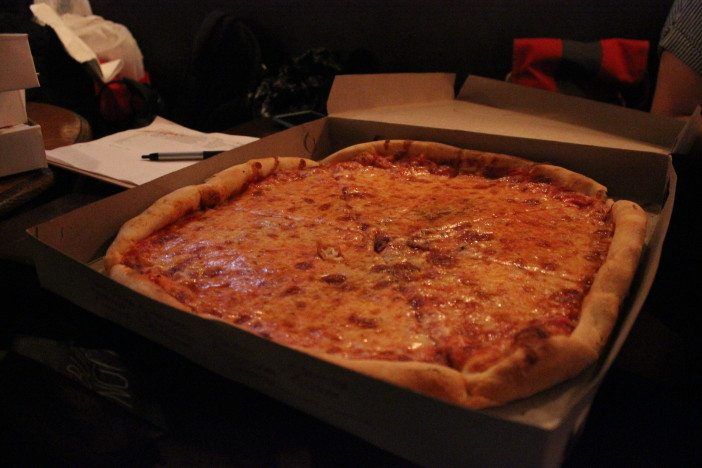 7. Smiling Pizza
323 7th Avenue, at 9th Street
718-788-2137 or Seamless
Not just a neighborhood institution (whether you call it Smiling or Smileys can be an indicator of how long you've lived here), it's also the pizzeria made famous by a little tweet from Patrick Stewart. Still, one of these pies did have to come in at the bottom, though the two with the lowest scores were only separated by a slight margin. One taster described Smiling Pizza as "the quintessential New York slice," while another said it struck them as "family-friendly," and when the anonymous pizzas were revealed, that taster said they knew it seemed familiar, having eating Smiling at a lot of kids' birthday parties. The biggest complaint from the majority of tasters was that the crust was too chewy — overly doughy and somewhat flavorless.
6. Pizza Plus
359 7th Avenue, between 10th & 11th Streets
718-768-5327 or Seamless
Another longtime neighborhood favorite, Pizza Plus has been slinging pies for nearly 30 years. It may have just been an off night for delivery from this spot, but all our other pies arrived within about a half an hour or less, after ordering at peak dinner time (7pm) on a weeknight — Pizza Plus showed up after more than an hour. Still, it ended up as one taster's favorite (in a tie), though several other tasters had a similar complaint as with Smiling — that the crust was too thick and chewy. Two tasters noted it was reminiscent of Domino's, while a few others said, somewhat pleasantly, that this would be a perfectly delicious pizza when you're a touch drunk and hungry at 2am. And a big plus for Pizza Plus: It was the least expensive of all these pies.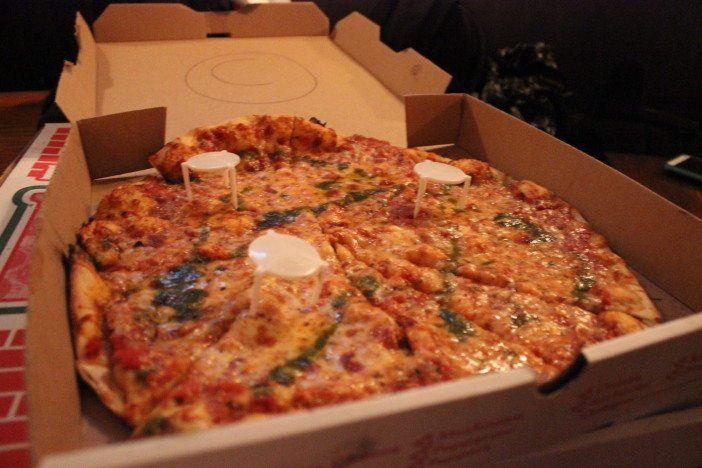 5. Pauline & Sharon's
597-A 4th Avenue, between Prospect Avenue & 17th Street
718-788-7333 or Seamless
No pizza in our tasting was as divisive as this one. It was the top pick of one taster, and second place for several, but then at the very bottom or very low ranked for a few others. One of the reasons was its spiciness — people either loved it or thought it was way too much. The same might be said for all their pies and the colorful owner, T.J. O'Connor, both of which we're big fans of. Several tasters noted that the pie looked nice, a swirl of pesto around the top, but one summed up most tasters' feelings on that: "prettier than it is tasty." Known for some creative pizza toppings — brie and onion jam, for one — you'll be happy with their pizza if you're looking to branch out from the traditional.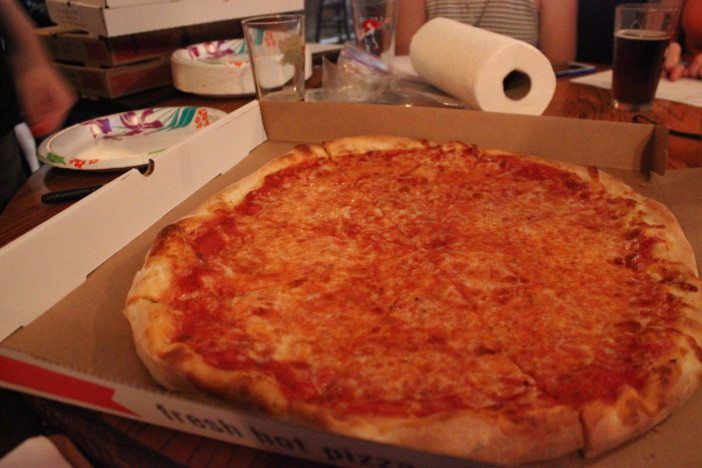 4. Luigi's
686 5th Avenue, between 20th & 21st Streets
718-499-3857
Luigi's was neck and neck for first place for a while in our reader poll, and it's far above the third place pick in that poll. For individual overall scores in our test, it got the most top rankings among our tasters — but not the most points, showing that while some people found this to be a really tasty, typical New York pizza, others were less than impressed. Haters said it looked frozen pizza and complained that the cheese was off-putting, while fans loved the slightly crispy crust and the sweet sauce. Said one taster who had chosen Luigi's as her number one: "It stood out from the crowd — I had two slices," which is high praise when you're trying seven pizzas.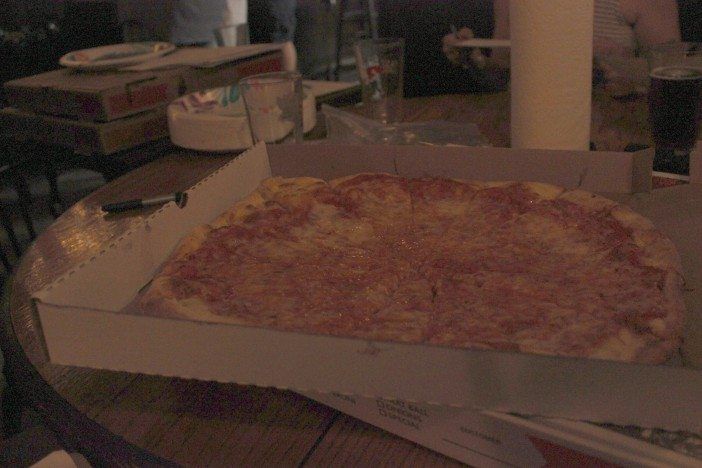 3. Lenny's
594 5th Avenue, between 16th Street & Prospect Avenue
718-788-8928
Here's the slice that pizza authority Adam Kuban named the best in South Slope in 2008 after tasting slices all over the area, and for your straight-up, traditional New York pie, it's also our top pick. Several tasters praised the sauce, which got the most love of any of the pies, calling it tangy, savory, and flavorful. The dough, for some, was a bit too chewy — for one taster who ended up with this as his #2, the only reason it didn't take the top spot was that "crust could be crispier, but overall it was a great slice." A taster for whom Lenny's is her go-to didn't end up picking it as her top pizza in this blind test, but she did write in her notes that it was a "solid neighborhood slice" and that she'd eat it again.

2. Table 87
473 3rd Avenue, at 10th Street
718-965-8400 or Seamless
The new-ish Gowanus outpost of this coal-oven pizzeria took the top spot in our poll — though we're slightly suspicious about that, as Luigi's was in the lead, until suddenly Table 87 sprung up from out of nowhere…was the ballot box stuffed? Maybe, but maybe not, as our tasters also gave it a ton of praise, enjoying the fresh mozzarella (which the two top picks featured), whole basil leaves, and the bright tomato flavor of the sauce. You'll pay more for that freshness, though, as this was the second most expensive pizza in this tasting. Plus, there were some pros and cons to the thin crust — the smokey flavor was a hit, but it didn't hold up to the toppings after being delivered, getting soggy very quickly. As one taster summed it up: "I feel like it'd be better straight out of the oven."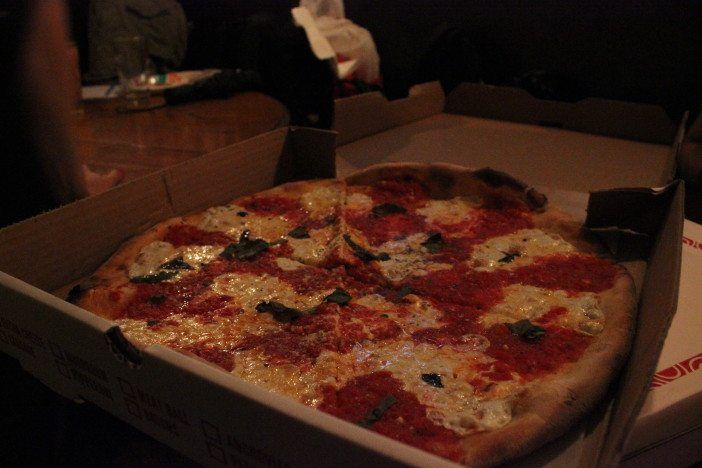 1. Peppino's
469 5th Avenue, between 10th & 11th Streets
718-768-7244
Not only did this pie get the most points overall, it also got the most positive comments from our tasters, who praised its fresh flavor. The pizza is a successful combination of fresh mozzarella, tangy, well-distributed sauce, and a toasty crust that was described as "awesome" by four separate tasters (and which got equally glowing adjectives from others). The brick-oven pizzeria has been making pies here since 2008, after opening its other location in Bay Ridge four years before that, and if you're looking for a delicious pizza (if not "traditional New York style" — which, in addition to flavor and texture, means you'll be paying more for it, as these were the priciest pies on our list), you'll be happy to know this is as good as it gets in the neighborhood. As one taster said, "It's just a really worthy pizza."