Sweets in the Slope: The Bakery Round-Up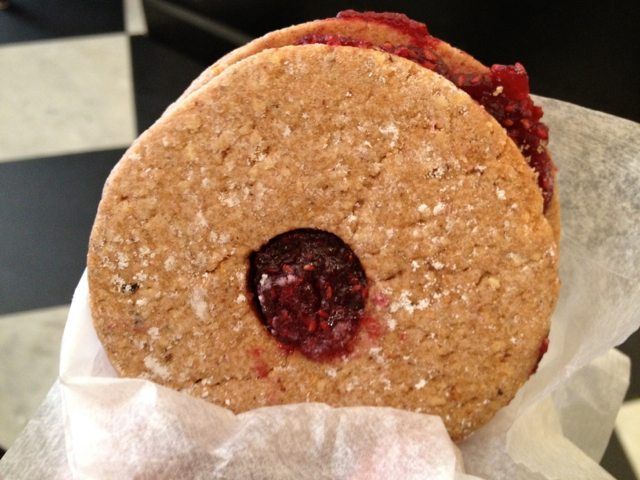 The comforting and heartwarming aroma of something sweet baking in the oven awakens feelings of love and family for most of us. Childhood memories of birthday cakes, ice cream cones, and visits to the local bakery for a Sunday treat linger into adulthood, and no matter how old we get (or health-conscious for that matter), it's difficult to resist the temptation of a melt-in-your-mouth chocolate chip cookie, tender red velvet cupcake, or glazed sugary jelly doughnut. Around the world, bakeries serve as a warm place to congregate with family and friends, pick up sweets for family celebrations, or just to simply indulge. Whether in classical French croissants and brioche, Jewish hamantaschen and rugelach, Italian gelato and cannolis, or Southern lattice pies and devil's food layer cakes, Park Slope has no shortage of enticing treats from every culture. Although they are much kinder to our palates than waistlines, join us for the first installment of our delightfully sweet tour of the Slope.
Colson Patisserie, 374 9th Street (corner of 6th Avenue), (718) 965-6400
Best Homemade Doughnuts
Gluten-free Flourless Chocolate Cake, Orange Almond Loaf, and assorted Macarons
Everything is baked the old-fashioned way in Colson's kitchen—by hand. Inspired by the French and Belgian pastries of their youth, Hubert Colson and Yonatan Israel bring the Colson family's European confections to Brooklyn with a selection of signature financiers and traditional pastries. Set in a bright space on the corner of 9th street and 6th Avenue, this popular and busy bakery offers authentic French and Belgian pastries ranging from light and flaky Croissants ($2.45), moist Muffins ($2.45) and perfectly glazed Pains au Raisins ($2.95), to soft and airy Vanilla and Jelly Doughnuts ($2.95), tart and flaky Pear Caramel or Apple Turnovers ($4), and crunchy and sweet Belgian Waffles ($3.25). Gluten-free offerings include a sinfully rich Flourless Chocolate Cake (a ridiculously large and velvety brownie) and Orange Almond Loaf ($5). With a booming wholesale business, you might find some of Colson's pastries in your favorite coffee shops around the neighborhood.
Photo via Colson's Patisserie
Ladybird Bakery, 1112 8th Avenue (11th & 12th Street), (718) 499-8108
Best Turtle Bars
If you happen to be on this sleepy, residential block of 8th Avenue, it's hard not to be enticed by the wafting aroma of homemade pastries, steaming coffee, and cheerful blue exterior of Ladybird Bakery. A quaint shop reminiscent of Grandma's kitchen table, Ladybird offers a selection of classic Southern favorites, ranging from the traditional Carrot Cake, Old-Fashioned Coconut Cake, and Strawberry Shortcake to less conventional best-sellers, like the Brooklyn Blackout (3 levels of rich chocolate cake layered with chocolate pudding and topped with chocolate crumbs) and Lara's Fantasy (angel food cake with key lime custard, fresh strawberries, and pink whipped cream). Early risers get their choice of large and flavorful scones (try the Blueberry Oatmeal for $2.50), moist and tender muffins, and oversized cookies and brownies in a variety of distinctive flavors. My favorite: the decadent chocolate and caramel Turtle Bar. Irresistible!
Caramello, 179 5th Avenue (Degraw & Sackett Street), (718) 789-0959
Best Gelato
With over ten years of experience teaching her family's craft to people around the world, chef Nicoletta Grippo brings the decadent sweetness of Italy to Park Slope with her gelateria and bakery, Caramello. Although better known for her creamy gelato, Grippo also offers lovingly crafted (and enormous) lattice fruit pies, rich chocolate layer cakes, artisanal biscotti, and huge crumbly cookies. Using only the best ingredients from local farmer's markets (whenever possible), she offers a variety of both traditional and unconventional gelato flavors–ranging from Espresso, Peche, and Stracciatella to Olive Oil, Beer, and Be My Lucky Charm. Refreshing vegan sorbettos are great options for the health-conscious, made with only fresh organic fruits and water. If it's too cold out for gelato, try a slice of flaky Strawberry Rhubarb Pie ($4.50) or Chocolate & Dream Cheesecake ($4) with a steaming latte. The friendly staff makes your visit that much sweeter.
Cousin John's Bakery, 70 7th Avenue (Lincoln & Berkeley Place), (718) 622-7333
Best Linzer Cookies
Stepping into Cousin John's Bakery, an old-fashioned, family-run business, feels like stepping back in time. Classic childhood favorite Black & White, Oatmeal Raisin, Chocolate Chip, and Linzer Cookies are packaged for take-out in traditional paper boxes complete with red and white bakery string. Ponder the enticing glass display of rich two-layer chocolate, vanilla, and carrot cakes, flaky fruit pies and tarts, delicate cheese danishes, buttery almond croissants, glazed sticky buns, moist muffins ($2), and rich fudge brownies. Cousin John's also serves a delicious and inexpensive breakfast, brunch, and lunch in their intimate parlor area, complete with 3-Egg Omelettes ($5.25), Whole Wheat Pancakes ($5.75), Challah French Toast ($5.75), and assorted lunch sandwiches ($5.75-$6.50). Affordable, casual, and delicious, Cousin John's is your classic neighborhood patisserie and breakfast stop combined.
Trois Pommes, 260 5th Avenue (Carroll & Garfield Place), (718) 230-3119
Best Twinkies
Gluten-free Macarons in assorted flavors
Chef and owner Emily Isaac creates upscale versions of naughty childhood favorites with her homemade spongy Twinkies ($2.75), sinfully decadent Oreos ($1.50), creamy Whoopie Pies ($2.75), and my favorite: crumbly and velvety Peanut Butter Sandwich Cookies ($2.50).  With a large selection of traditional French pastries baked from her tiny kitchen, Emily's talent comes through in every tender muffin, crumbly scone, slice of Italian rainbow cake, and glazed sticky bun. Custom layer cakes and cupcakes are available to order for special occasions and holidays in a variety of unique cake and icing flavors to mix and match.  Trois Pommes also serves a decadent selection of gelatos and refreshing sorbets, ranging from Mint Chocolate Chip, Oatmeal Cookie, and Lavender to Gooseberry, Buttermilk, Passion Fruit and Cardamom.  With spring in the air, treat yourself to a homemade Chocolate Chip Cookie "Pommeswich" ($4.50) with your favorite flavor. Mmmm.