Sushi by Bou Opens On Emmons Avenue Thursday
SHEEPSHEAD BAY — Sushi by Bou is bringing it's rapid-fire take on sushi to one of  Brooklyn's waterfronts today.
Located at 1811 Emmons Avenue, the rapidly-expanding omakase spot, Sushi by Bou, is destined to be Southern Brooklyn's hot spot this summer. The summer pop music blaring throughout the venue suggests more of a traditional-Japanese sushi-meets-nightclub atmosphere, where guests are offered a 30-minute omakase for a fixed price. The decor, appropriately so, echoes the ocean. Light fixtures attached to natural ship rope dangle over each station, Pesu, the in-house artist, being responsible for paintings and design.
This is their sixth location in the city and the first in Brooklyn, and the May 30th opening comes just six weeks after opening a six-seat counter at Union Square in Manhattan.
Erika London and Michael Sinensky own Simple Venue, the hospitality company behind Sushi by Bou that brought in Chef-Partner David "Bou" Bouhadana to curate the menu and manage the collection of omakase eateries. Sinensky, who came to the soft opening with his daughters, said he chose the location because he previously lived in the area.
"I wanted to bring it back home," Sinensky said, as his partner Bouhadana who the restaurants are named for, prepped from behind the bar.
Guests get a half hour to enjoy the round of exquisite sushi before the next group comes in. The omakase offers 12 pieces, an assortment which varies depending on what's best at the fish market, and your own dietary restrictions. This week its botan (spotted prawn), ikura (salmon roll) and akami (lean tuna) among others, some lightly-brushed with exotic sauces and truffle salt.
The servings take about 20 minutes, the chefs leave about 10 minutes for sushi a-la-carte requests. The Ulysses S. Grant you'll drop will also get you a selection of teas, coffees, and desserts.
Patrons can sit at the other parts of the bar or booths to have cocktails while they wait, as you absolutely have to be on time – grace period is two minutes or you forfeit your spot.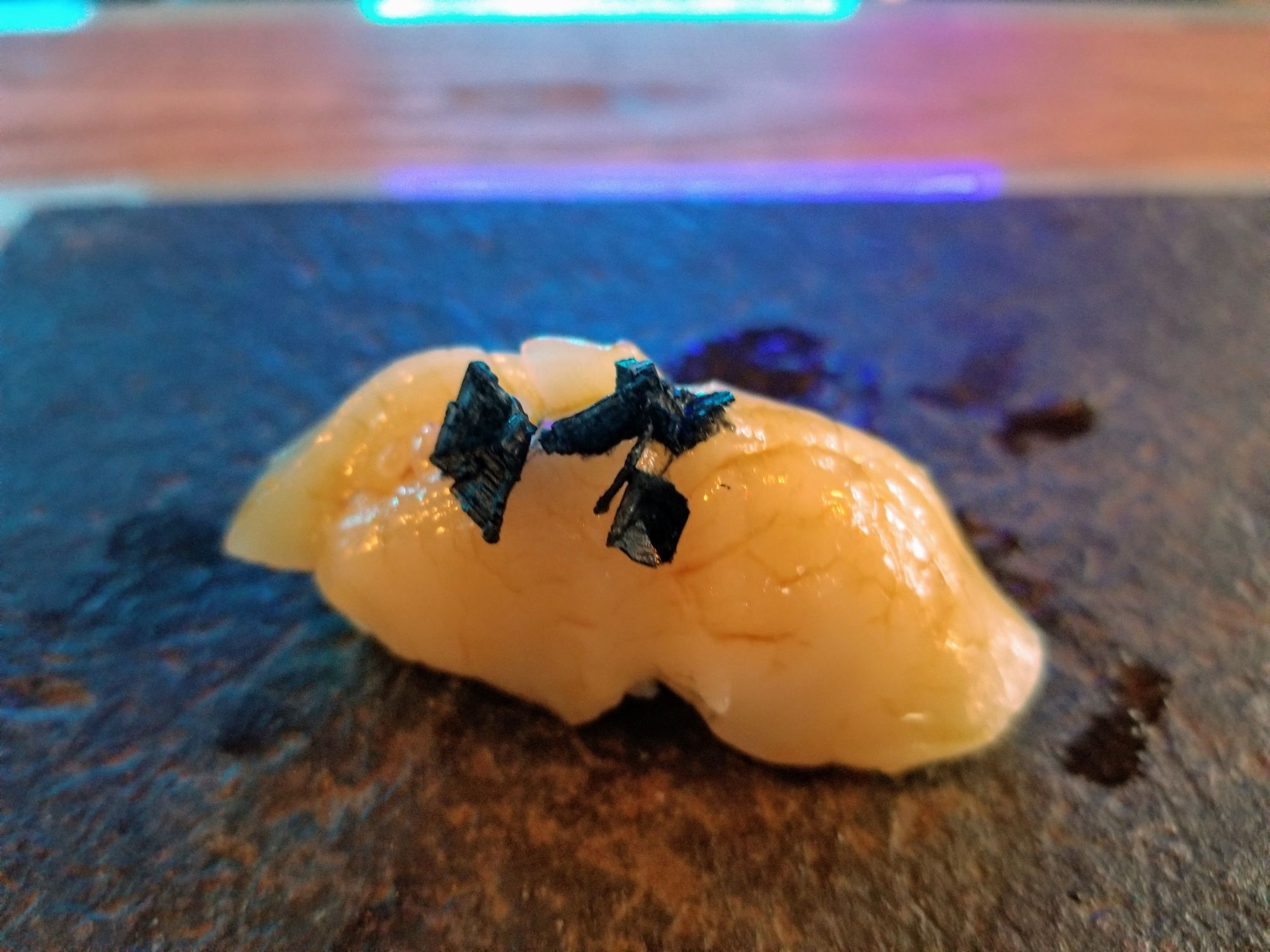 The wagyu-uni (Japanese beef and sea urchin) sushi topped the favorite's list of at least two omakase connoisseurs, with the o-toro (fatty tuna) coming in at a close second.
"The spot is good, the fish is fresh," said Boris of Brooklyn. "If you go to the city, you're going to pay much more."
Click here for reservations to the Southern Brooklyn location. But don't be late, the 30-minute timeframe commands strict reservations.