Support Our Community Emergency Response Team


The Community Emergency Response Team (CERT) for Community District 14 has a new website worth checking out.
For the uninitiated, the CERT program educates residents about disaster preparedness and trains them in basic disaster response skills such as fire safety, light search and rescue, team organization and disaster medical operations. CERT members can assist others in their neighborhood or workplace following events such as, say, a hurricane.
In fact, CERT members from CD14 have played a significant role in the recovery from Hurricane Sandy. The team was very active throughout our area in the days after disaster struck. Today, the new website has a number of pictures of their work and links relevant to ongoing recovery in the Rockaways and beyond.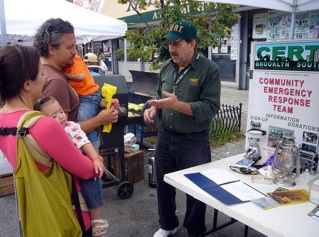 You can use the new site as a resource for emergency planning. You can also consider joining the CERT through the site after taking the New York City OEM ten-week training course, given twice a year. The next course will begin some time in late winter or early spring. The next CERT volunteer meeting is in January.
Finally, CERT accepts tax-deductible donations to support their efforts. CERT receives no government funding — everything they do is all volunteer. You can find out about donating more here.
We've added Brooklyn South CERT to our Groups and Organizations page next to a number of other important institutions in the neighborhood. We encourage you to check out that page and email us at ditmasparkcorner@gmail.com with potential additions.
Photo: CERT