Sunset Park: The Fear Was Visible This Weekend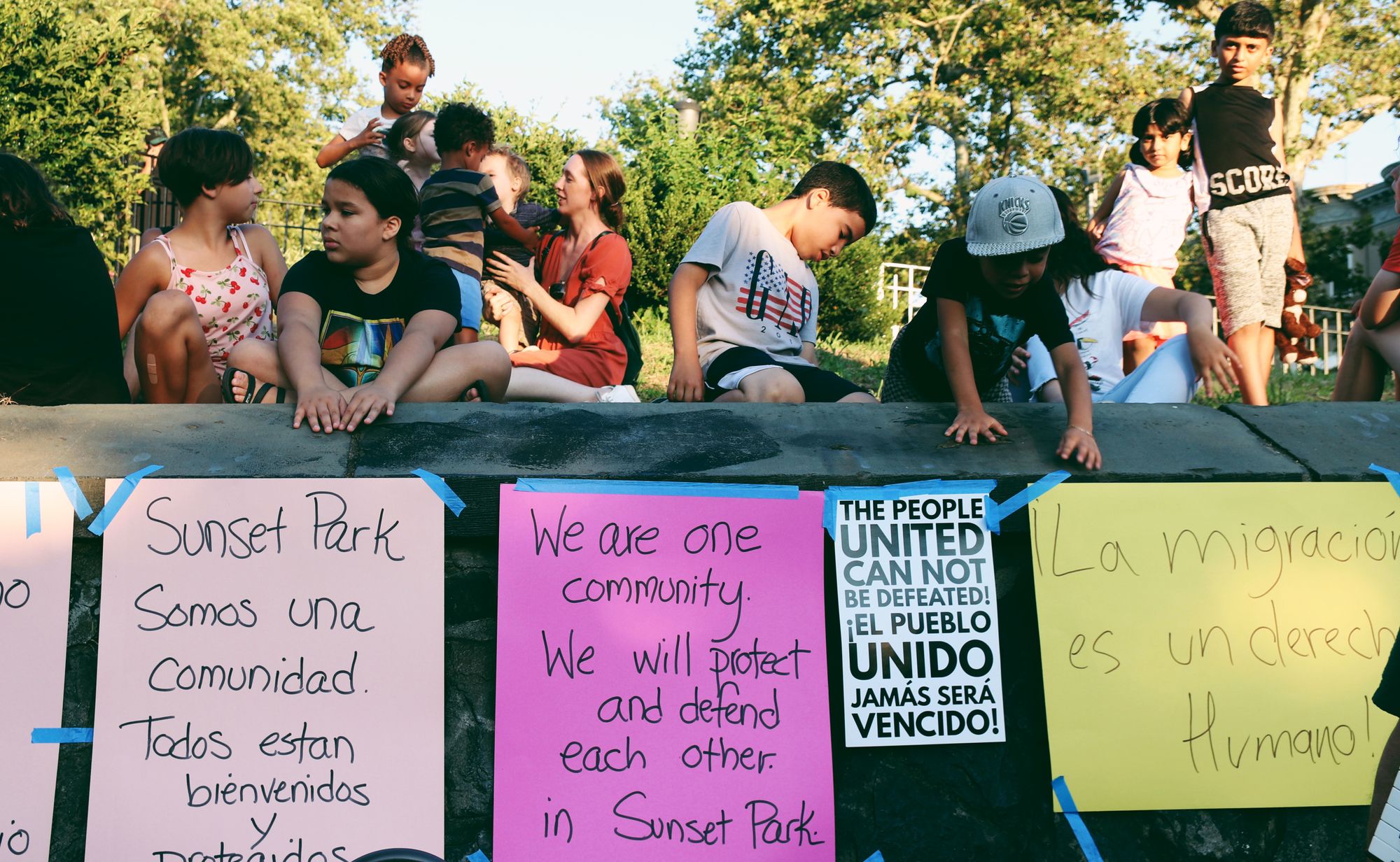 SUNSET PARK – After reports of ICE knocking on doors on Saturday, July 13, in Sunset Park, the neighborhood and its main park, a place usually packed with people, was eerily empty this Sunday.
On the corner of 44th Street and Fifth Avenue, over a hundred people gathered on Sunday linking arms and holding posters that said: "Stop the raids"  to show their support for the more vulnerable.
A police car drove by and a little kid looked up to his mother and said, "Was that ICE?"
After postponing the massive U.S. Immigration and Customs Enforcement (ICE) raids by two weeks, President Donald Trump announced they would take place on Sunday, July 14 in ten major U.S. cities.
"I'm here because yesterday was a terrifying day for community members here in Sunset Park," Genesis Aquino, a community organizer said. "This morning it was even worse. I went out and the laundromat was empty. Our streets are half empty. This is not what we want."
"We don't want raids in our community. We have to say no to that," Aquino said. "This is a human right. People are migrating because they deserve the right to live. They deserve the right to have space and raise their children."
The people that crowded on the street were not all Sunset Park residents. Some were from Bay Ridge and some came from Queens to show solidarity. Rev. Michael Vanacore, the associate pastor at Trinity Lutheran Church, said his church serves as a sanctuary for everyone.
"If you feel fear, no matter what you are… you don't have to be afraid. We as churches, as community members, we have to be that protection. We have to make that protection real," he said. "We have to fight, we have to dream and believe that a world is possible where there is no immigration enforcement, where there are no jails. Where there is a world with true liberation and freedom."
Neighbors were encouraged to come up and share their stories and concerns. Widad Hassan, a local activist and the Muslim Arab South Asian (MASA) Lead Advisor at the NYC Commission on Human Rights, took the microphone to share how these raids are not new and have been traumatizing families for years.
"[These raids] are not during the daytime. They are not during the afternoon when people are awake. These raids are done in a way to terrify families, to terrify children," she said. "It's so beautiful years later, to see people out here protesting… We have to make sure no one has to go through this alone."
A woman who went by the name Gulshan said she's been living in the U.S. for the last ten years. She said she's been a Sunset Park resident for the past seven. She said she was one of the lucky ones. With that, she reached into her fanny pack and took out her U.S. passport.
"I have the privilege of having this thing which I've been carrying around with me," she said, her voice choking a bit. "I'm a new citizen. Even though I'm a new citizen, I feel like I'm not safe. I feel vulnerable. And I know, I still have the privilege to walk around with this."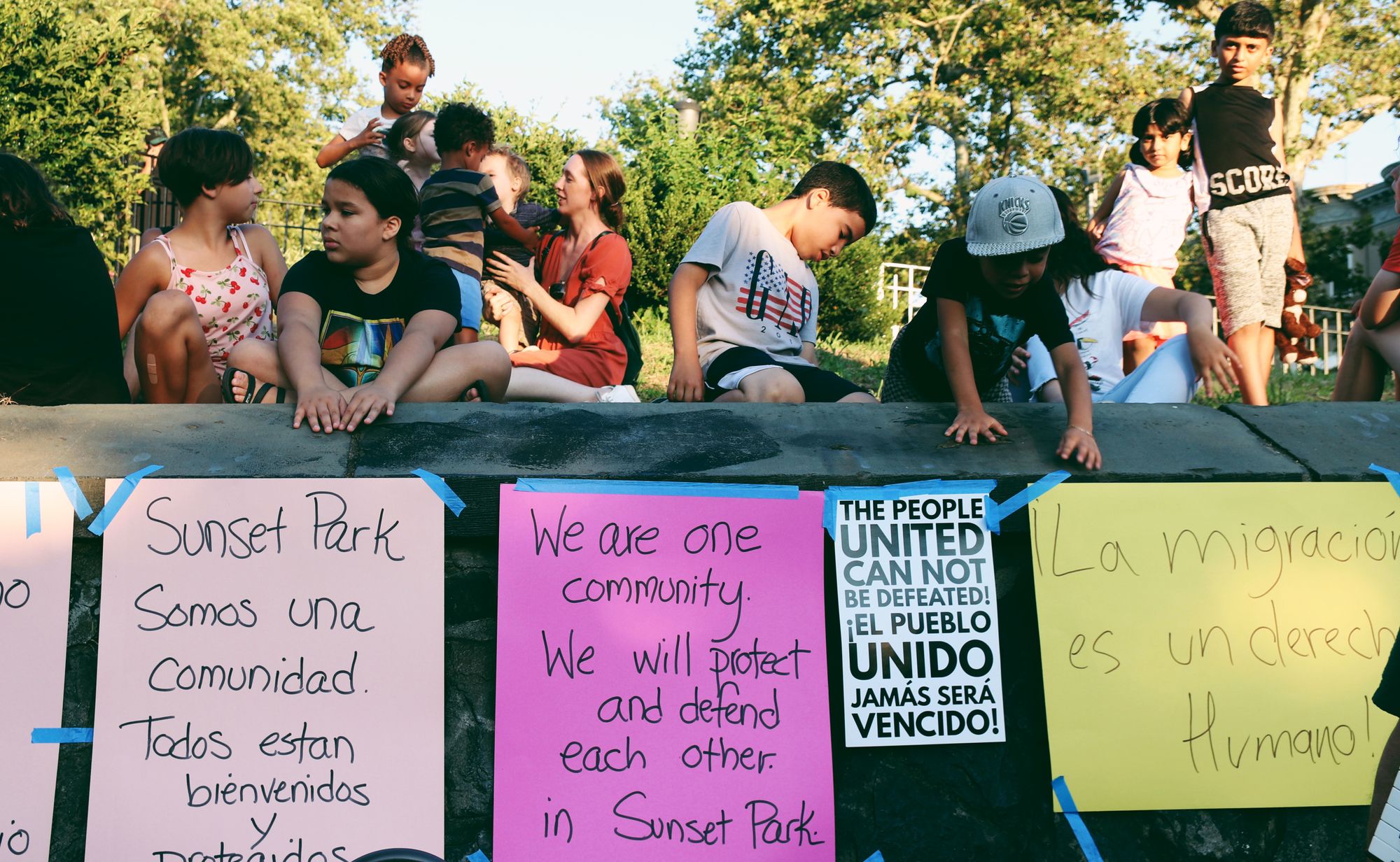 In the middle of the protest, a community member informed the crowd that she received word of ICE officials a block away on 44th Street and Fourth Avenue.
A group of about 50 people crossed the street and headed down the block. Standing in front of Tacos El Bronco were two law enforcement officers in bulletproof vests, but there was nothing on the officers that visibly identified them as NYPD, until one of them pulled out his badge.
People were mad.
"ICE in our neighborhood, [and you are] walking around like that? That's terrorism," a man said to the officer. "You're terrifying people in this neighborhood right now."
A few minutes later, the officers got into a car and drove off. Before leaving, one of them said he was just waiting for food. A woman said, "If he was waiting for food why is he in a vest?"
Council Member Carlos Menchaca Tweeted an hour later that the officers, "were asked to return to the precinct to put on their NYPD windbreakers."
According to the chairperson of Community Board 7, Cesar Zuñiga, he is proud of the Sunset Park community. Even though those two men were not ICE officials, he said he was proud that about 50 people marched down there to take a look.
"What we have to do is organize and not let our guards down," he told Bklyner. "I know firsthand how terrorizing this is. My mom was deported after she was pregnant with me. This is kind of reliving a very traumatic episode in my life."
Zuñiga said there were no ICE sightings in Sunset Park on Sunday. But he said there were a few a day prior. He said he spoke to a young couple with kids whose door was knocked on by ICE. He said they were freaked out.
"It's worth emphasizing that no one opened their doors in Sunset Park," he said. "That is something we have to lift up and remind people. People understood that was a right they have. And because of that, no one was taken from our community."