Summer Plans For Kids: BAX Virtual Summer Arts Program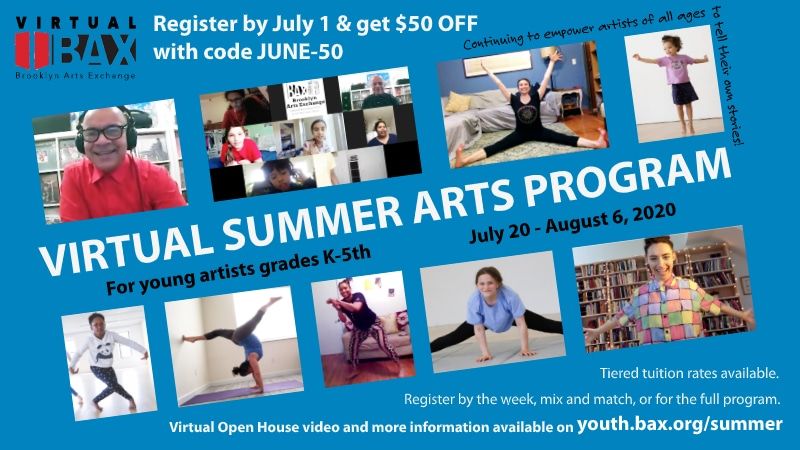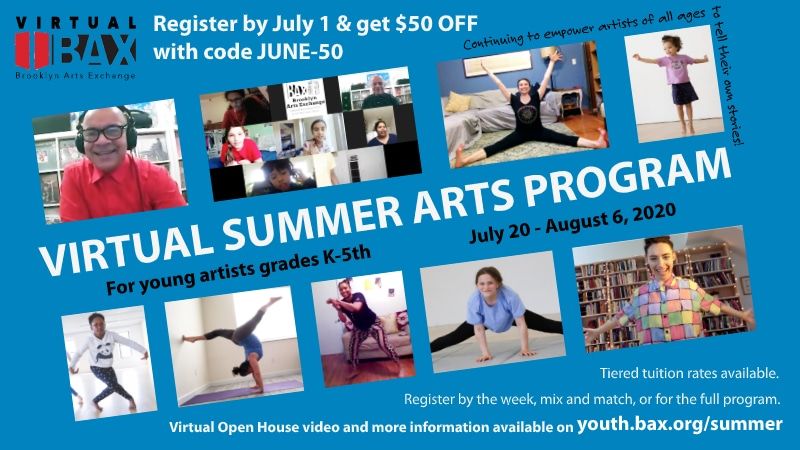 At BAX/Brooklyn Arts Exchange, we foster creativity, encourage exploration, and provide a positive and nurturing environment.
Our Virtual Summer Arts Program (VSAP) draws from BAX's year-round education programs to provide young artists with opportunities to explore different forms of visual art and performance as well as nurture crucial social exchanges with peers and mentors. Registration is flexible by week and each is organized by a different exploratory theme that is activated by daily performing arts & visual arts activities.
Each group will have a primary Group Leader and also receive instruction from program director, Andrew Jannetti, as well as from BAX Arts Specialists. Programming includes a combination of synchronous and asynchronous learning (including live Zoom & Google Site and pre-recorded videos), thus providing children and families with flexible screen time and a combination of social as well as independent activities. Registration open now.
Age groups: Entering K – 5th Grade
Camp dates: July 20 – August 6
Camp hours: Mondays-Thursdays, from 9-12:30 p.m
Camp costs
Per week sliding scale tuition:
Tier One (Full Price) – $425,
Tier Two – $375,
Tier Three – $300
Follow them on Instagram @baxyouth or Facebook @Young.Artists.atBAX. For more information, check out their website.