Sue Donoghue Of The Prospect Park Alliance On Community Engagement, Cars & More In Our Big Backyard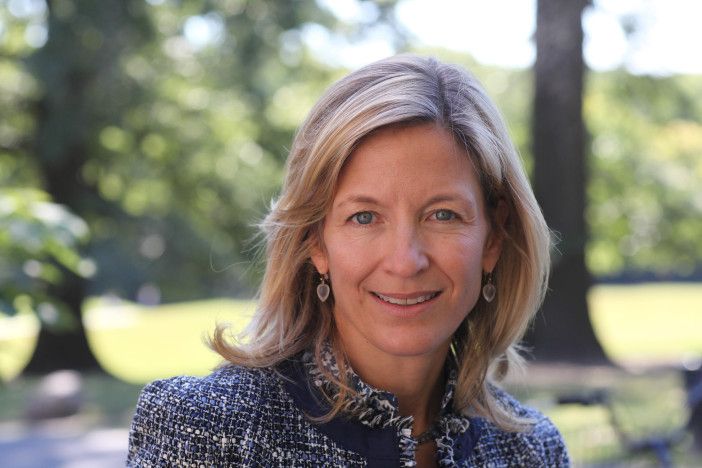 Prospect Park was one of the reasons Sue Donoghue and her family moved to Park Slope 13 years ago, and now, eight months into her position as the Prospect Park Alliance's new president and park administrator, she says the allure of Brooklyn's great big communal backyard is as strong as it's ever been.
"I use it extensively — I'm in the park all the time," she says about how her work-life balance is now, largely, a park life. "Luckily it's a place that I feel very passionately about. It's really great to be able to give back right in my community — it's something that's so important to all of us in Brooklyn who've chosen to raise our families here. If I'm going to be putting my energies toward anything, it's a really important asset to be spending time on."
Part of what she's trying to accomplish in her position is not just to make sure all her neighbors know, as she does, how great the park is — but also how it's able to be that way. The Alliance was formed in 1987 as a public-private partnership involving both the city and community members to help improve the green space, which, at the time, was in rough shape. Because of their work — from first repairing the carousel, to restoring the ravine and woodlands, to the recent Lakeside project — the 10 million people who visit the park each year now regularly wander into its interior because crime has decreased, and the upkeep means a cleaner, more beautiful destination with an ever-expanding calendar of events.
"People feel comfortable and safe here, and thank goodness," Donoghue says. "And we hope people understand the role of the Alliance in that, and that they help support that role of improving programming and maintaining the park."
Some of that support comes from tireless volunteers — from school groups and families, to individuals and corporations — who help throughout the park year-round.
"I have been amazing since coming here by the dedication of some of our volunteers," Donoghue says. "They're out every single week in all kinds of weather, weeding and raking and picking up litter. It's that kind of support, built from a young age, that builds support for the future."
But it's also monetary support. About half of the Alliance's annual budget comes from donations — about $4 millon's worth — and Donoghue hopes that those who regularly use the park can see the benefits of donating.
"I believe so strongly in supporting the park — my family, my kids, benefit from it," she says. "There area so many good causes you can give to, but there are very few that you can say it goes to benefit 10 million people doing active recreation outside, communing with nature — there are so many ways the Alliance helps contribute to a healthy, dynamic, diverse city."
An opportunity for park users to give back is currently underway, with the Alliance's 1,000 for the Park fundraiser. Two fans of the park, Lorraine and Gordon DiPaolo, have pledged to donate $50,000 if 1,000 other donations are made before June 2. As an added incentive, the Alliance is raffling off two family four-packs for roller skating (including admission, skate rentals, bag check, and four soft drinks) at the LeFrak Center at Lakeside if they reach 300 donations by midnight on Friday, May 29. You can make a donation of any amount onlinehere, and you can do so knowing you'll be helping them continue to provide the programming, resources, and general peace and quiet that you regularly find in the park.
"There are a thousand different ways that you use the park," she says. "The summer is our busiest season, and we need you to help support the work the work of the Alliance. As a private non-profit, the funds we raise go directly back into the park."
And while individuals and families enjoy everything from the expanded, free nature programs to the annual (and also free) Philharmonic concert, there are still, of course, some concerns for park users. Recently, a neighbor started a petition to renew the push for a ban on cars in the park, stating it's a danger for pedestrians and cyclists who use the loop during those rush hour times when cars are currently permitted. Though she didn't say whether or not she supports a ban, Donoghue points to the work the Alliance has done to help decrease the number of hours cars are allowed in the park, and to make it so there's just a single lane of vehicular traffic allowed.
"We are constantly looking at ways to enhance and ensure the safety of park users," she says. "We feel there's been a very positive trajectory in terms of limiting car traffic in the park, and we are always very focused on continuing to increase that safety for users."
That focus on safety extends to cyclists, she says, and making sure they're traveling at safe speeds, as well as to people who barbecue, and enforcing the park's regulations about where they're allowed to light up a grill.
"People see Prospect Park as their backyard," she says. "Part of what makes it interesting is that diversity of use. At the same time, we recognize that it's an important thing to monitor."
And as a parent of three children, a dog owner, and a runner — she trains in the park, and recently ran the Brooklyn Half-Marathon, which passes through the park on its route — Donoghue personally recognizes the need for a safe, and clean, Prospect Park.
"That loop is really important to me — it's how I start my day. Both psychologically and physically it's a really important boost first thing in the morning," she says. "But now, in this job, my run is not quite as restful — I'm seeing litter that needs to be picked up. Some of my running partners have told me they're not going to run with me anymore because they've got to keep going!"
Outside of personally looking out for litter, Donoghue hopes that, with some help from her neighbors, the Alliance can continue to ensure that Prospect Park remains an oasis in the middle of our hectic urban environment.
"People tell me how you can get lost in the park and completely forget you're in the city, which is such a phenomenal thing," she says. "That you can feel like you're no longer in a city of 8 million people! It's such a gift."